The old mantra that 'the market is not the economy' has never been more true than in Germany as the country's stock market continues to surge to record highs as the nation's economy enters recession.
Germany suffered its first recession since the start of pandemic, extinguishing hopes that Europe's top economy could escape such a fate after the war in Ukraine sent energy prices soaring.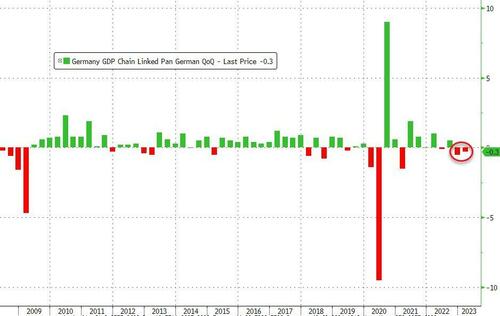 Q1 GDP shrank 0.3% from the previous three months following a 0.5% drop between October and December.
"The reluctance of households to buy was apparent in a variety of areas," the office said in a statement.

"Households spent less on food and beverages, clothing and footwear, and on furnishings."

They also purchased fewer electric cars as incentives were reduced. 
But, of course, markets shrugged off Thursday's numbers – despite their implications for the wider performance of the 20-nation euro zone – because all that matters is liquidity and shitty econ numbers means a dovish pressure on the ECB at the margin which has been completely conditioned into investors' minds as a "BTFD" driver.
Sure enough, Germany's DAX is hitting new record highs, despite, as Bloomberg reports,companies like Zalando SE reflect the flagging consumer sentiment. The fashion retailer saw inventory levels driven higher in the first quarter by falling demand. Domestic car orders, meanwhile, were down by about a third between January and April, according to the VDA auto industry association.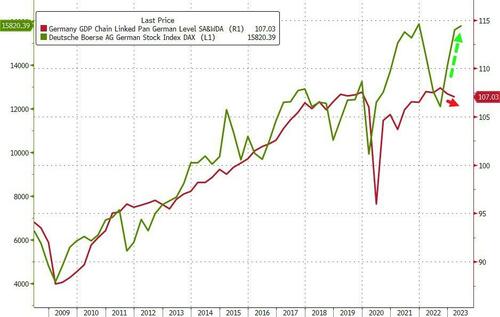 The key manufacturing sector is also proving to be a problem: A deepening downturn is casting doubt on the rebound many anticipate for the coming quarters.
"We must  turn the corner in economic policy and put an end to the neglect of our competitiveness," Finance Minister Christian Lindner said in Berlin, adding that this included the "acceleration of planning and approval procedures and strengthening the idea of technological freedom in order to leverage our creative potential."
Not if you want the markets to keep going up.
"The optimism at the start of the year seems to have given way to more of a sense of reality," ING economist Carsten Brzeski said in a report to clients.

"A drop in purchasing power, thinned-out industrial order books as well as the impact of the most aggressive monetary policy tightening in decades, and the expected slowdown of the US economy all argue in favor of weak economic activity."
Well, it seems stock market investors seem pretty optimistic to us? Forget BTFD, it's Buy The F**king Stagflationary Spiral
Loading…
https://www.zerohedge.com/markets/market-not-economy-germany-enters-recession-dax-record-high