It appears that OPEC's credibility is about to take a big hit.
As we said earlier, following comments from the Saudi energy minister that oil shorts will be "ouching" soon, the market interpreted this as a sign that OPEC+ would proceed with another output cut following the unexpected move in early April which briefly sent oil prices sharply higher. The alternative would be another painful blow to OPEC's credibility, which has emerged as a kind of jawboning "central bank" for the commodity.
But overnight, oil bulls were served a cold shower by Russian Deputy Prime Minister Alexander Novak who said he expected no new steps from OPEC+ when it meets in Vienna on June 4, the state-owned news agency RIA reported.
As Bloomberg's Grant Smith notes, the contradictory signals on oil policy from OPEC+ leaders Saudi Arabia and Russia suggest the group probably won't agree new measures next week. That'll do little to improve souring sentiment in crude markets, and sure enough oil has plunged on Thursday, erasing all recent losses.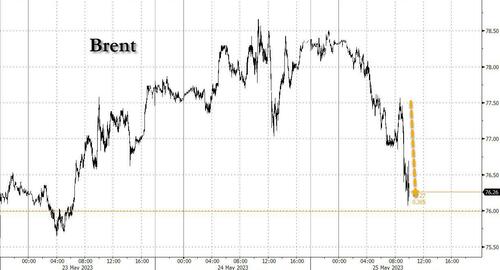 Russia, which needs oil revenues to fund its war on Ukraine and which the west is gladly funding as Biden has made clear his reelection chances will collapse if oil prices soar if Russian oil supply is suddenly halted, has so far struggled to implement production cutbacks it announced months ago. Agreeing to even deeper curbs at this point might be more than Moscow can countenance.
It's possible that the Saudis and fellow Gulf exporters could decide to move without Russian support, but given that they've already shouldered much of the burden for supporting oil markets this year, they may feel reluctant to do more.
The rhetorical schism between Riyadh and Moscow is a reprise of positions taken by the two sides ever since they formed OPEC+ just over six years ago, with the Saudis ready for action and Russia advocating a more moderate stance.
Despite dousing expectations for more production cuts, Novak said he expected Brent price to be above $80 a barrel by the end of the year. He said current prices of $75-76 reflected the market's assessment of the global macroeconomic situation. Novak also said that high U.S. interest rates and a slower than expected Chinese economic recovery were holding back oil prices from rising further.
"This will be the first face-to-face meeting in six months, we are waiting, as usual, for an assessment of the situation in the market," Novak was quoted as saying by Izvestia newspaper.
"But I don't think that there will be any new steps, because just a month ago certain decisions were made regarding the voluntary reduction of oil production by some countries due to the fact that we saw the slow pace of global economic recovery."
He also said he hoped that oil demand will increase in the summer.
"But I repeat once again: we do not have the task of inflating prices – there is the task of balancing in order to ensure the interests of both producers and consumers."
Sending another signal that no action might be required from OPEC+ at its next meeting, Russian President Vladimir Putin said on Wednesday that energy prices were approaching "economically justified" levels.
Putin said this month that production cuts implemented by OPEC+ were required to maintain a certain price level, contradicting assurances from other leaders of the group that it was not seeking to manage the market in that way.
Oil prices were little changed on Thursday as uncertainty over whether the United States will avoid a debt default weighed against the prospect of further OPEC+ production cuts.
Loading…
https://www.zerohedge.com/markets/oil-tumbles-after-russias-novak-signals-no-new-production-cut-opec