Still reeling off the news yesterday that Elon Musk had found a CEO for Twitter, Tesla shares were green in the Friday morning pre-market session on news that it has once again raised prices and strengthened its cooperation with Shanghai.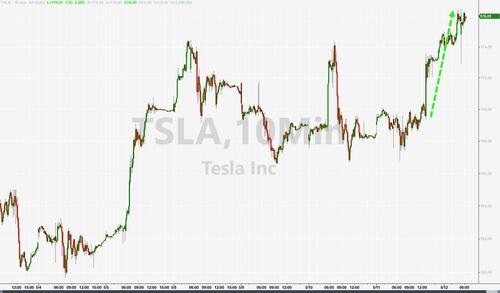 Tesla hiked the prices of most of its vehicles, adding as much as $1000 to the company's most costly models, according to Bloomberg. The Model S now posts a starting price of $88,490 and the Model X starts at $98,490. 
These compare to prices of $104,990 and $120,990, respectively, at the beginning of the year. 
John Zeng, managing director of consultancy LMC Automotive in Shanghai, says the price hikes are to try and stop the margin bleeding, which was a major concern during Tesla's last earnings report. He told Bloomberg: "Tesla is attempting to increase its margin as it has faced a sharp decrease in profits from several rounds of earlier price cuts."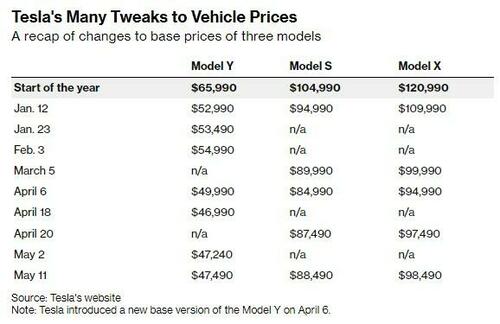 Tesla also recently just re-raised the price of its Model 3 and Model Y in both the U.S. and China. 
Just as was the case with the recent Model S and Model X hikes, the price increases were small compared to the cuts the company has put in place since the beginning of the year. We had just noted days ago that, due to aggressive price cuts, the Model Y was cheaper than the average new vehicle in the U.S. by $759. That'll likely still be the case, despite the $250 hike. 
It was also reported Friday morning that Shanghai would not only "boosting its ties" with Tesla, according to Bloomberg, but also that it would "strengthen cooperations and promote autonomous driving in the city". The article cited Shanghai Economic and Information Commission deputy head Chen Kele as its source. 
Recall, just hours ago Elon Musk announced he had found a new CEO for Twitter, helping put a charge into Tesla shares. 
Loading…
https://www.zerohedge.com/markets/tesla-pops-after-raising-prices-strengthening-cooperation-shanghai