Authored by Simon White, Bloomberg macro strategist,
Real rates in Europe and the UK will be positive by the summer, giving the ECB and the BOE cover to cease their hiking cycles, with each bank likely to deliver only one more hike.
In the US real rates are already positive, suggesting the Fed's hiking cycle is over. The Fed hiked faster than other central banks, and its reward is seeing the US's real rate going into positive territory ahead of the ECB and the BOE.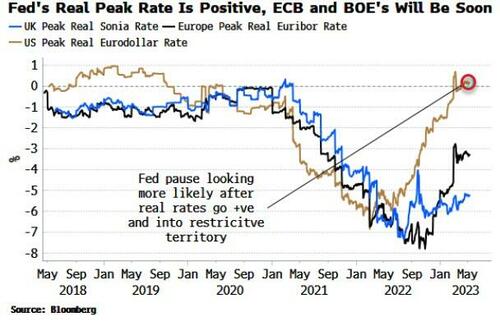 Positive real rates are restrictive, and it comes at a time when the US economy is facing increasing headwinds.
The Fed is becoming more circumspect, and pausing rates is an easier sell when nominal rates are ahead of inflation.
This is not a luxury that can be afforded to the ECB or the BOE – yet. But a steady fall in inflation will rapidly do that work for them. Based on CPI fixing swaps (RPI for UK) and rate expectations, real rates in Europe and the UK are very likely to be positive by the summer.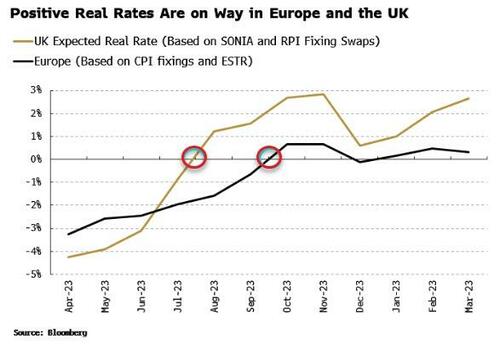 Markets are pricing in around one-and-a-half more 25 bps hikes for each central bank by the end of the summer. However, positive real rates will give succor for them to curtail their hiking cycles after only one more rate rise each.
Focus in both the UK and Europe has been on how growth has not been as bad as feared, but that seems to have obscured the fact that it is still lackluster, while negative leading data tilts the risks downwards.
The ECB and the BOE may soon be much more open to pausing rates, despite the current rhetoric, and impending positive real rates will give them the justification to do so.
Loading…
https://www.zerohedge.com/markets/real-rates-show-why-ecb-boe-will-join-fed-and-be-done-summer