Russia has issued a fresh warning amid new accusations that Kiev is planning major missile attacks on Russian-controlled Crimea.
Russian Defense Minister Sergei Shoigu said Tuesday that Ukrainian forces are plotting attacks with HIMARS long-range artillery systems and Storm Shadow missiles against the Crimean peninsula. Crucially Shoigu said that this would mean full-scale involvement of the United States and Britain in the war, given their military systems would be utilized.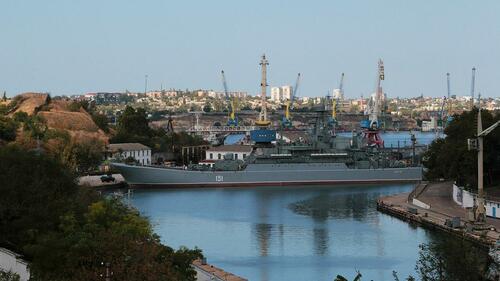 The defense chief said "immediate retaliation" would follow, while underscoring that Russia's retaliation would be felt directly against HQs within Ukraine.
"The leadership of Ukraine's armed forces plans to strike Russian territory, including Crimea, with HIMARS and Storm Shadow missiles," Shoigu said in a military briefing of top officials. 
"The use of these missiles outside the zone of the special military operation will mean the United States and Great Britain's full involvement in the conflict and will entail immediate strikes on decision-making centers in Ukraine," Shoigu asserted.
The warning comes amid reports of widespread overnight Russian air attacks on Ukrainian cities, but Reuters is saying there were no casualties, and primarily telecommunication infrastructure and agriculture and farming properties were hit.
Ukraine's military command is claiming its air defense systems successfully intercepted 28 out of 30 Iranian-made Shahed drones launched by Russia.
⚡️Interception of a Geran drone over Kyiv last night pic.twitter.com/inveEsEBYy

— War Monitor (@WarMonitors) June 20, 2023
While local authorities cited "another massive air attack on the capital," the far Wester city of Lviv, near the border with Poland, was also struck, resulting at a fire which engulfed "critical infrastructure". 
Loading…
https://www.zerohedge.com/geopolitical/russia-says-ukraine-planning-massive-attack-crimea-us-missiles