Update (1110ET): Former President Donald Trump had some choice words following the announcement of Hunter Biden's slap on the wrist for tax and gun crimes.
"No crime, no case. Election Interference!" Trump wrote on Truth Social.
While Hunter will receive no more than two years of probation, Trump was charged with 37 counts for allegedly mishandling over 300 classified documents found in his Mar-a-Lago home following an FBI raid.
"Hunter Biden is getting away with a slap on the wrist when growing evidence uncovered by the House Oversight Committee reveals the Bidens engaged in a pattern of corruption, influence peddling, and possibly bribery," tweeted House Oversight Committee Rep. James Comer (R-KY).
🚨🚨🚨

Hunter Biden is getting away with a slap on the wrist when growing evidence uncovered by the House Oversight Committee reveals the Bidens engaged in a pattern of corruption, influence peddling, and possibly bribery.

Read my full statement.👇 pic.twitter.com/9swtTaUUQu

— Rep. James Comer (@RepJamesComer) June 20, 2023
And of course, the DOJ says the Hunter investigations are 'ongoing.'
Smokescreen. David Weiss, the corrupt U.S. attorney doing Biden's and Garland's dirty work, is only claiming that an investigation is ongoing to hide documents and stonewall congressional oversight and investigation. https://t.co/8MXv4pTCOK

— Sean Davis (@seanmdav) June 20, 2023
When everything we witness is being orchestrated – it would seem important to orchestrate the response. https://t.co/eWJxdHjIAx

— Chip Roy (@chiproytx) June 20, 2023
Quite the slap on the wrist indeed.
If you try to purchase a firearm, and you neglect to fill out the ever-changing paperwork or tell a lie on those forms, you will not see the same kind of mercy from the ATF, FBI, or DOJ. Instead, you will be SOL.https://t.co/1uha8kwC9R

— Larry O'Connor (@LarryOConnor) June 20, 2023
Lying on a federal firearm background check form carries up to 10 years in prison and is a felony. Not for Hunter Biden.

— Katie Pavlich (@KatiePavlich) June 20, 2023
Remember folks, you — a law abiding citizen owning a gun — are a danger to the republic. Hunter Biden, a crack addict who lied on gun forms, and whose then-girlfriend threw his gun in a dumpster across from a high school, barely did anything wrong.

— Ben Shapiro (@benshapiro) June 20, 2023
*  *  *
Hunter Biden has reached a tentative agreement to plead guilty to two minor tax crimes and admit to the facts of a gun charge under terms which would likely keep him out of jail, according to the Washington Post, citing court papers filed on Tuesday.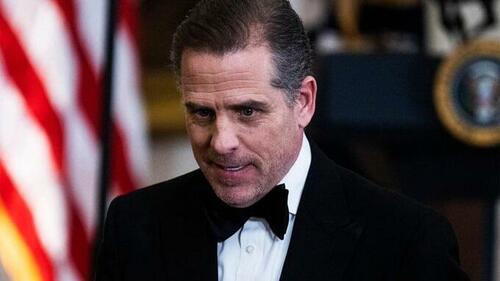 Spoiler: none of the charges involve Hunter's role as an international bag man for the Biden family (alleged, of course), which included a $10 million payment from Burisma to Hunter and Joe Biden, according to an FBI source.
The Post, which notably had a 1300 word article whipped up as the charges were announced, writes;
The agreement caps an investigation that was opened in 2018 during the Trump administration, and has generated intense interest and criticism since 2020 from Republican politicians who accused the Biden administration of reluctance to pursue the case. The terms of the proposed deal — negotiated with Delaware U.S. Attorney David Weiss, a holdover from President Donald Trump's administration — are likely to face similar scrutiny. -WaPo
Hunter, 53, is now expected to plead guilty to two misdemeanor tax charges of failure to pay in 2017 and 2018, for a combined tax liability of roughly $1.2 million. He'll also admit to illegally possessing a weapon after his 2018 purchase of a handgun – which will likely result in a 'diversion program' which would result in the removal of the gun charge if all of the program's conditions are met.
In total, Hunter will likely receive two years of probation and diversion conditions.
The federal investigation into Hunter Biden began in 2018, and initially centered around Hunter Biden's finances related to overseas business ties and consulting work. Over time, the international business dealings were dropped from the investigation – perhaps due to Joe Biden's alleged involvement – and the focus shifted to Hunter's failure to report his income, as well as whether he lied on paperwork to purchase the gun in 2018.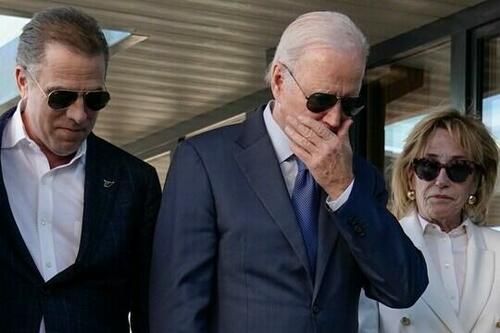 Of course – this reeks of a containment strategy to avoid implicating the sitting President, as the feds apparently haven't been looking into ill-gotten gains from a massive international influence-peddling operation while his dad was VP, for which there is ample evidence.
2 years ago, before the last presidential election, we interviewed a former business partner of the Biden family called Tony Bobulinski. His story of influence peddling and corruption went ignored. Bobulinski's learned quite a bit more recently. Here's part of what he had to say. pic.twitter.com/mCaEYLbGgw

— Tucker Carlson (@TuckerCarlson) October 5, 2022
Guess it's up to House Republicans to get to the bottom of Hunter's business dealings. And then what? Does anyone think Biden AG Merrick Garland is going to prosecute the First Son for anything meaningful?
As Jonathan Turley noted earlier this month;
Form 4473 is required for gun purchases like the one of Hunter in 2018. It asks:
Are you an unlawful user of, or addicted to, marijuana or any depressant, stimulant, narcotic drug, or any other controlled substance?

Warning: The use or possession of marijuana remains unlawful under Federal law regardless of whether it has been legalized or decriminalized for medicinal or recreational purposes in the state where you reside.
Hunter reportedly lied and said "no."
The Bureau of Alcohol, Tobacco and Firearms maintains this ban applies to people who have admitted to using illegal drugs in the 12 months before buying a gun. Hunter Biden was using drugs before, during, and after that period.
We previously discussed the issue which became even greater news when it was learned that the gun was tossed into a trash bin in Wilmington by Hallie Biden, widow of the deceased brother of Hunter. After the death of his brother Beau, Hunter began a sexual relationship with Hallie and she apparently became concerned about what he might do with the gun.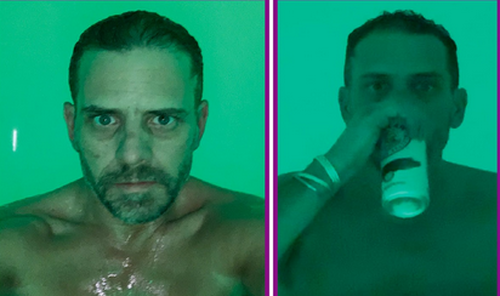 President Biden has demanded "red flag" enforcement that would also appear to target the conduct of his own son.
Now, Hunter Biden could be arguing against some of these laws as unconstitutional under a more expansive view of the Second Amendment. While most courts have upheld the ban on drug users, Hunter's lawyers reportedly told the Justice Department that they will challenge the law under Bruen where a six-justice majority declared that such limitations must be consistent with the practices during the founding period.
This is not the first glaring contradiction to arise under the Hunter Biden scandals. President Biden has long campaigned against "deadbeat Dads," but did not utter a word of concern when his son spent years resisting recognizing or supporting his daughter until a settlement was raised with the help of a court. He is now trying to reduce those payments.  The President and First Lady continue to refuse to acknowledge their granddaughter, Navy, as Hunter opposes her use of the family name.
Biden's arguments in Arkansas, to paraphrase his new found allegiance, appears to be that Navy "I'll give you my [more child support] when you pry (or take) it from my cold, dead hands."
Given his father's call for greater enforcement of red flag laws and gun controls (including permitting requirement), it will be interesting to see how the Justice Department deals with what appears an knowing violation of the federal gun laws. While this is not the charge that most concerns the White House, it is still a charge that can come with a sentence of up to 15 years in prison.
Ironically, when he committed the alleged violation, the penalty was 10 years. The Bipartisan Safer Communities Act raised the maximum penalty for that offense to 15 years. The president who enthusiastically signed that law was Joe Biden.
Loading…
https://www.zerohedge.com/political/hunter-biden-plead-guilty-tax-crimes-admit-gun-charge