Despite widespread fears that an economic downturn and high airfare prices could derail consumers' appetite for travel, new security checkpoint data across New York City airports soared to a record high in the first quarter. 
The Port Authority of New York and New Jersey said 32 million passengers passed through John F. Kennedy International Airport (JFK), Newark International Airport (EWR), and LaGuardia International Airport (LGA) last quarter — a record high, surpassing figures in the same period of 2019 by over one million. 
Most of the travel surge was at EWR and LGA. Bloomberg explained the expansion at multiple airports in the region allowed for increased capacity:
"Newark's $2.7 billion Terminal A opened in January and LaGuardia's $4 billion overhaul of its Delta Air Lines Inc., Terminal C, which was unveiled last year." 
Additionally, security checkpoint throughput data across all US airports has returned to pre-Covid levels.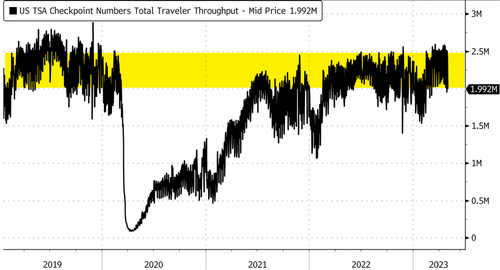 Meanwhile, travelers searching for flights this spring and summer are paying some of the highest travel costs in years.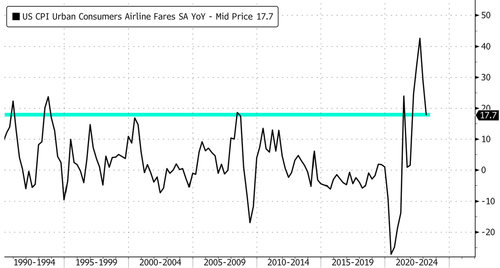 During Delta Air Lines' first-quarter earnings call, President Glen Hauenstein remained optimistic about air travel this summer: 
"[We] know there's a lot of anxiety about domestic demand for the summer, but we don't share that anxiety." 
Although Wall Street analysts have expressed concerns that mounting macroeconomic headwinds could negatively impact air travel demand, this has not yet materialized. A considerable amount of pent-up travel demand remains after people were confined to their homes by government lockdowns for a year during the pandemic. 
Loading…
https://www.zerohedge.com/markets/nyc-airports-hit-first-quarter-passenger-record