Millennials have experienced several decades of persistent economic instability. Many were children during the dot-com bubble's collapse, entered college during the 2008 real estate meltdown, and have recently grappled with two years of negative real wage growth alongside the highest inflation rates in decades.
Since the American dream has become too expensive for most millennials, such as marriage, starting a family, and purchasing a home — those who can achieve some form of the dream are purchasing thrift store wedding attire for the big day, The Wall Street Journal reported in an eye-opener piece titled "It's OK to Spend $12.50 on a Wedding Dress Now." 
WSJ cites a new survey via wedding planning site Zola's that reveals 27% of the brides in 2023 are willing to splurge on a wedding dress, down from 47% in 2022. 
"As thrifted and fast-fashion dresses rise in popularity, they are shaking up an industry unaccustomed to much change," the publication noted. 
This emerging trend of thrift store wedding dresses might indicate millennials can't afford traditional weddings and new attire. And this only makes sense. As we explained above, these youngsters have grown up in a turbulent era. Now the ones who can afford to get hitched must resort to cost-saving measures such as second-hand dresses. 
It's not just Zola's survey finding out bride budgets have collapsed. David's Bridal LLC, the largest wedding-attire chain in the country, filed for bankruptcy last month. The company wrote in its bankruptcy filing that an "increasing number of brides are opting for less traditional wedding attire, including thrift wedding dresses."
"This is the year of the 'Bride on a Budget' and we're doing everything we can to meet her with her dream dress at every price point," Chief Executive James Marcum wrote in an email to WSJ. 
Meanwhile, sales of white cocktail and special-occasion dresses on ThredUp have jumped 23% in 2023 compared to the same period in 2019. Similarly, Poshmark Inc., another online second-hand retailer, reports a 35% year-over-year increase in sales for items labeled "wedding."
Some brides have even resorted to Goodwill wedding dresses. Renee Drake, a seamstress in Medina, Ohio, said her client found a $25 gown marked down to $12.50 at one thrift store.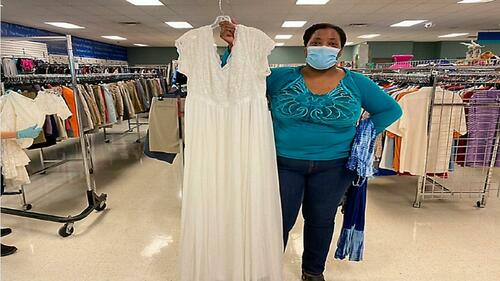 This is just the latest evidence millennials are in a terrible financial state. Some might argue younger generations find weddings a giant waste of money, but we'll assure you, if a youngster had the money to afford a lavish wedding, they certainly would. 
Loading…
https://www.zerohedge.com/markets/cash-strapped-millennials-turn-thrift-stores-wedding-attire