Stick a fork in San Francisco: the city seems to be beyond repair.
After 35 years, Nordstrom is closing its downtown San Francisco stores, citing "the deteriorating situation" in the city plagued by crime and governed by mindless progressives. 
According to ABC7 News, the Nordstrom Rack on Market Street will close on July 1, and Nordstrom inside Westfield Mall will close in August. 
Jamie Nordstrom, Chief Stores Officer, sent a letter to impacted workers of both stores and explained that "the dynamics of the downtown San Francisco market have changed dramatically over the past several years, impacting customer foot traffic to our stores and our ability to operate successfully."
The impending exodus of Nordstrom comes as several other retailers, such as Office Depot, The Container Store, Anthropologie, Whole Foods, and Saks Off 5th, have all recently announced store closures. The reason for the closures is that cost of operation for retailers is soaring as progressive city officials won't address out-of-control thefts and street crime. 
Since 2020, twenty retailers have closed their stores in San Francisco's Union Square, as the San Francisco Standard reported. All have pointed to theft. In other areas, CVS and Walgreens have shuttered stores.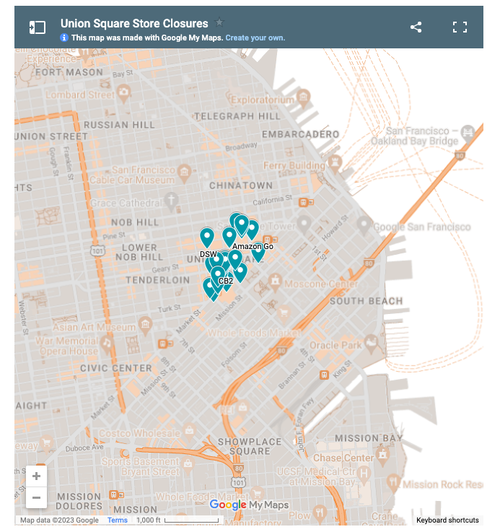 As for the retailers who remain in the city, such as Target, they've had to lock entire aisles behind safety glass to prevent shoplifting. 
This is what Target in San Francisco looks like pic.twitter.com/7mVnnbO8cK

— Clown World ™ 🤡 (@ClownWorld_) April 21, 2023
The retail departures are yet another blow for the city as the tech downturn worsens, coupled with the regional banking crisis, which has spread into commercial real estate, mainly the office space segment. 
The gold-standard measure of office occupancy trends is the card-swipe data provided by Kastle Systems. The average office occupancy in San Fran is around 45%, still well off the highs from pre-pandemic levels.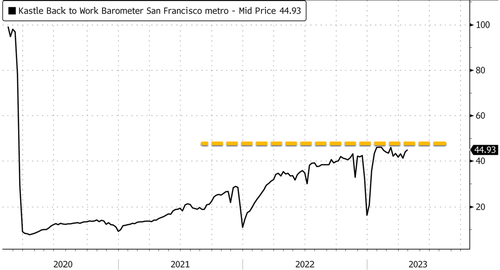 This means that workers have been slow to return to the office, which is evident as Salesforce, Meta Platforms, and other tech companies are hemorrhaging office space, hurting the local economy. 
Other stores in the crime-ridden city may also be leaving soon due to approaching lease end dates. 
*   *   * 
Jamie Nordstrom, Chief Stores Officer, sent the following message to employees:
"Today we announced that we've made the difficult decision not to renew our leases at the San Francisco Centre Nordstrom store and our Market Street Rack store across the street. Market Street Rack's last day of business will be July 1 and we intend to close San Francisco Centre at the end of August.

Decisions like this are never easy, and this one has been especially difficult. We've spent more than 35 years serving customers in downtown San Francisco, building relationships with them and investing in the local community. But as many of you know, the dynamics of the downtown San Francisco market have changed dramatically over the past several years, impacting customer foot traffic to our stores and our ability to operate successfully. With both leases set to expire, and after looking closely at our opportunities in the region, we believe we can better serve our customers there by focusing on our 16 nearby Nordstrom and Nordstrom Rack locations, as well as online.

I want to be really clear that this decision had nothing to do with our team's hard work. They should be proud of everything they've achieved together and the way they've shown up and served the community. We're working with each impacted employee to support them through this transition and find new roles within the company wherever possible.

Stores continue to play a critical part in delivering our Closer to You strategy, and we continue to be opportunistic about new store locations, relocations and concepts. In fact, we have 20 new Rack store openings planned this year, with more to come in 2024. We also remain committed to the Bay Area market and have made significant investments in our stores there over the past several years. We recently announced a new Nordstrom Rack store will open in Pinole, CA, and completed a remodel at our Valley Fair Nordstrom store."
Read the full statement from Westfield Mall below:
"The planned closure of Nordstrom underscores the deteriorating situation in downtown San Francisco. A growing number of retailers and businesses are leaving the area due to the unsafe conditions for customers, retailers, and employees, coupled with the fact that these significant issues are preventing an economic recovery of the area.

URW has actively engaged with City leaders for many years to express our serious concerns, which are shared by our customers and retailers. We have urged the City to find solutions to the key issues and lack of enforcement against rampant criminal activity.

The current environment is not sustainable for the community, or businesses, and we are hopeful the City will implement the changes that are so urgently needed."
Loading…
https://www.zerohedge.com/markets/nordstrom-closing-san-francisco-stores-citing-deteriorating-situation-amid-crime-crisis