Update (1400ET): Well this is awkward.
After the actions of a number of transgender "influencers" on the lawn in front of The White House went viral, President Biden's administration – after praising them as "the bravest and most inspiring people" he'd ever known – has been forced to condemn the topless-ness…
"This behavior is inappropriate and disrespectful for any event at the White House. It is not reflective of the event we hosted to celebrate LGBTQI+ families or the other hundreds of guests who were in attendance. Individuals in the video will not be invited to future events," the statement read.
How long before the alphabet people turn on Biden for daring to condemn their free expression?
Trans activist Rose Montoya – the one with the hands – offered a comment:
"I had zero intention of trying to be vulgar or be profane in any way. I was simply living my joy, and my truth, and existing in my body."
Of course, their behavior is totally different from what was witnessed at Pride events around the country over the weekend (in front of children) and is also witnessed on a regular basis at 'family-friendly' drag shows?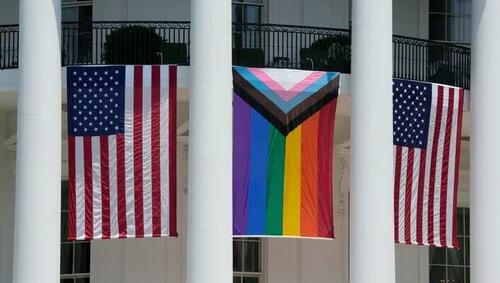 The White House spokesperson tried to explain…
Jean-Pierre says trans influencer who posed topless at the White House was "unacceptable," "unfair," "not appropriate," and "disrespectful."

"It really does not reflect the event that we hosted…"pic.twitter.com/oHAolrBSMu

— Daily Wire (@realDailyWire) June 13, 2023
As Paul Joseph Watson detailed earlier at Summit News, a video clip shows transgender "influencers" posing topless outside the White House during this past weekend's Pride event, including one displaying fake breasts and another showing breast removal scars.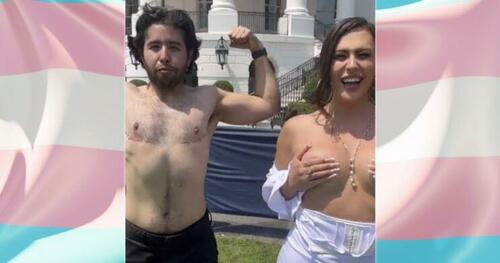 Transgender model Rose Montoya posted the video to TikTok which shows activists posing with their chests exposed at an event that was attended by children.
Montoya, a biological man living as a woman, chose to cover his fake nipples for the video while stood next to two biological females identifying as men showing their double mastectomy surgery scars.
GRAPHIC: Trans TikTok "influencer" Rose Montoya, posed topless at Biden's White House Pride celebration. Next to him is a biological female, also topless, who had her breasts surgically removed. pic.twitter.com/1cprqxtkcQ

— Charlie Kirk (@charliekirk11) June 13, 2023
we are not a serious nation. https://t.co/21wuUnAxhS

— TheQuartering (@TheQuartering) June 13, 2023
Trans TikToker strips in front of the U.S. flag 🇺🇸 on the White House Lawn and shakes his silicone breasts after being invited to attend Biden's pride party. pic.twitter.com/6z9gFLvOh4

— Oli London (@OliLondonTV) June 13, 2023
— The Right To Bear Memes (@grandoldmemes) June 13, 2023
"Are we topless at the White House?" said Montoya, who was also seen shaking hands with Biden and thanking him for his support.
During the event, President Biden heralded those attending as courageous and brave.
"As I said — I mean this; I swear to God — you're some of the most — you're some of the bravest and most inspiring people I've ever known. And I've known a lot of good folks," said Biden.
Biden tells the audience at his Pride Month event: "I see more courage on this lawn than any time I've seen in the recent past" pic.twitter.com/TcDvOCxotX

— RNC Research (@RNCResearch) June 10, 2023
The event was marked with the flying of the Progress Pride Flag in between the United States flag, which was seen by many as a violation of U.S. flag codes and a display of subservience to the LGBT agenda.
Meanwhile, wholesome family-friendly entertainment month continues.
*  *  *
Brand new merch now available! Get it at https://www.pjwshop.com/
In the age of mass Silicon Valley censorship It is crucial that we stay in touch. I need you to sign up for my free newsletter here. Support my sponsor – Turbo Force – a supercharged boost of clean energy without the comedown.
Get early access, exclusive content and behind the scenes stuff by following me on Locals.
Loading…
https://www.zerohedge.com/political/watch-transgender-influencers-posed-topless-outside-white-house-during-pride-event