At this point, we've made it clear to our readers that the next domino to fall would be commercial real estate, specifically the office space market. The latest warning is from the head of Canada's largest institutional investors.
"There's going to be a bloodbath in some areas [lower-quality office space], for sure," Charles Emond, chief executive officer of Caisse de dépôt et placement du Québec (CDPQ), told Bloomberg in an interview on Thursday. He said regional banks "underpriced" the market in CRE loans for several years, and credit squeezes have forced several regional bank failures.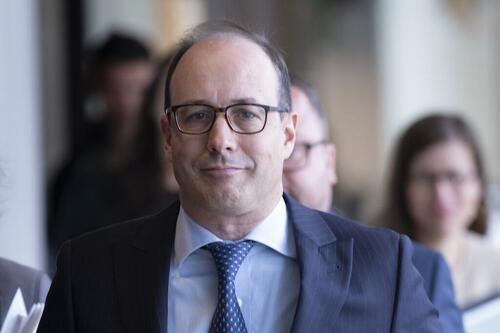 Emond pinpointed out the coming turmoil: "It's going to be weak banks lending to weak buildings, and that's going to be the issue." He said owners of high-end properties, such as the ones CDPQ owns, will be able to weather the CRE storm. 
CDPQ is Canada's second-largest public pension manager with $302 billion in assets, about 12% in real estate. It owns the former Goldman Sachs Group Inc. headquarters on Broad Street in Manhattan, Seattle's Fairmont Olympic Hotel, and multi-family units across the US. 
Bloomberg noted that Emond, a former Bank of Nova Scotia investment banker, was appointed right before Covid to run CDPQ. The fund's CRE portfolio was mismanaged, with significant exposure to offices and retail space. In the last three years and over 200 transactions later, those two segments of the CRE portfolio shrunk and only represent 30% combined.
Emond said his team is bullish on student housing. "The price point, the affordability, the clients — this is all stuff that is actually quite defensive," he said.
There have been increasing concerns about the depth of the CRE downturn. Goldman Sachs chief credit strategist Lotfi Karoui told clients last month that "the most accurate portrayal of current market conditions" is data via the Green Street Commercial Property Price Index, which indicates trouble ahead. 
Karoui explained, "Green Street indicating a 25% year-over-year drop in office property values." 
The widely expected CRE downturn could force some overexposed regional banks to sell CRE loans at a steep discount. These banks with risky loans could generate even more liquidity and credit concerns. We've already noted credit tightening across some regional banks as lending to new CRE clients has been dialed back. Some banks are trying to divest parts or all of existing loan books to survive the coming storm. 
Loading…
https://www.zerohedge.com/markets/top-canadian-pension-fund-warns-about-cre-bloodbath-office-buildings