Heading into today's huge, $4.2 trillion triple-witching opex…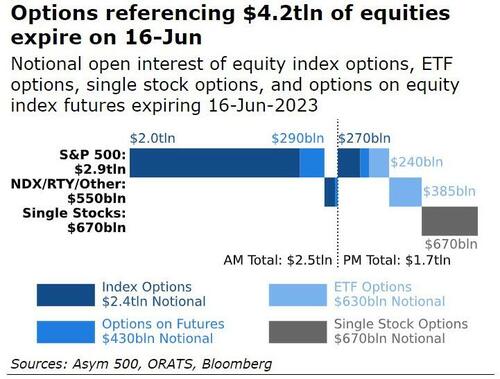 … stocks sprinted out of the gate, only to immediately run out of steam, hitting session highs at the cash open which is also the moment when $2.3 trillion in S&P options expired…
lols pic.twitter.com/w2bytPrtcm

— SpotGamma (@spotgamma) June 16, 2023
… and setting off on a long, boring grind lower, to close at session lows some 40 points lower…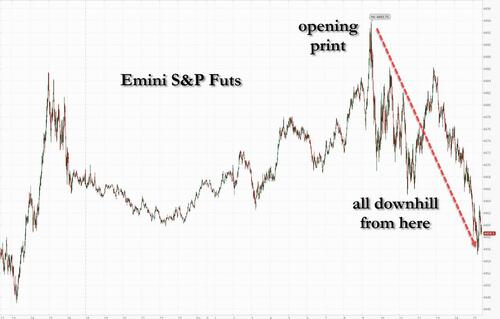 … with all sectors sliding into the close…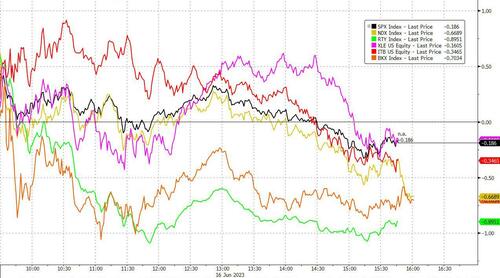 … as the SPX 4,400 Call Wall – which the market steamrolled earlier this week in its euphoria sprint higher – exerted its magnetic influence lower on risk assets…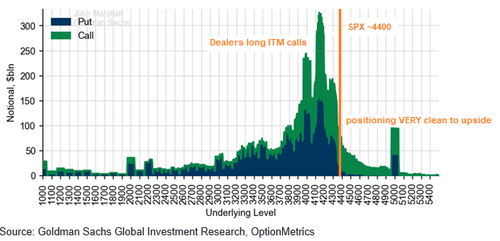 … just as we discussed last night…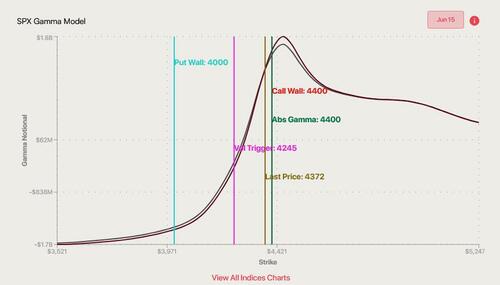 … and also as we observed after the latest Fed balance sheet release showed that reserves had started to slide again, even as risk assets continued their melt-up with oblivious abandon (but not for long).
Divergence in Fed reserves vs equity froth gap entering redline territory pic.twitter.com/W0vaApd3TK

— zerohedge (@zerohedge) June 15, 2023
Curiously, not even a constant push of delta buying by both 0DTE and regular option traders was able to reverse the slide in the index…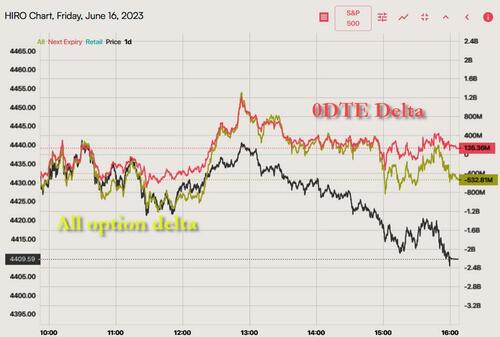 … nor the continued covering of the (formerly) record emini S&P future shorts, who were squeezed for a 2nd week in a row after the net short position hit a record at the end of May.
Curiously, as stocks fell so did the VIX, which tripped the moment the cash market opened, sliding lower with stocks…
… and extending the bizarro super-positive correlation between stocks and vol, which as Goldman said earlier has "rarely been this positive"…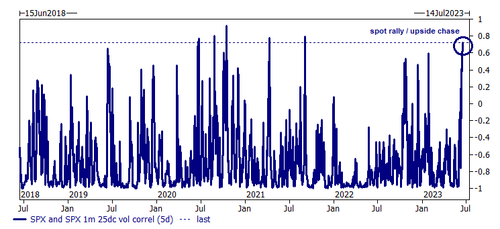 … yet which also sows the seeds of the market's next puke, as Goldman's next chart showed (more on this correlation here).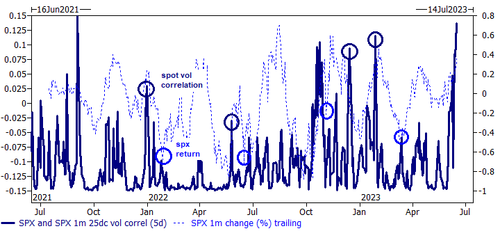 To be sure, it wasn't just the greeks, and after they were kicked to the pavement in recent weeks, small caps (RTY) saw a clear rotation out of tech (QQQ) in the last hour, although as others have observed, if this is indeed the start of the "everything else" rotation, then we have a lot to go.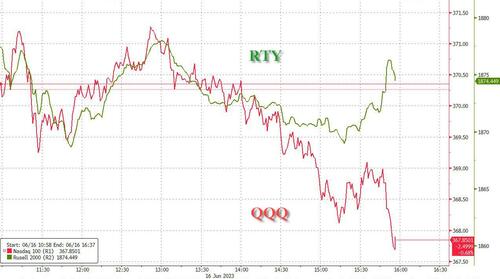 That said, don't cry for the S&P: despite today's drop, the index closed the week 2.6% higher, its biggest gain since the Fed stepped in with a massive "emergency" stimmy after the bank crisis in March, and the fifth consecutive weekly increase, the longest stretch since Nov 2021.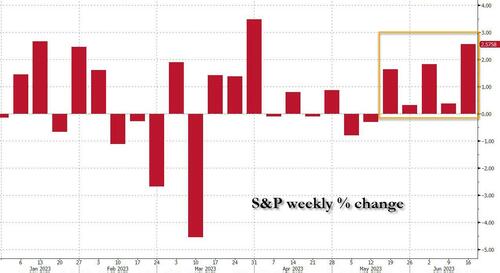 While stocks failed to catch a bid after the recent meltup, other more beaten down sectors finally pushed higher, with WTI pushing back over $70 after hitting a one-month lower earlier this week.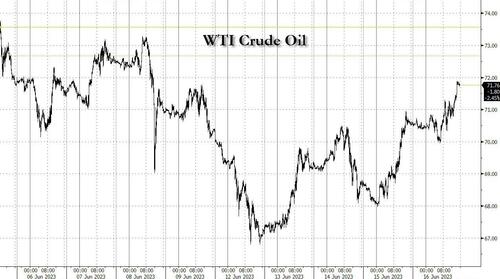 Likewise, gold and silver ramped higher after getting clubbed in recent days…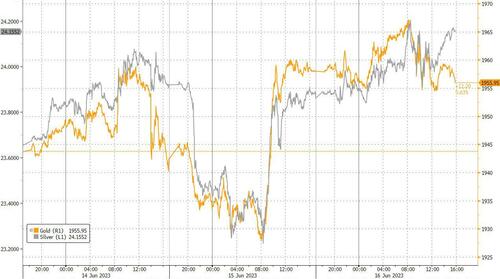 … and even bitcoin finally caught a bid one day after news hit that the world's largest asset manager, Blackrock, had filed for a spot bitcoin ETF, a move which sets up for an interesting confrontation between the most important man on Wall Street and the most useless Liz Warren henchman at the SEC, Gary Gensler.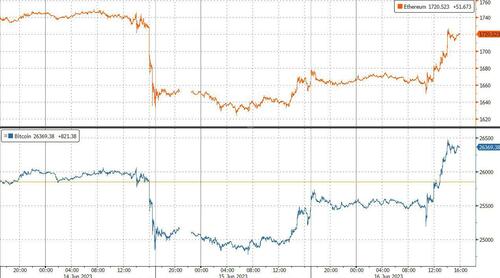 Finally, while Treasuries did nothing notable today, the divergence between the two duration classes – 10Y paper and the QQQs – has extended its divergence to levels not seen in years.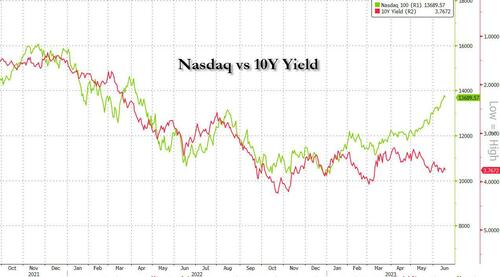 Loading…
https://www.zerohedge.com/markets/stocks-dump-massive-triple-witch-punks-euphoric-markets