A document obtained through a Freedom of Information Act (FOIA) lawsuit against the US State Department reveals that the US government has been enlisting an international cadre of censorship czars coordinated through a hyper-partisan network that includes the Global Engagement Center (GEC) and the Poynter Institute – which runs PolitiFact, and which has received funding from both the Soros' Open Society foundations and a State Department-funded group.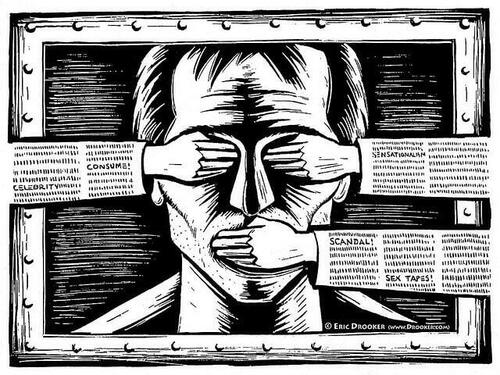 More via America First Legal – run by former Trump adviser Stephen Miller and DOJ advisor Gene Hamilton.
2/ We obtained more documents from our lawsuit against the State Department about the GEC, exposing the international censorship czars. Meet the 11 "journalists" who decide what you can see online. https://t.co/v3T4pI8FDc pic.twitter.com/Y8GWOpC2ht

— America First Legal (@America1stLegal) June 14, 2023
More via threadreaderapp.com
Key Takeaway: The global cabal of "fact-checkers" do not appear to be the benevolent truth-seekers they say. They appear to be highly ideological activists, affiliated through the Poynter network, backed by the same money to say the same thing.
Their claim of independence is farcical. Independent means free from the influence of others. But as we will see, all fact checkers claim the credential of IFCN, a Poynter-backed organization that gives them their 'legitimacy' to influence content moderation online.
5/ FACT CHECK — CLAIM: "fact-checkers are independent" = FALSE

Follow along as we expose the charade of "independence" pic.twitter.com/me8XYGHmSG

— America First Legal (@America1stLegal) June 14, 2023
https://t.co/NKKXjbMiQ0

— America First Legal (@America1stLegal) June 14, 2023
As AFL has previously shown, @Poynter runs PolitiFact and @factchecknet, which was initially funded by the Department of State-funded National Endowment for Democracy, the Omidyar Network, Google, Facebook, the Bill & Melinda Gates Foundation, and George Soros' Open Society Foundations, per @Jacob__Siegel.
In @mtaibbi Report on Censorship Industrial Complex, @Poynter is #8 on the list of top 50 organizations to know. There he reports that in an election slack, the FBI asked about two tweets, and a Twitter trust and safety staffer cites Politifact as the authority for striking a piece of content, writing: "This is proven to be false via this."
10/ Faktograf calls itself a nonprofit for good journalism, critical thinking, and an informed public. But it models itself after Politifact! And per its own website, its "launch … was financially supported by the @NED and @StateDept" https://t.co/7k0951KMIt

— America First Legal (@America1stLegal) June 14, 2023
And Faktograf is so committed to an informed public and critical thinking that in 2021 Brakus called for more authority to censor political leaders.
13/ But while Ana seems to think she should have a say in what you can see online, she doesn't appreciate being questioned. If you question fact-checkers, her organization says you are harassing or promoting violence. https://t.co/TjZdo5dFDl

— America First Legal (@America1stLegal) June 14, 2023
"With this research, we wanted to better understand what the wider fact-checking community faces, as well as how politically exposed persons use and fuel harassment that we are faced with. Sadly, it has become obvious that our experiences at Faktograf are not unique, and that harassment is a common occurrence in the fact-checking community," said Brakus.
Catch Ana this week @PointConference speaking on "invisible harassment: the perspective of fact-checkers and women" after panels on censoring podcasts and YouTube, the green internet, and innovations in fighting disinformation.
Third, Barbara Whitaker @barbwhitAP is an editor for the Associated Press. The AP is a wire service, meaning, what they print is reproduced and delivered as news by outlets around the world. The AP claims: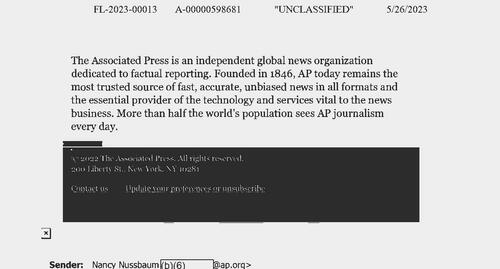 But the Fact Check section reads like the talking points of a left-wing policy shop.
18/ And as we uncovered in our previous thread, AP's funding from the State Department calls its true independence into question.https://t.co/0scW1LK88p

— America First Legal (@America1stLegal) June 14, 2023
Up next is Gülin Çavuş. @gulincav is the editor-in-chief of Teyit, a Turkish fact-checking platform. After going through the American higher education system, Gülin ended up in journalism.
After 'reporting' on 'misinformation problems about refugees' in 2016, she came on Poynter's radar and won an IFCN fellowship in 2017. She is now the EIC for a Poynter-credentialed fact-check site with an outsized influence on what content is "moderated"
22/ In 2018 she called for a global database of false news about refugees so she could control the global narrative migration trends. https://t.co/5syKRkjTv6

— America First Legal (@America1stLegal) June 14, 2023
Read about the rest here…
Loading…
https://www.zerohedge.com/political/state-departments-narrative-control-unit-letting-highly-ideological-activists-decide