The week's final coupon auction has just concluded and while not nearly as strong as yesterday's blowout 5Y auction which saw the 2nd highest foreign demand on record, was no slouch either.
Pricing at a high yield of 3.827%, this was the highest yield for the 7Y tenor since February's 4.062%; still, the auction stopped through the When Issued 3.835% by 0.8bps, which was the first stop through since January, driven by the continued bleed higher in yields across the curve (the 10Y is now 3.8%) which led to a generous concession into the auction.
The bid to cover of 2.61 was also slid, and was the highest since January and also well above the six-auction average of 2.46.
The internals were especially strong, and while once upon a time foreigners balked at the prospect of buying the belly of the curve, today there were no such issues with Indirects awarded 72.3%, the highest since January and above the 66.7% recent average; and with directs awarded 17.3%, the lowest since January and below the recent average, dealers were left with 10.4% of the auction, which was also the lowest since January.
Overall, this was a solid, if not spectacular auction, but it was certainly one of the best 7Y auctions in the past year.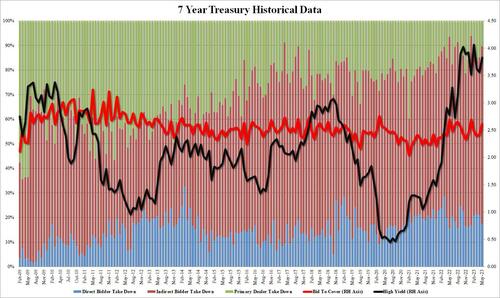 Loading…
https://www.zerohedge.com/markets/solid-7y-auction-stops-through-after-jump-foreign-demand