Analysts and traders have been questioning whether the robust consumer spending trend observed early in the season would sustain, or if a slowdown in spending was imminent. Their answer arrived over the past few days as Home Depot cut its forecast due to sliding sales as the home improvement boom appears to be waning. Additionally, Target, one of the biggest retailers, voiced concerns about "softening sales trends." 
Comparable sales from brick-and-mortar stores and digital channels operating for at least 12 months were flat for the three-month period that ended April 29 compared with the same quarter last year. That is lower than the previous quarter's 0.7% increase. 
Target executives told reporters that consumers are dialing back discretionary purchases and switching to staple goods as price rises and higher interest rates crimp household budgets. They said food and beverage, household essentials, and cosmetic sales were strong. 
The Minneapolis retailer beat Wall Street expectations and maintained annual profit guidance above industry analyst projections. However, warned about faltering consumers:
"We came into 2023 clear-eyed about what consumers are facing with persistent inflation and rising interest rates.

"We were determined to build on our guests' trust by unifying as one team to deliver affordable joy each and every day as consumers and businesses navigate a third straight year of dynamic challenges," Target chairman and CEO Brian Cornell told reporters. 
Target expects earnings in the current quarter to range from $1.30 to $1.70. Data from Bloomberg showed that it would trail the $1.91 average of analyst estimates. 
Its first-quarter net earnings slid 5.8% to $950 million because of increasing labor costs, inflation, and 'shrink' — the loss of merchandise due to theft. 
"We continue to contend with a significant headwind caused by inventory shrink, building on a worsening trend that emerged last year," said Cornell. 
Specifically, Target pointed to a worsening blow from organized retail theft, which is expected to erode profit by an additional $500 million compared with last year, when Target was already contending with rising theft.
"We are making significant investments in strategies to prevent this from happening in our stores and protect our guests and our team," Chief Executive Officer Brian Cornell said in the statement.

"We're also focused on managing the financial impact on our business so we can continue to keep our stores open."
Finally, Christina Hennington, Executive Vice President and Chief Growth Officer, dropped the hammer on the 'strong consumer' narrative:
In many ways, the themes of the first-quarter operating environment were very similar to what we've outlined in recent quarters. So it likely comes as no surprise that we continue to face elevated volatility and see a reprioritization of spending away from discretionary categories in the face of persistent inflation in groceries and essentials.

…

American consumers continue to face difficult trade-off decisions as they as they juggle the wants and needs of their families. Consumer saving rates are down, and while inflation rates are finally declining, so is consumer confidence. The fear of a looming recession weighs heavily on many American families…

…total sales were strongest in February, began decelerating in March, and softened further near the end of April…
Target's mixed picture underscores a slowdown in consumer spending that Home Depot first showed on Tuesday. The next earnings report will be from Walmart on Thursday, with Macy's, Kohl's, and Nordstrom later this month — all will provide valuable insight into consumer health. 
On Monday, we shared the latest monthly Consumer Checkpoint report published by Bank of America, which showed signs of a slowdown in consumer spending. 
Target shares were flat after the earnings report.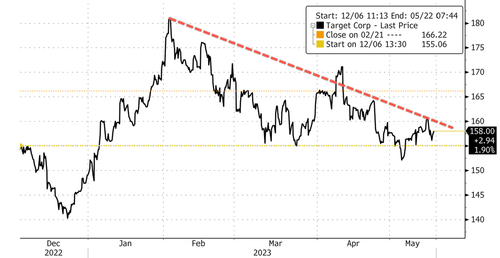 Other retailer shares range between up 5% to 10% year-to-date.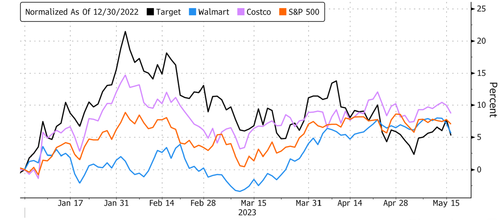 It appears Target's taken a 'new' angle to addressing this consumer slowdown… go woke!
What @Target is doing is far worse than anything Bud Light did. They are selling chest binders & "tuck-friendly" bathing suits for children.

Target is calling our bluff. But just like any other company, they need our business. We did it with Bud Light. Now it's Target's turn. pic.twitter.com/C2O2mkgDxw

— The Matt Walsh Show (@MattWalshShow) May 16, 2023
Boycott TARGET complete NWO globalist woke agenda targeting children pic.twitter.com/Q3RTjqSZ9p

— Captain Covfefe (@zigeist88) May 16, 2023
Target hits the woke bullseye, again!🎯

With the rollout of their 2023 pride collection, Target now sell "Tuck-Friendly" swimsuits & LGBTQ onesies for infants! 😳

Shift your dollars to businesses that share your values.🇺🇸
Get started at https://t.co/0b1lDkNAwT pic.twitter.com/gMRZWRzZxH

— PublicSq. (@officialpsq) May 11, 2023
Oops.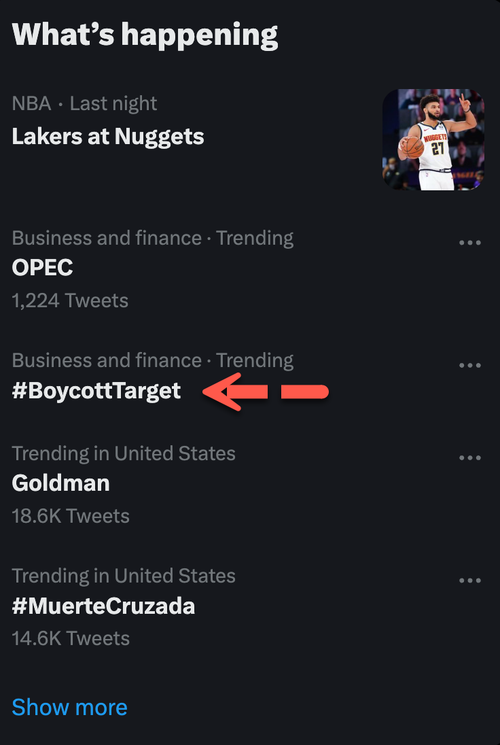 This likely won't end well for Target.
Loading…
https://www.zerohedge.com/markets/target-reports-softening-sales-trends-evidence-consumer-slowdown-mounts