Russian President Vladimir Putin is seeking to reassure regional allies that he will crush the Wagner uprising now threatening the military and government, and will maintain a stable Russia.
In what's being described as his first international phone call since the Wagner mutiny began, which is grabbing the attention of Western governments, Putin spoke to his Belarus ally, President Alexander Lukashenko. "The president of Russia called the president of Belarus this morning, there was a phone conversation," Belarusian state media confirmed. "Vladimir Putin informed his Belarusian colleague about the situation in Russia."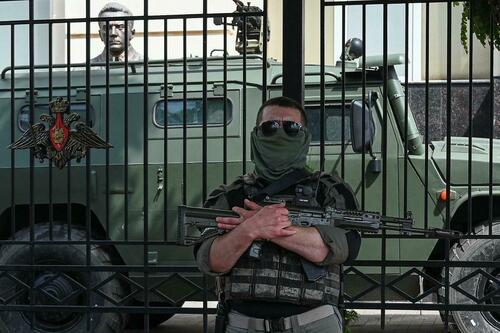 Putin also spoke to the president of Kazakhstan, Kassym-Jomart Tokayev, as well as the president of Uzbekistan, Shavkat Mirziyoyev. "The president informed them about the situation [in Russia]," Putin's spokesman Dmitry Peskov said.
Kazakh media related that President Tokayev agreed with Putin that events in Russia are a "domestic affair." Putin reportedly thanked him for his "understanding" of the crisis.
According to the Kremlin, Putin also held a phone call with Turkey's Recep Tayyip Erdoğan. A Kremlin readout said Erdogan expressed "full support" for Putin in the call.
According to Turkish media:
Erdoğan said he backed the Russian government's handling of a mutiny by the Wagner mercenary army, the Kremlin said in a statement.

President Erdoğan urged his counterpart to act with common sense and stated that Türkiye was ready to do its part to solve the situation in Russia peacefully as soon as possible.
Meanwhile, Wagner convoys are said to be headed toward the Russian capital, also amid unconfirmed reports that the Russian presidential plane has flown to St. Petersburg. Erdogan has offered assistance in finding a political solution:
ERDOGAN TELLS PUTIN TURKEY READY TO HELP FIND SWIFT SOLUTION:AA
PRIGOZHIN FORCES ADVANCE INTO LIPETSK REGION: GOVERNOR
Aircraft belonging to Russia's presidency appears to be flying towards St Petersburg, as the Kremlin says Putin is still in Moscow. pic.twitter.com/97ZbHhjVvK

— The Spectator Index (@spectatorindex) June 24, 2023
But the Kremlin has sought to affirm that Putin is still working from the Kremlin.
The Washington Examiner wrote early Saturday based on unconfirmed reports, "The plane belonging to Russian President Vladimir Putin departed from Moscow to St. Petersburg early Saturday as the Kremlin attempts to quiet an "armed rebellion" from Wagner mercenaries threatening to weaken the country's offensive in the Ukrainian war."
Currently, roadblocks are being erected around Moscow, also as roadblocks have been spotted further south, often utilizing large construction vehicles and 18-wheelers.
Loading…
https://www.zerohedge.com/geopolitical/putin-reassures-allies-phone-calls-erdogan-expresses-full-support-against-rebellion