Angry parents are suing elite private schools for 'indoctrinating' their children with so-called 'diversity, equity and inclusion' (DEI), Bloomberg reports.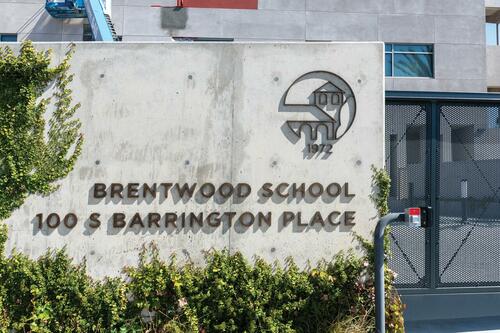 Following the murder of George Floyd, the $50,000 per year Brentwood School in Los Angeles announced that it was reimagining its purpose "with an eye toward anti-racism" and DEI. Parent Jerome Eisenberg, whose daughter attends the school, called it a "bait and switch" on parents – suing the school last year for breach of contract, civil rights violations and emotional distress.
"The curriculum change shifted away from teaching students critical thinking skills — how to think — and started indoctrinating them into what to think, based on Brentwood's preferred political fad of the moment," reads Eisenberg's lawsuit – which entered private arbitration in November.
The issue – which has become a major point of contention in red states such as Florida, where governor Ron DeSantis (R) has fought to ban DEI in public schools – has now become a nationwide effort by concerned parents to protect their children from what they see as a racist education that makes white students a lifelong target, and uses historical revisionism to sow seeds of division.
"There is an increased appetite for parents using the legal process to fight for their kids in a way that just wasn't as prevalent before," said attorney Sara Goldsmith Schwartz of Massachusetts-based Schwartz Hannum PC – which frequently represents private schools.
Eisenberg's lawyer, David Pivtorak, says he believes that legal complaints over DEI in schools have increased, and that the actual number may be understated due to arbitration clauses such as the one at Brentwood.
According to the NAACP's Legal Defense Fund, the legal battles are painting a "misleading" picture about DEI.
"The majority of parents want their children to attend a school that is diverse and inclusive," said Jin Hee Lee, director of strategic initiatives. "and the majority of Americans understand that we have a very tragic legacy of slavery and Jim Crow and racial subjugation that we're still dealing with in this country."
Parents who oppose DEI in private face an uphill battle. While parents whose kids go to public school can argue that the government is infringing on their 1st Amendment rights, those with kids attending private schools largely waive those rights.
"Private schools are bound by their own policies and not the US Constitution," according to law professor Jennifer Rippner of Indiana University.
When parents do sue private schools, it's usually for breach of contract, according to New Hampshire education lawyer Linda Johnson, who represents independent schools and consults with them on managing their legal risk. The process sometimes starts off with "a 10-page, single-space letter addressing everything that the parent thought the school did wrong to try to justify a repayment of tuition," she said.

Many of the disputes arise out of school disciplinary action, Johnson said. In the current environment, that can have political overtones. -Bloomberg
At Manhattan's $60,000 per year Spence School, parents Adam and Michelle Parker sued in 2019 over disciplining their daughter for posting a text exchange on Instagram in which they joked about dressing up as slaves and indigenous people for Halloween. Her punishment was a half-day "in-home- reflection," while the school held several grade-wide assemblies to shame the girl for what she had done.
The Parkers say their daughter was mocking racists, not promoting racism, and that Spence disciplined her before even seeing the post. In doing so, they claim that the school perpetuated a "false narrative" and "had gotten it wrong" – in addition to failing to convene a "community standards committee" as stipulated in their enrollment contract.
While the suit was dismissed in 2020, a New York appeals court revived a breach-of-contract claim.
According to Johnson, the education lawyer, suits which focus on narrow claims of unequal or arbitrary discipline against private school have the highest chances of success. If the school's handbook lays out guidelines for infractions but doesn't include a disclaimer to the effect of "we maintain the flexibility to handle them the way we think is necessary under the circumstances," the school may face legal peril, she said.
That said, parents of kids attending elite schools will have a hard time challenging curricula, according to Philadelphia-based education lawyer, Steven Ludwig.
"If a person doesn't like what is being taught, they can go somewhere else."
Except, as Bloomberg notes, that's not always so easy.
Private schools that have embraced DEI are frequently also those with the strongest academic reputations and the best records of placing graduates in Ivy League and other elite colleges — which themselves have been criticized as bastions of wokeness. Senator Ted Cruz of Texas, a noted anti-DEI crusader, was called out for hypocrisy when it emerged that he sent his daughters to a Houston prep school that teaches DEI.

Former investment banker Andrew Gutmann caused a stir two years ago when he wrote a letter to other parents at Manhattan's Brearley School urging them to reject Brearley's "obsession with race" and saying he was pulling his daughter, Lauren, from the top-ranked school, where tuition is about $60,000. 

Brearley head Jane Fried shot out an email calling the letter "deeply offensive and harmful" and reaffirming the school's commitment to being "inclusive" and "antiracist."
In an interview, Gutmann said his family wasn't "looking for a conservative education," but they "just want what anybody would've used to call a traditional liberal arts education."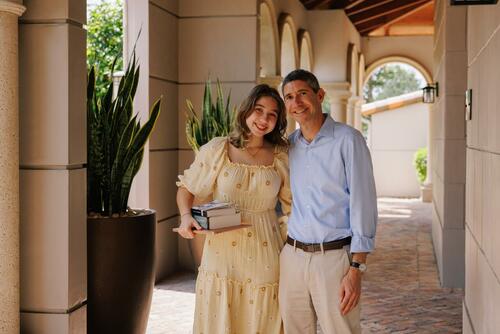 Since withdrawing his daughter from Brearley, Gutmann said it's been "nearly impossible" to find a school that is both academically rigorous and not "politicized." After looking at private schools in New Jersey and Florida, he opted to home school – and will be sending her to a UK boarding school in the fall.
Now, Gutmann is running as a Republican in Florida's 22nd congressional district, which includes former President Trump's Mar-a-Lago estate. His campaign announcement begins with his letter to Brearley.
"My words were read by millions of people across America, and they helped ignite what we now call the parents' movement and the fight against woke education," said Gutmann, who called out his allies in the fight against DEI – including Florida-based rights group, Moms for Liberty, which has been at the forefront of efforts to ban DEI-based books and influence school boards in favor of conservatives.
According to McGovern, the attorney, "Every school across America, and in many ways around the world, is dealing with this increased polarization."
Loading…
https://www.zerohedge.com/political/parents-sue-elite-schools-indoctrinating-their-kids-dei-bait-and-switch