Authored by Jack Phillips via The Epoch Times (emphasis ours),
A new political action committee (PAC) was formed to try and convince Tucker Carlson to join the 2024 presidential race, saying only the former Fox News host can defeat President Joe Biden in the general election.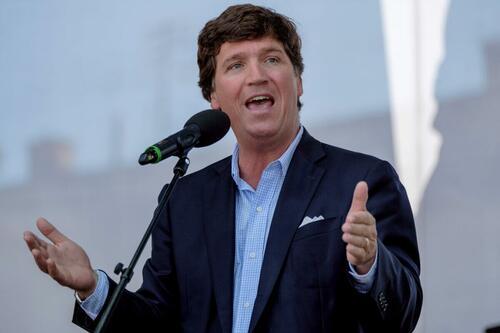 The so-called "Draft Tucker Carlson" PAC released an advertisement, saying: "Republicans need a new leader that can stand up to Biden. It's time to draft Tucker Carlson."
Shortly after Carlson was ousted from Fox News in late April, the Draft Tucker PAC filed paperwork with the Federal Election Commission (FEC). That ad made its debut last week on Twitter.
"Republicans need a new leader, and Tucker Carlson is ready to lead," the ad states, comparing Carlson to the late radio host Rush Limbaugh. "No one in America is more articulate and pins down leftists in both parties better than Tucker."
It also says that Carlson "is witty, sharp, and mocks woke nonsense" before adding that he will "whip Biden in a debate."
The head of the PAC is Chris Ekstrom, who told The Hill that he personally knows Carlson "vaguely" and was approached about forming the PAC before Carlson's exit from Fox News. Speaking to The Hill, Ekstrom said that Carlson has a "realistic opportunity" to run for president and that other Republican candidates have issues.
"I'm very concerned that they're going to not move the debate as far right as it ought to be," Ekstrom said of both former President Donald Trump and Florida Gov. Ron DeSantis, who is widely expected to announce a 2024 presidential bid. "If Tucker Carlson entered the race in a reasonable amount of time and just continued in the same territory that he was covering at Fox, I think that'd be a rude awakening for both President Trump and Governor DeSantis."
Republicans need a new leader that can stand up to Biden. It's time to draft Tucker Carlson pic.twitter.com/FV9s3wxalc

— Draft Tucker Carlson (@DrafttuckerPAC) May 19, 2023
[ZH: note the community note]
Another individual involved in the PAC, Charlie Kolean, told the outlet that Carlson would move "the conversation to the right, just in a macro way, with candidates taking more solid stances rather than being like a moderate Republican."
Carlson has not made any public overtures toward a potential 2024 White House bid. Since he left Fox News, the former host has issued few public statements, although he released two viral videos on Twitter including one saying he would be moving his program to the social media platform, although it's not clear when.
"The best you can hope for in the news business at this point is the freedom to tell the fullest truth that you can. But there are always limits. And you know that if you bump up against those limits often enough, you will be fired for it," Carlson said in his most recent Twitter video.
Not a 'Scam'
In The Hill report, an alleged unnamed source connected to Carlson said that the former Fox host is not looking to run for office and was critical of the PAC's efforts. The alleged source also claimed the PAC's operators are "trying to make a quick buck" and that "no one should donate" to the group.
"This isn't some kind of scam PAC or grift. I hate that. That is something that I've always tried to oppose," Ekstrom told the outlet. "All the money is spent on the fight with me," he added.
While Carlson has publicly rejected the notion of running for president and reportedly recently joked about it, Ekstrom alleged that he has been "testing the water for quite a while," reported The Hill. He said Carlson spoke at an event in Iowa, which has historically been an early presidential primary state.
The  PAC, Koelan told the outlet, will be "exceptionally well-funded," and it will "easily" spend at least $150,000 to build its name recognition. It aims to sponsor polls and create radio and digital advertisement campaigns.
For the past several years, Carlson was the highest-rated Fox News host and often had the highest-rated cable news program in general. In March, he drew well over 3 million viewers per episode, a figure that Fox News has not been able to recapture since his sudden exit in late April.
Nielsen ratings show that the temporary replacement program, "Fox News Tonight," has drawn significantly fewer viewers during the 8 p.m. timeslot. But one Fox News advertising executive recently said in May that several large corporate advertisers approached Fox to do campaigns. Over the years, a range of big-name companies dropped advertising during Carlson's show over what they said were controversial statements by the former host.
The popularity gap Carlson enjoys over Fox News among conservatives has increased sharply in the wake of his departure, said a new poll, showing that his net favorability rating among Republicans stands at +59. Fox News, by contrast, has a -4 favorability rating, the numbers show.
Loading…
https://www.zerohedge.com/political/pac-draft-tucker-carlson-president-2024-launches