After dishing out pointed criticism of the White House's handling of the immigration crisis, New York City Mayor Eric Adams has been given the heave-ho from Team Biden 2024, as he's been dropped from the campaign's list of official media and event surrogates.  
Overwhelmed by the number of migrants pouring into the city, Adams recently said New York City "is being destroyed by the migrant crisis."
Mayor Eric Adams says NYC is being destroyed by illegal aliens pic.twitter.com/3nTcv0P9SV

— End Wokeness (@EndWokeness) April 21, 2023
He also singled out Biden as having "failed" the city. In a subsequent scolding crafted to achieve bipartisan balance, Adams said, "It is the irresponsibility of the Republican Party in Washington for refusing to do real immigration reform, and it's the irresponsibility of the White House for not addressing this problem."
In March, Adams appeared on a list of more than 20 Democrats tapped to serve on a Biden campaign national advisory board. When the campaign posted an updated list on Wednesday, the roster had grown to 50 — but Adams had vanished.  
"The message is: Don't criticize an incumbent Democratic president and don't criticize the first black female vice president," Democratic political consultant Hank Sheinkopf told the New York Post. "Any criticism from a Democrat heading into re-election is seen as a betrayal."
On Wednesday, the Biden campaign posted a YouTube video featuring many of its updated roster of surrogates. As we draft this article, it's only managed to rack up 13 likes. That rock-bottom enthusiasm is consistent with the latest ABC/Washington Post poll showing only 36% of Democrats want Biden nominated again.  
The Biden campaign isn't commenting on the Adams disappearance. However, a Democratic aide to another member of the surrogate team told Politico that Adams' departure was "almost certainly" due to his immigration criticism: "[He] made somewhere between in-artful to stupid comments that were kind of out of bounds." 
"As the mayor has previously stated, he stands ready to help the president with reelection however he can," said an Adams spokesman.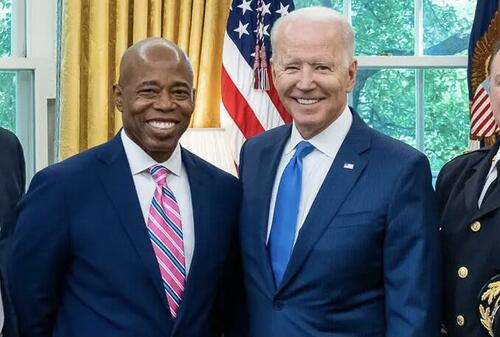 As his bridges to Biden smolder, Adams isn't winning friends in the New York suburbs either. Leaders of Rockland and Orange counties are fuming after the Adams administration tried an under-the-radar, Friday news-drop of a scheme to store the city's excess migrants in hotels in the two Hudson Valley suburban counties. Both jurisdictions have declared states of emergency as they maneuver to block New York City from exporting its problems. 
Speaking bluntly in an interview with Politico, Republican Orange County Executive Steven Neuhaus, said, "I think we're going to have a standoff in the next 24 to 48 hours because I just got word that the city said, 'screw Rockland and Orange, we're sending these people up'."  
Loading…
https://www.zerohedge.com/political/ny-mayor-adams-booted-biden-surrogate-squad-after-immigration-criticism