It's probably safe to say that more were paying attention to today's earnings report from Nvidia than some/all of the other giga caps (which were uniformly solid and beat expectations), if for no other reason than NVDA is viewed as the primary enabler of the current AI-craze which as noted before is solely responsible for all stock market gains in 2023.
And boy were they not disappointed, because moments ago NVDA reported earnings that blew away expectations and also guided some 50% above Wall Street's forecast! Here is how the company did in Q1:
Adjusted EPS $1.09 vs. $1.36 y/y, beating estimates of  92c
Revenue $7.19 billion, -13% y/y, beating estimates $6.52 billion

Data center revenue $4.28 billion, +14% y/y, beating estimates of $3.91 billion
Gaming revenue $2.24 billion, -38% y/y, beating estimates of $1.98 billion
Professional Visualization revenue $295 million, -53% y/y, beating estimates of $246.6 million
Some more details on the revenue breakdown:
Data Center revenue was a record, up 14% from a year ago and up 18% sequentially, led by growing demand for generative AI and large language models using GPUs based on our NVIDIA Hopper and Ampere architectures. The revenue growth reflects strong demand from large consumer internet companies and cloud service providers. Enterprise demand for GPU platforms was strong, although general purpose networking solutions declined both sequentially and from a year ago.
Gaming revenue was down 38% from a year ago and up 22% sequentially. The year-on-year decrease reflects weaker demand due to the macroeconomic slowdown and lower shipments to normalize channel inventory levels. The sequential increase was driven by the ramp of our new GeForce RTX 40 Series GPUs for desktops and laptops based on the Ada Lovelace architecture.
Professional Visualization revenue was down 53% from a year ago and up 31% sequentially. The yearon-year  ecrease reflects lower sell-in to partners to help reduce channel inventory levels. The sequential increase was driven by higher demand for desktop and mobile workstation GPUs. Automotive revenue was up 114% from a year ago and up 1% sequentially. The year-on-year increase reflects growth in sales of self-driving platforms and AI cockpit solutions.
OEM and Other revenue was down 51% from a year ago and down 8% sequentially. These decreases were primarily driven by lower entry level notebook GPU sales.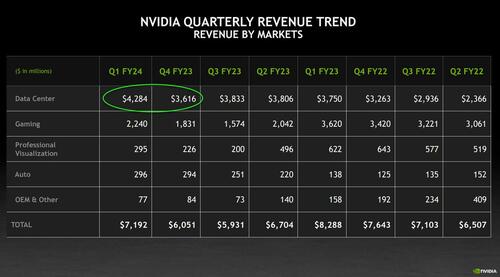 Adjusted operating expenses $1.75 billion, +8.8% y/y, below the estimate of $1.78 billion

R&D expenses $1.88 billion, +16% y/y, below the estimate of $1.92 billion

Adjusted operating income $3.05 billion, -23% y/y, beating estimate $2.57 billion
Adjusted gross margin 66.8% vs. 67.1% y/y, estimate 66.6%
Free cash flow $2.64 billion, +96% y/y, below the estimate $2.94 billion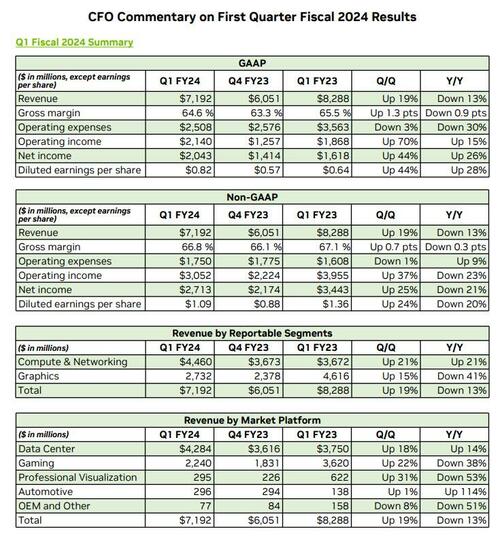 Commenting on the results, CEO Jensen Huang said that "The computer industry is going through two simultaneous transitions — accelerated computing and generative AI," adding that "A trillion dollars of installed global data center infrastructure will transition from general purpose to accelerated computing as companies race to apply generative AI into every product, service and business process."
"Our entire data center family of products — H100, Grace CPU, Grace Hopper Superchip, NVLink, Quantum 400 InfiniBand and BlueField-3 DPU — is in production. We are significantly increasing our supply to meet surging demand for them," he said.
But while the results were impressive, it was the company's guidance that blew away investors, as the company now expects Q2 revenues of $11 billion (plus or minus 2%) more than 50% above Wall Street's estimate of $7.1 billion.
Other Q2 guidance:
Sees adjusted gross margin 69.5% to 70.5%, estimate 66.9%
Sees adjusted operating expenses about $1.90 billion, estimate $1.82 billion
Sees Q2 capex between 300 million to $350 million.
In response to the stunning earnings, NVDA stock is up 17% after hours, adding $150 billion in market cap after hours, and has just hit a fresh all time high of $364…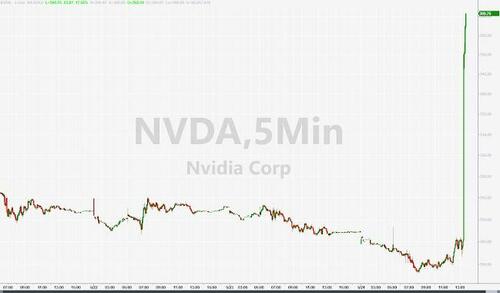 … sending it to a new all time high, with its market cap on the verge of surpassing $1 trillion.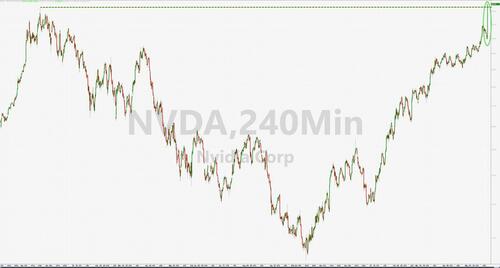 Putting NVDA's move in context, when it opens tomorrow it will be over $900BN in market cap and will soon be breathing down AMZN's neck; incidentally it's now time to kick out Facebook from the Big 5 and replace it with NVDA to make MANGA.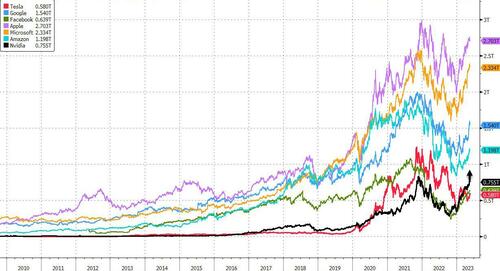 Loading…
https://www.zerohedge.com/markets/nvidia-explodes-higher-new-all-time-high-blowout-earnings-guides-50-above-estimates