Authored by Jack Phillips via The Epoch Times (emphasis ours),
The sheriff in New Mexico's largest metro area announced Monday his office will not enforce an emergency order by the governor to temporarily suspend the right to carry firearms in public in and around the city of Albuquerque, while also calling for a special legislative session to address the matter.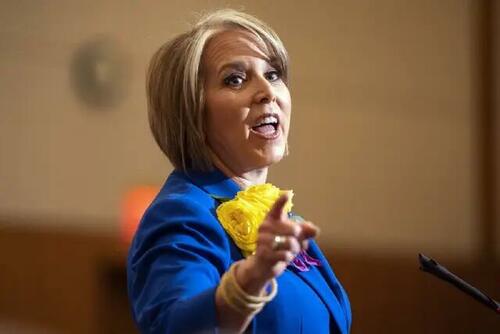 "It's unconstitutional, so there's no way we can enforce that order," Bernalillo County Sheriff John Allen said during a news conference.

"This ban does nothing to curb gun violence."
Late last week, Democrat Gov. Michelle Lujan Grisham announced the order, which Republicans and many Democrats said was unconstitutional and expressed alarm. Other than Mr. Allen's statement, a number of other law enforcement officials have said they wouldn't enforce the rule.
Ms. Grisham told reporters on Sept. 8 that she expected criticism and challenges. State police will handle enforcement, she also said.
"I welcome the debate and fight about how to make New Mexicans safer," she said, while also acknowledging that criminals surely would ignore her order.
Other Agencies Refuse to Enforce
Bernalillo County District Attorney Sam Bregman, a Democrat party leader who was appointed by Ms. Grisham, joined Albuquerque Mayor Tim Keller and Police Chief Harold Medina saying they, too, would not enforce the ban. A gun rights group filed a federal lawsuit within 24 hours seeking an immediate court order to block the order from taking effect.
Mr. Allen on Monday alluded again to public concerns he expressed about putting deputies at risk if they sought to arrest people with guns.
"I do not want to have political violence towards my deputies or here in Bernalillo County," he said. "I have enough violence here."
"The temporary ban challenges the foundations of our Constitution, but most importantly, it is unconstitutional. My oath was to protect the Constitution, and that is what I will do," the sheriff remarked.
Other reasons he provided for not upholding the executive order included a personal story involving his brother-in-law.
"Last week, as I'm sitting here as the sitting sheriff, I get a phone call that my brother also was a victim of gun violence last week that many of you do not know," Mr. Allen said. "While he and my nephew were sitting in their car, they were shot at and their vehicle was impacted by numerous rounds. How can I, as a sheriff, tell him to put his firearms away and not be able to protect himself?"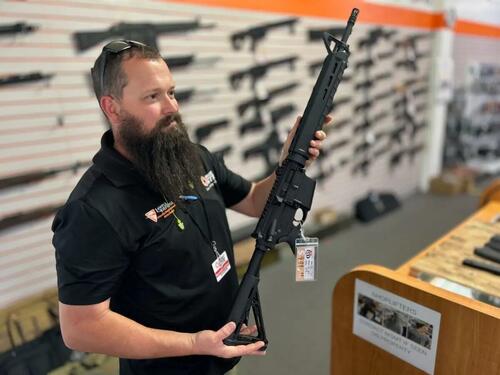 The governor, who was meeting with top law enforcement officials on Friday, told the sheriff and other officials details of her plan just moments before her news conference, Mr. Allen said. He said he was both shocked and irritated, after law enforcement officials had told the governor they were not on board.
"I have to turn my irritation and anger into solutions," the sheriff said, indicating that he would, among other things, push state lawmakers to call for a special session to address shootings in Albuquerque.
Mr. Bregman, the district attorney for Albuquerque, told the Washington Examiner that "I cannot and will not enforce something that is clearly unconstitutional," adding that his "office will continue to focus on criminals of any age that use guns in the commission of a crime."
Public Health Order
The firearms suspension was issued as an emergency public health order, reminiscent of the much protested public health orders the governor continually renewed throughout the COVID-19 pandemic.
The governor stated she was compelled to issue her order following recent shootings, including the shooting deaths of an 11-year-old boy outside a minor league baseball stadium, a 5-year-old girl who was asleep in a motor home, and a 13-year-old girl in Taos County.
The governor said the gun ban would apply for 30 days to open and concealed carry in most public places and tied it to a threshold for violent crime rates currently only met in metropolitan Albuquerque. Police and licensed security guards are exempt.
Violators could face civil penalties and a fine of up to $5,000, gubernatorial spokeswoman Caroline Sweeney told The Associated Press.
Under the order, residents still could transport guns to some private locations, such as a gun range or gun store, provided the firearm has a trigger lock, a container or mechanism making it impossible to discharge.
Loading…
https://www.zerohedge.com/political/new-mexico-sheriff-defies-governors-emergency-gun-ban-order