Authored by Jackson Elliott via The Epoch Times (emphasis ours),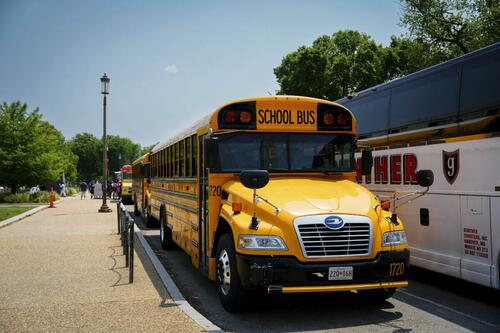 In just four years, the number of "nonbinary" students in New Jersey public schools rose by 4218 percent, figures from the New Jersey Department of Education (NJDOE) show.
People who identify as nonbinary say their "gender identity" does not conform to exclusively male or female.
This massive increase in students identifying as nonheterosexual isn't thanks to "business as usual," says New Jersey parental rights activist Nik Stouffer. She believes the jump in nonbinary cases springs from both COVID-19 restrictions and a new education program starting in 2020 that normalizes sex changes, she told The Epoch Times.
"This isn't even changing your gender—we don't have a number on that," Stouffer said of the state statistics.  "They're only collecting the number of nonbinary students because they collect 'male' and they collect 'female.'"
She wonders how many NJ students now identify as transgender or homosexual. The state doesn't provide those numbers in the report.
Exponential Rise in Nonbinary Students
The NJDOE figures show that in just four years, the number of nonbinary students in NJ schools jumped from 16 to 675, state student surveys show.
In the 2019 -2020 school year, of the 16 nonbinary students in New Jersey schools, 10 were in high school. The youngest was in second grade, state records show.
In the 2020-21 school year, there were 85 nonbinary students. The two youngest two were in pre-kindergarten classes.
By the 2021-22 school year, the number had soared to 376 nonbinary students, with eight in pre-kindergarten.
And in the 2022-23 school year, there were 675 nonbinary students reported. Of those, 41 were in 5th grade or below.
As of now, nonbinary students make up less than 1 percent of all 1,371,921 public school students in the state.
Of the state's 406,120 high school students, 497 identify as nonbinary. That's approximately one in 1,000 students.
Though the percentage is low, the speedy jump in the number of nonbinary students is what alarms Stouffer.
The Epoch Times called the NJDOE for comment, but no one replied by publication time.
Children are Sexually and Socially Malleable
During COVID-19, government protocols shattered normal child development, Stouffer said.
Child development psychologist Leonard Sax backed her concerns. Research suggests children are far more sexually and socially malleable than previously thought, he told The Epoch Times.
"Almost every culture of which we have any record has taught girls to be women and boys to be men," Sax said. "We don't do that. Instead, we undermine that. And the results are not good. And we're seeing an explosion in anxiety and depression among American kids."
If children grow up being shown that a transgender or nonbinary identity is normal, it will seem normal to them, he said.
"Kids are not born knowing what normal is, and they need to be taught," Sax said. "It's not hardwired."
Read more here…
Loading…
https://www.zerohedge.com/political/new-jersey-schools-report-more-4200-percent-increase-nonbinary-students-four-years