(Tr)anheuser-Busch InBev's Bud Light brand has lost its spot as the number one selling beer in America. The historic, unprecedented self-sabotage at the beermaker by an underqualified, woke, virtue-signaling idiot marketing executive has sparked ten weeks of crashing demand as beer drinkers ditch Bud for Mexican lager Modelo Especial.
According to NielsenIQ data from consulting firm Bump Williams, Constellation Brands' Modelo represented 8.4% of US retail-store beer sales in the four weeks that ended June 3, compared with 7.3% for Bud Light. The Wall Street Journal first reported these findings.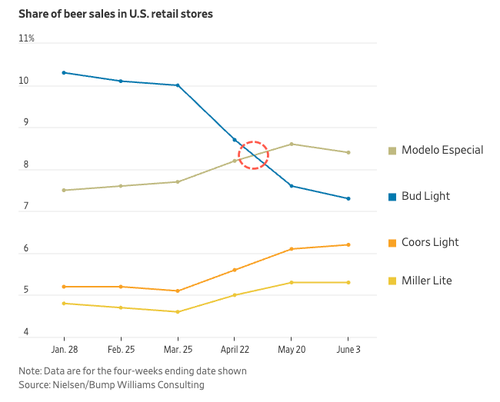 Dave Williams, vice president of consumer insights and analytics at Bump Williams, told USA Today that Modelo dethroning Bud Light is "a pretty big deal." However, he pointed out that Bud Light continues to surpass Modelo in volume sales and remains the top-ranking beer brand based on dollar sales year-to-date. 
"There's a lot of volume from Bud Light still moving out there. The number of cases being moved surpasses any other brand," Williams said, adding that he expects Bud Light will face further declines this summer as Modelo and other domestic lagers continue to gain market share. 
 "Our year is screwed," one Anheuser-Busch distributor told WSJ. That person said they don't carry Modelo. 
The sudden shift comes as Bud Light faces a consumer boycott after the brewer embraced 'trans' influencer Dylan Mulvaney in early April. 
And it appears the brewer has yet to learn its lesson, as we noted days ago, "Bud Light Appears In Promotional Material For "All Ages Drag Show Party" In Flagstaff."
In what's become a remarkable cautionary tale for businesses keen on embracing woke ideology, Harvard-educated Bud Light marketing VP Alissa Heinerscheid thought it would be a great idea to use a clownish, male-to-female trans TikTok star as a brand ambassador for what's long been seen as a manly beer for hard-working, blue-collar people. 
Her idea was bad enough on its face, but the particular means of executing it was even more absurd, as Dylan Mulvaney's coming-out as a Bud Light ambassador was tied to the beer's position as a major sponsor of NCAA March Madness.
Note that Mulvaney doesn't act like a woman — he instead performs a demeaning caricature of one. In the now-infamous video, Mulvaney displayed a Bud Light can with his image on it and said:
"I kept hearing about this thing called March Madness, and I thought we were all just having a hectic month, but it turns out it has something to do with sports, and I'm not sure exactly which sport, but either way, it's a cause to celebrate. This month I've celebrated my Day 365 of womanhood, and Bud Light sent me possibly the best gift ever — a can with my face on it!" 
Bud Light and Mulvaney weren't just making a mockery of women, but of an immensely popular sports event that Bud Light was paying an enormous sum to associate its name with, and one they should want real women to embrace alongside men. It was so multi-dimensionally stupid that many understandably concluded it had to be some kind of a joke:
Dylan Mulvaney has become the new brand ambassador for Bud Light. 🍺

The beer brand even made a special edition Dylan Mulvaney Can 🥤celebrating his 365 days of girlhood.

(This is not April Fools, it's actually real)

🍺🍻🍺😒🍻🍺🍻 #dylanmulvaney #trans #transgender pic.twitter.com/xuu87WxrvZ

— Oli London (@OliLondonTV) April 1, 2023
Months later, the backlash has proved as enduring as it was swift. For the week ending June 3, Bud Light sales were still down 24%, while Modelo Especial was up 12%. The latest numbers follow Memorial Day weekend images shared on social media showing desperate retailers marking 18-packs of Bud Light all the way down to just $2.99. 
The new numbers don't include bars and restaurants, where Bud Light's results are almost certainly even worse, given consumer wariness that ordering and drinking the beer may be interpreted by others as an endorsement of the company's LGBTQ push. 
Joe Rogan recently marveled at consumers' power to deliver an crushingly-punitive "no" vote against brands force-feeding them LGBTQ culture:
"People are tired of this woke agenda, they're tired of it being shoved in their faces by corporations and BOOM…Bud Light loses $27 billion by sending a can with a face on it of an attention whore…to that attention whore. And all of a sudden everybody is like…'hey, ENOUGH." 
"Enough. What are you doing?"

Joe Rogan on the public's response to the Woke corporate marketing failures at Bud Light and Target. pic.twitter.com/Lu5fXHXOuT

— Mythinformed (@MythinformedMKE) June 9, 2023
Loading…
https://www.zerohedge.com/markets/modelo-dethrones-tranheuser-busch-inbevs-bud-light-top-selling-beer