Update (1127ET): That didn't take long…
House Speaker Kevin McCarthy on Tuesday announced that the House will open an impeachment inquiry into President Joe Biden over a variety of alleged crimes, skipping a formal House vote he had previously teased.
According to McCarthy, Reps. James Comer and Jim Jordan will spearhead it.
"Biden used his official office to coordinate with Hunter Biden's business partners, about Hunter's role in Burisma – the Ukrainian energy company," said McCarthy, adding "it appears that the president's family has been offered special treatment by Biden's own administration."
Watch:
Speaker Kevin McCarthy officially announces an impeachment inquiry into President Biden: pic.twitter.com/7yfFGbqQKO

— Julio Rosas (@Julio_Rosas11) September 12, 2023
*  *  *
Senate RINOs are downplaying an impeachment inquiry against perhaps the most corrupt president in US history, citing a 'distraction' from 2024 election issues such as the economy and border security.
In truth, they're nothing more than uniparty shills protecting their preferred candidate at any cost against the return of the highly disruptive Orange Man Bad.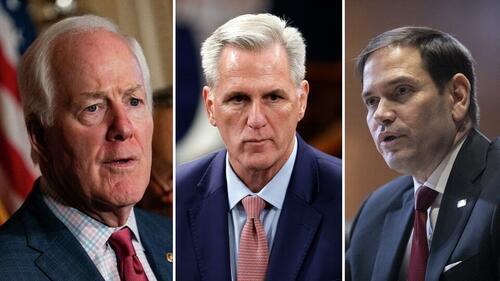 "It really comes to how do you prioritize your time? I don't know of anybody who believes Chuck Schumer (D-NY) will take it up and actually have a trial and convict a sitting president," said Sen. John Cornyn (R-TX) a member of the Senate GOP leadership team, in a comment to The Hill, adding that House Republicans can already investigate Biden without launching a formal impeachment inquiry.
"Since they got the majority, they got the chairmen of the various committees, they could do all of that now without going to a formal inquiry," he continued. "Members of the House don't really care what I think. All I can tell you, it's unlikely to be successful in the Senate.
"Rather than doing something they know is unlikely to end the way they would like, maybe they want to emphasize other things."
Cornyn was joined by GOP Whip John Thune (SD) and Marco Rubio (FL), the latter of whom suggested that attempting to impeach Biden would be frivolous, and "should generally be avoided for the interest of the country."
"It can't become routine," Rubio continued, adding "There are countries like Peru that routinely now impeach whoever the president is, and it's become almost a national sport."
Yes Marco, the sitting US President is suspected of taking bribes from a Ukrainian oligarch in exchange for abusing his position as then-VP, and his son – with no practicable skills in any art – appears to have been his family's international bag man for more of the same, but let's not make this into a 'national sport.'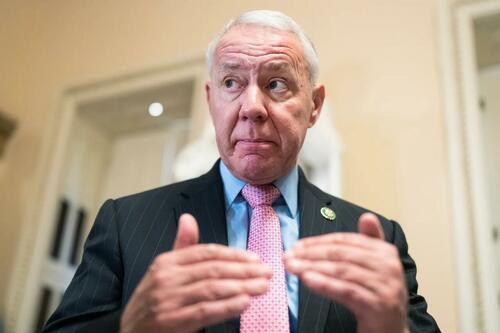 Rep. Ken Buck (R-CO), a member of the House Freedom Caucus, also downplayed impeachment – telling former Biden spox and MSNBC host Jen Psaki "The time for impeachment is the time when there's evidence linking President Biden — if there's evidence linking President Biden to a high crime or misdemeanor. That doesn't exist right now."
In short: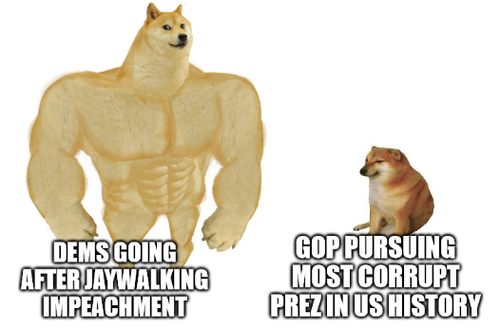 Speaking of circling wagons:
This is exactly what corporate media did with Hunter stories before 2020: they wanted them buried, so embraced CIA lie it was "Russian disinformation."

Biden's censorship scheme: "nothing burger."

Look at @pbump's similarly steadfast incuriosity now:pic.twitter.com/pYK49Hvpbp

— Glenn Greenwald (@ggreenwald) September 12, 2023
McCarthy changes tune?
On Tuesday, Axios reported that Speaker McCarthy plans to tell Republicans on Thursday that the House does have enough evidence to justify launching an impeachment inquiry into Biden.
McCarthy is expected to tell House Republicans in a closed-door meeting that the House Oversight and House Judiciary Committee investigations are at the point where an inquiry is the "logical next step," Punchbowl News reports.
The current investigations delve into the business dealings of Biden's son Hunter.
Launching a formal probe would give them added subpoena powers, McCarthy said in August.
McCarthy has balked at launching an impeachment inquiry by himself – as former Speaker Nancy Pelosi (D-CA) unilaterally launched against Trump, and has instead said he would toss the decision to a divided house full of uniparty loyalists, leading Rep. Matt Gaetz (R-FL) to threaten a vote to fire McCarthy.
correction: Matt Gaetz was incorrectly identified as a California lawmaker. We regret the error.
Loading…
https://www.zerohedge.com/political/senate-rinos-circle-wagons-around-biden-discourage-impeachment-big-guy