We should all congratulate Laura Murray on her emphatic victory against the Daily Telegraph and the dreadful apartheid Israel stooge Lord Ian Austin, who I am happy to say have been forced to pay substantial damages. (Update: I originally stated Laura had won her libel case – this was incorrect as the libelers caved in before the case got to court).
As a favour to the Daily Telegraph, I reproduce their apology so people can see it, as it is hidden behind their paywall.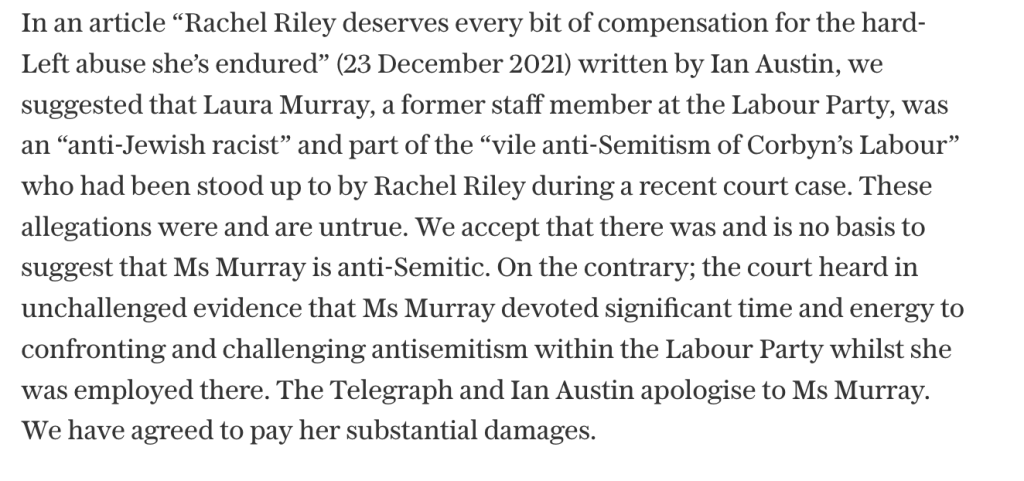 Apart from justice for Ms Murray, the court judgement is important because it affirms a key finding of the suppressed internal report on anti-semitism in the Labour Party, the finding that Corbyn and the staff he brought in were actively trying to improve the party's handling of anti-semitism complaints, and were certainly not the source of anti-semitism themselves. The analysis I wrote of that 850 page report is to this day the article on this blog with the largest direct UK audience on this site, of well over a million.
It must not be forgotten that Keir Starmer suppressed that report, and it remains suppressed to this day, as he has continued to use false allegations of anti-semitism as his primary weapon to expel non-Blairites from the party. It must also not be forgotten that the report contained compelling, documentary evidence that the Blairite staff at Labour HQ were actively working for a Tory victory over Corbyn in the general elections.
Here is an extract from my article on the report:
The headlines of course have been grabbed by the report's stunning exposure of the fact that Labour HQ was staffed by right wingers so vehemently anti-Corbyn that they actively wanted the Conservatives to win elections. I think it is important to understand just how right wing they really are. Senior members of staff were messaging each other opposing any increase in corporation tax and opposing re-nationalisation of the railways as "Trot" policies.

The case of the horrible and very right wing John McTernan is instructive. McTernan had taken to writing articles in the Daily Telegraph praising the Tories and attacking Labour, but the Governance and Legal Unit of Party HQ refused to take action against him. They finally took action when he wrote an article urging the Tories to "crush the rail unions" for hampering the operations of private railway companies; but the action taken was to suspend a member who called McTernan out on his Tory support. p.140

From the report:

John McTernan, meanwhile, formerly involved in New Labour and a delegate to 2016 party conference, was repeatedly reported from 25 July onwards for abusive language on Twitter and elsewhere, including describing Labour MPs who nominated Corbyn as "morons"; tweeting twice that Corbyn was a "traitor"; describing "Corbynistas" as racist; telling an SNP MP that he should "Come down to Peckham and try saying that, mate"; calling Corbyn a "Putin-hugging, terrorist-loving, Trident-hater"; and writing in the Daily Telegraph that all of Corbyn's supporters were "online trolls".368

No action was taken, and McTernan received the staff decision "No action – removed at referral". On 18 August, however, Dan Hogan did report a member of McTernan's CLP, Omar Baggili, who – in response to an article by McTernan in "The Telegraph" urging the Conservative government to "crush the rail unions once and for all" – tweeted at him "seriously John why haven't you got yourself a Tory membership card. They're anti unions & pro privatisation like you."369 Baggili was suspended for "abuse".

This is by no means an isolated example. One of my favourites is the case of Andy Bigham (pp538-45), who initially came to the attention of the Governance and Legal Unit for suggesting Corbyn was a traitor and Diane Abbot should be "locked in a box". This was considered insufficient for action to be taken against him, and incredibly this stance was still maintained even when he subsequently posted that he had voted Conservative, urged others to vote Conservative and became the administrator of a Conservative Party Facebook Group.

Meanwhile left wingers were being thrown out of the party for having advocated a Green vote years before they joined, or for calling MPs who supported the Iraq war "warmonger". The report makes an overwhelming case that the Governance and Legal Unit of the Labour Party failed to take action on accusations of anti-semitism because it was devoting all of its energies to a factional effort to remove Corbyn supporters from the party.

These right wing staff were hoping for Labour electoral defeats in order to get rid of Corbyn. Senior Labour staff were actually hoping Labour would lose its seat in the Manchester Gorton by-election.

27/02/2017, 16:53 – Patrick Heneghan: Just had discussion at strategy meeting We will meet Steve and Andy next Monday – we are looking at all 3 in May but select in Gorton within 4 weeks Katy will speak to you/Iain
27/02/2017, 16:53 – Patrick Heneghan: From karie
27/02/2017, 16:54 – Patrick Heneghan: They didn't include us in the discussion.
27/02/2017, 16:54 – Patrick Heneghan: Well let's hope the lib dems can do it….113

It has long been known that there was tension between Corbyn and Labour HQ staff over allocation of resources to key marginals in the 2017 general election. What I had not known prior to this report is that HQ staff set up another organisation (p.92), based in another building, to divert party funds and secretly channel them to the campaigns of their favoured right wing MPs. On p.103 is detailed the horror expressed by Labour Party HQ staff at the Labour Party's good performance in the 2017 election. People were "sickened" by the exit poll showing the Tories losing their majority.
I shall raise a glass to Laura Murray this evening. I am not sure how many good people have remained inside Starmer's neo-con Labour Party, but I hope they have been heartened to the fight.
With grateful thanks to those who donated or subscribed to make this reporting possible. This article, as with all the content of my blog, is entirely free to reproduce and publish, including in translation.
 
 
Forgive me for pointing out that my ability to provide this coverage is entirely dependent on your kind voluntary subscriptions which keep this blog going. This post is free for anybody to reproduce or republish, including in translation. You are still very welcome to read without subscribing.
Unlike our adversaries including the Integrity Initiative, the 77th Brigade, Bellingcat, the Atlantic Council and hundreds of other warmongering propaganda operations, this blog has no source of state, corporate or institutional finance whatsoever. It runs entirely on voluntary subscriptions from its readers – many of whom do not necessarily agree with the every article, but welcome the alternative voice, insider information and debate.
Subscriptions to keep this blog going are gratefully received.
Choose subscription amount from dropdown box:
Paypal address for one-off donations: [email protected]
Alternatively by bank transfer or standing order:
Account name
MURRAY CJ
Account number 3 2 1 5 0 9 6 2
Sort code 6 0 – 4 0 – 0 5
IBAN GB98NWBK60400532150962
BIC NWBKGB2L
Bank address Natwest, PO Box 414, 38 Strand, London, WC2H 5JB
Bitcoin: bc1q3sdm60rshynxtvfnkhhqjn83vk3e3nyw78cjx9
Ethereum/ERC-20: 0x764a6054783e86C321Cb8208442477d24834861a
Subscriptions are still preferred to donations as I can't run the blog without some certainty of future income, but I understand why some people prefer not to commit to that.