While everyone was looking at the recent move in US stocks, or rather lack thereof now that 0DTE vol-suppression has seemingly frozen the S&P in a 4100-4150 range in perpetuity…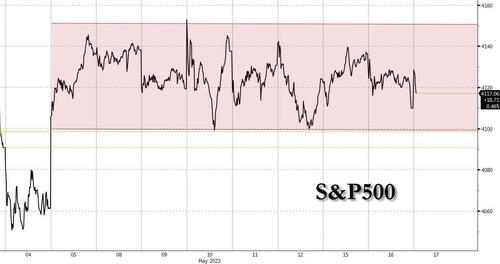 … the real move has been taking place in Japan, where the Nikkei 225 closed above 30,000 for the first time since September 2021, just one day after the Topix closed at its highest level since 1990.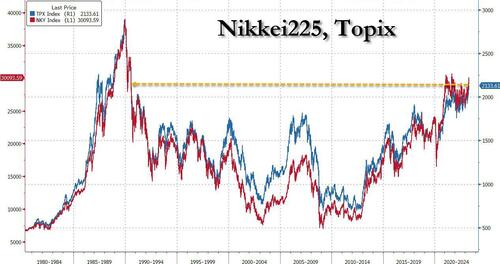 The Topix benchmark climbed 0.3% to close at 2,133.61 on Wednesday, taking gains this quarter to 6.5%. That compares with a less than 1% advance for the S&P 500 and a sub-2% rise for the Stoxx Europe 600 index. The Nikkei 225 Stock Average, which closed 250 points higher, and above 30,000 for the first time since Sept 2021, rose over 7% during the period.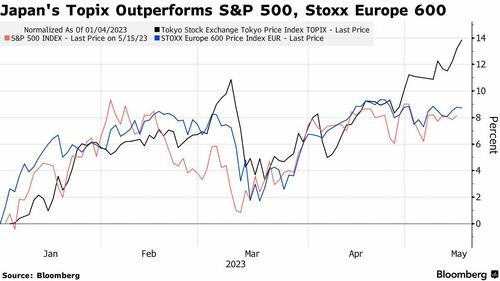 Japanese stocks, which not long ago were hammered amid misplaced speculation that the BOJ would normalize monetary policy (spoiler alert: the BOJ, which owns more than 100% of GDP in JGBs will never be able to normalize and hyperinflation has always been the endgame), have benefited greatly from the renewed plunge in the yen following Ueda's recent confirmation that Japan will remain the loosest developed nation, even if it means inflation keeps rising higher.
And with the status quo not expected to change, many predict the rally will continue: strategists at Goldman Sachs to Macquarie Group say the case for a bull run is solid with corporate governance reforms set to boost valuation and loose monetary policy adding tailwinds. Meanwhile, the economy, long beset by deflation, is seeing a revival in price pressure as activity revs up — a combination that sets it apart from the stagflation woes stifling developed peers in the US and Europe.
"We have entered a two to three year bull market period for Japan now, this has legs," said Neil Newman, deputy head of Japan research at Macquarie Capital Securities. "Japan has breadth and depth, liquidity is good and with corporate earnings looking solid now, this will draw further attention."
Expectations on such structural changes as well as solid fundamentals are helping "justify a bullish stance" on the nation's equities, Goldman Sachs strategists Kazunori Tatebe and Bruce Kirk wrote in a note. The outlook for the world's third-largest economy is strong given positive factors including an inbound tourism recovery, plans for robust capital expenditure and ongoing easing by the Bank of Japan, they wrote.   
A testament to just how powerful easy monetary policy is in a world where everyone is still tightening, the world's third-largest economy stands out as overseas investors have concerns about investing in the other Asian giant — China — with its increased geopolitical risks and the policy whims of Beijing… oir the US for that matter, where if one excludes the impact of AI stocks, the market is down more than 2% for the year.
Warren Buffett's renewed endorsement of Japanese stocks has also provided hope that foreign investment is returning to the market. Sure enough, overseas traders bought a net $15.8 billion worth of the nation's stocks in April, the most since October 2017, according to Tokyo Stock exchange data.
"Domestic and foreign investors are positive about Japan relative to the US and Europe, as it does not face an imminent recession and yet has very low valuations," said John Vail, chief global strategist at Nikko Asset Management Co. "There is a strong possibility that it will outperform global markets."
It's not just the BOJ's ever-easy policy: it's the buybacks too. As Bloomberg notes, a renewed push by companies to increase buybacks and focus on returns is boosting sentiment, after the Tokyo Stock Exchange called on firms that are trading below book value to outline capital improvement plans. Dai-Ichi Life Holdings Inc. shares jumped on Monday after it announced plans to repurchase as much as 120 billion yen ($882 million) of its stock. Mitsubishi Corp. said on May 9 that it expects to buy back up to $2.2 billion.
The optimism is further boosted because the Topix still has some 26% to go until it hits its 1989 "peak Japan bubble" all-time high (we are talking Nakatomi tower days).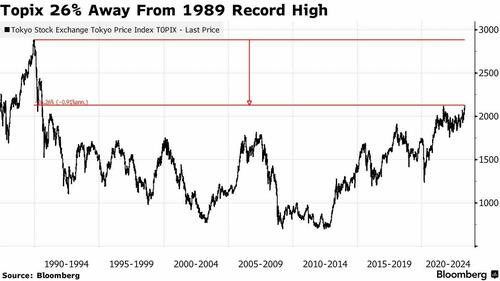 Despite the gauge's outperformance, when and if it will reclaim that level remains in doubt. Fundamental changes in the economy over the past decades including a population decline and maturing industries suggest the days of inflated asset prices are gone.  
Still, earnings and cheap valuations are in bulls' favor, as well as the relentlessly dovish stance by the BOJ. As Bloomberg notes, positioning in Japanese equities has also been light, which means there's room for more gains, Keita Matsumoto, head of financial institutions sales and solutions at Citigroup Japan said last month.  
"We believe Japanese stocks still have further to go," Fabiana Fedeli, chief investment officer for equities and multi assets at M&G Plc, said on Bloomberg Television. "Companies in Japan were improving their balance sheets and were giving back to shareholders in terms of buybacks and dividends."
Options trading implies the rally may have legs. The put-to-call ratio on the Nikkei 225 Stock Average has trended lower even as the index has climbed more than 14% this year, indicating rising bullishness despite technical signals the advance is getting overheated.  
"The outperformance of Japan versus Europe and US has been happening and that will continue as long as the BOJ doesn't change. I think that's a key criteria," said Alexandre Tavazzi, head of CIO office and macro research at Pictet Wealth Management.
Loading…
https://www.zerohedge.com/markets/japanese-stocks-quietly-just-hit-33-year-high-and-have-further-go