Authored by Naveen Anthrapully via The Epoch Times,
Irish authorities are pushing forward a bill that will make it a crime to disseminate and possess content deemed to be hateful—a development Elon Musk warns is a threat to free speech in the country.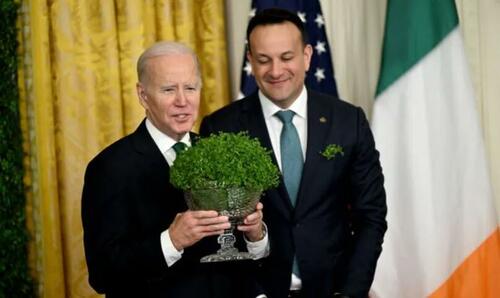 The Criminal Justice (Incitement to Violence or Hatred and Hate Offences) Bill 2022 (pdf) seeks to "amend the law relating to the prohibition of incitement to violence or hatred against a person or a group of persons on account of certain characteristics (referred to as protected characteristics) of the person or the group of persons and to provide for an offence of condoning, denying or grossly trivialising genocide, war crimes, crimes against humanity and crimes against peace."
It aims at "combating certain forms and expressions of racism and xenophobia by means of criminal law."
The bill classifies "race, skin colour, nationality, religion, national or ethnic origin, descent, gender, sex characteristics, sexual orientation, and disability" as protected characteristics.
Gender is "the gender of a person or the gender which a person expresses as the person's preferred gender or with which the person identifies and includes transgender and a gender other than those of male and female."
The bill empowers Irish authorities to convict people criminally for alleged hate crimes. According to the bill, a person can be deemed guilty of an offense if the individual "(i) communicates material to the public or a section of the public, or (ii) behaves in a public place in a manner, that is likely to incite violence or hatred against a person or a group of persons on account of their protected characteristics or any of those characteristics."
"Massive attack on freedom of speech," Musk said in an April 30 tweet responding to an organization called Free Speech Ireland, which criticized the Irish government for voting against "human rights and quite literally for thought crime legislation."
An amendment to include the UN Convention on Human Rights protections on free speech into the hate speech bill was defeated. Another amendment to excuse the section allowing for prosecuting individuals possessing offensive material without communicating it was also defeated.
This means that Irish authorities can arrest a person for simply possessing material deemed as potentially inciting hatred if disseminated.
A person deemed guilty of violating the bill's provisions shall have to pay fines, face imprisonment for up to 12 months, or both.
Burden of Proof
The legislation also shifts the burden of proof onto the accused. During his April 26 speech at the lower house of the Irish legislature, Paul Murphy, an elected member for Dublin South-West, warned that Section 10 of the bill "creates the possibility of someone being criminalized purely for having material which is hateful, without that material being communicated to the public."
"That's a problem. That gets to the fundamental problem of this bill. That is the creation of a 'thought crime.'"
"Subsection 3 states that where it is reasonable to assume that the material was not intended for personal use, the onus will be put on the accused to prove their own innocence by showing that the material that they prepared or even just material they possessed was never intended to be publicly communicated," Murphy stated.
"Within Section 10, you have the creation of a thought crime. And then you have a dangerous reversal of the burden of proof, where the burden is now placed on the accused to overturn the presumption that the material was not intended for personal use. This is extremely problematic."
Religious Issues
The constitution of Ireland protects freedom of religion, provided it adheres to public order and morality. Some fear that the new hate speech bill might harm religious freedoms.
For instance, priests may hold opinions on subjects like gender and sexual identity that can be seen as violating the new bill's provisions, thereby putting them under threat of prosecution.
The country's progressive government has pushed the bill. The legislation is currently in its second stage of the legislative approval process and needs to go through three more steps before being signed into law by the president.
A petition at Change.org run by Free Speech Ireland asking for no hate speech laws in the country warns that the legislation will "patently undermine the fundamental right of speech" in the nation.
"So-called Hate Speech laws are a savage hypocrisy: they would do more to divide communities in Ireland by highlighting that they are different and thus should be treated differently under the law."
Loading…
https://www.zerohedge.com/political/ireland-governments-hate-speech-bill-promotes-thought-crime-legislation