US Transportation Secretary Pete Buttigieg said there's "no question" that the collapsed Interstate 95 bridge in northeastern Philadelphia will disrupt East Coast supply chains, resulting in higher costs because trucking companies must find alternative routes. 
Over the sounds of heavy machinery, Buttigieg told reporters Tuesday that people don't realize that "part of what goes into the cost of everything that we pay for at the store is the cost of shipping, and if a route is disrupted … that finds its way into the cost of goods," adding there's "no question" prices on the East Coast will jump.
Buttigieg did not provide details regarding which goods will see price hikes or the possible extent of these increases. But he said "a lot of America's GDP" moves along I-95. 
Buttigieg tweeted that this portion of I-95 "is an artery for people and goods," and emergency relief funds are being deployed to fix the bridge. 
In Philadelphia to see the collapsed portion of I-95, hear updates from state/local officials about reconstruction efforts and meet first responders.

This is a key artery for people and goods, and PennDOT has our full support in their work to rebuild safely and efficiently. pic.twitter.com/JOxRz4dOP1

— Secretary Pete Buttigieg (@SecretaryPete) June 13, 2023
On Monday, Buttigieg addressed the American Council of Engineering Companies in Washington. He said his agency is working with state and local officials to rebuild the bridge and will provide financing and technical support. He warned summer travel could be a nightmare on the I-95 through Philadelphia. 
A tanker hauling thousands of gallons of gasoline flipped over on an off-ramp and caught fire underneath the bridge on Sunday. The fire was so intense that it caused one of the sections of the bridge to collapse. Pennsylvania Gov. Josh Shapiro declared a disaster emergency shortly afterward the incident to tap federal funding. The governor said it could 'take months' to fix the damaged bridge.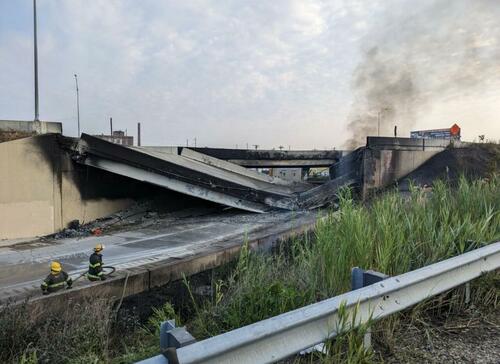 On Wednesday morning, travel disruptions were seen around the closed-off section of I-95.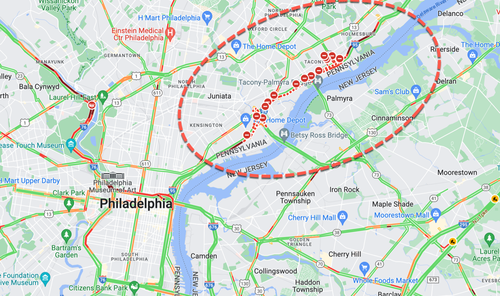 We wouldn't be surprised if the supply chain disruptions appeared in future survey data from the Philadelphia Federal Reserve. 
Loading…
https://www.zerohedge.com/markets/i-95-collapse-pete-buttigieg-warns-snarled-supply-chains-might-spark-higher-costs