Despite Powell's reiteration of the 'hawkish pause' with two more rate-hikes a "pretty good guess" if the economy continues as they expect, rate-hike expectations were barely changed today with the longer-end of the STIRs market pushing higher (still pricing in rate-cuts though)..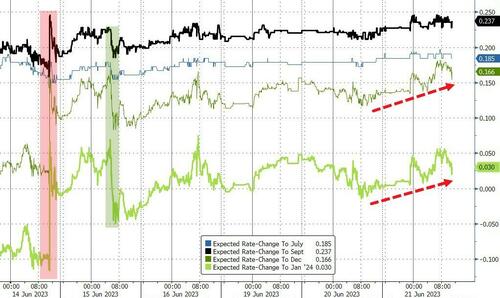 Source: Bloomberg
The Atlanta Fed's Bostic confirmed his "baseline is to hold rate [high] through year-end," adding that he doesn't expect rate-cuts for "most of 2024."
The market is pricing in one rate-hike and one rate-cut back by Jan 2024…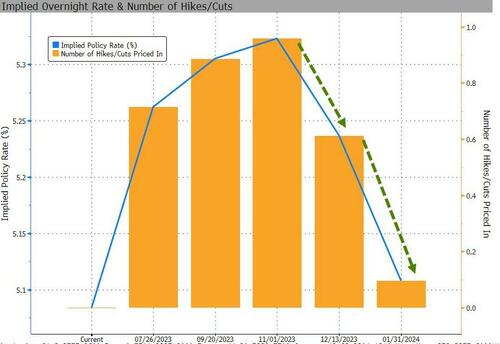 Source: Bloomberg
The Chicago Fed's Goolsbee also noted that last week's decision to hold rates was "a close call."
But despite the modest hawkish shift, the dollar dived after recovering back to pre-Powell levels…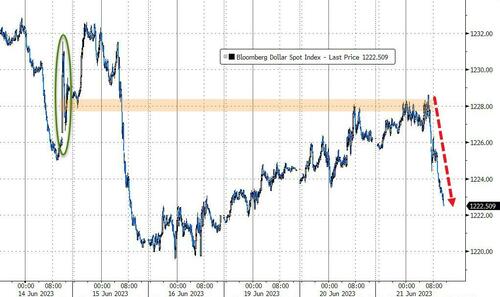 Source: Bloomberg
Nasdaq underperformed as Small Caps led but with an hour to go, selling restarted as Bostic commented on higher rates for longer leaving the big tech index down over 1%. S&P underperformed The Dow, closing near the lows of the day…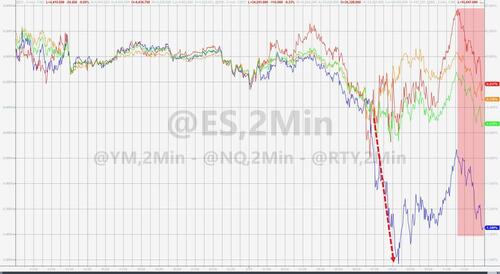 0-DTE traders were aggressively buying calls into the morning decline in Nasdaq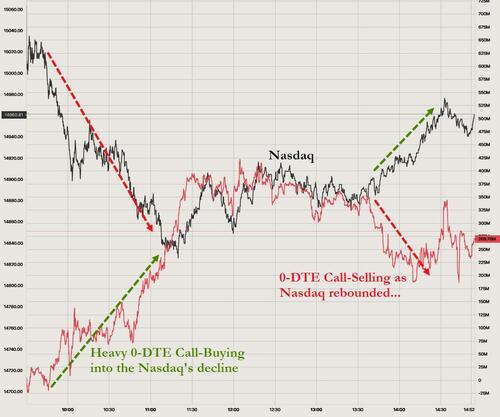 Source: SpotGamma
The Russell 2000 outperformed the Nasdaq 100, with the ratio between the two finding resistance…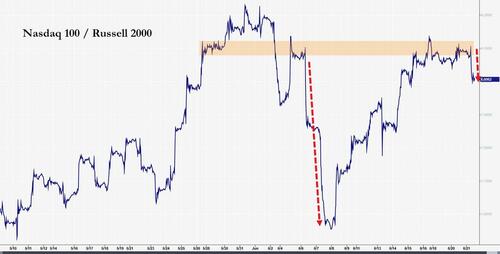 It was deja vu all over again in 'short-squeeze' land as early selling was caught as Europe closed and 'most shorted' stocks were squeeze back (but not green)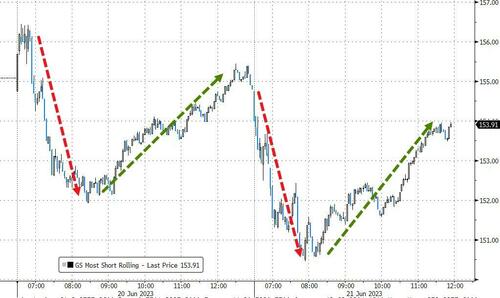 Source: Bloomberg
'Long Duration' – unprofitable – tech stocks sold off once again (but bounced once again), back to 2 week lows…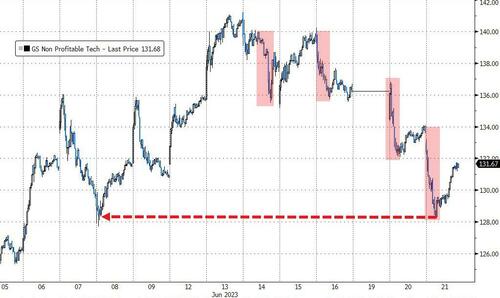 Source: Bloomberg
AI tumbled again, erasing the post-earnings spike…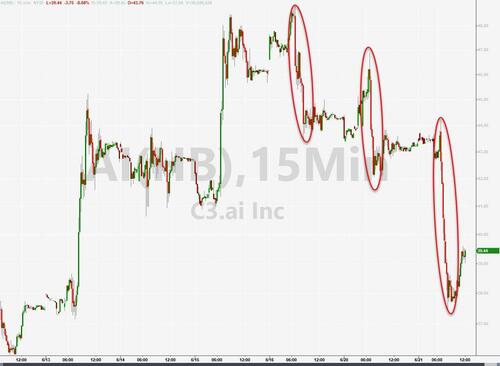 We note this rollover in AI-tech-stocks is occurring at an 'interesting' time…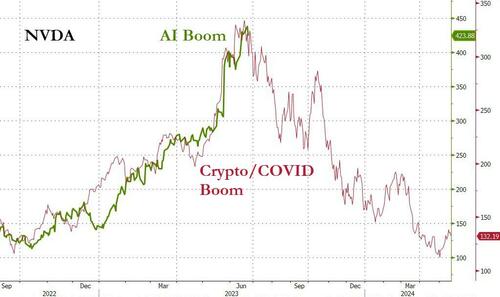 Source: Bloomberg
Bitcoin topped $30,000 for the first time since April 26th (extending gains ignited by news of a Citadel-sponsored exchange)…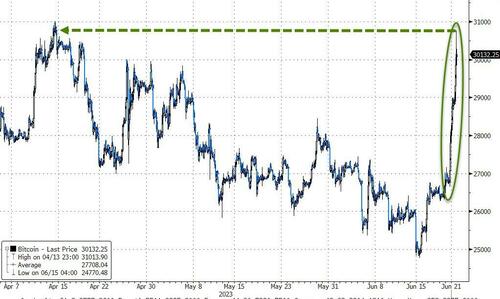 Source: Bloomberg
We are sure this helped somewhat…
₿𝗥𝗘𝗔𝗞𝗜𝗡𝗚: Federal Reserve Chairman says "crypto appears to have staying power as an asset class" pic.twitter.com/APbt2KXtfD

— Documenting ₿itcoin 📄 (@DocumentingBTC) June 21, 2023
Oil surged today, dragging WTI back above $72.50 – its highest in two weeks…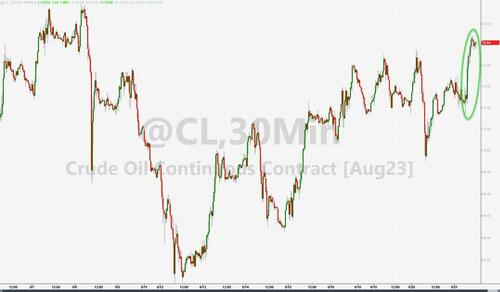 Which pulled Energy stocks higher (rotating out of long-duration tech – which may have been helped by Biden's "dictator" comments about Xi)…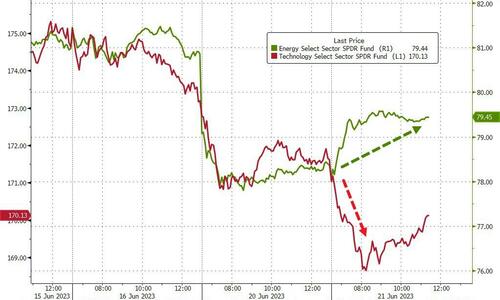 Source: Bloomberg
And the world and his pet rabbit has given up on the energy trade (Goldman notes Energy is among the most net sold sectors in the past month both globally and in the US on the Prime book, driven by long-and-short sales)…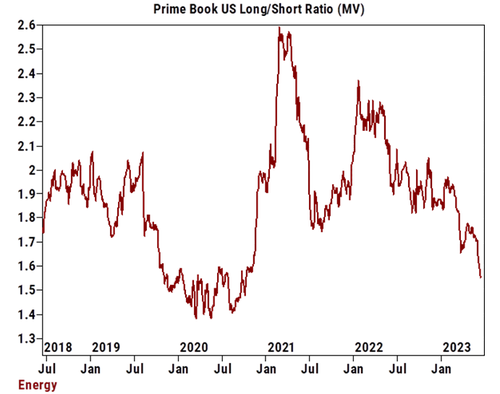 Source: Goldman
A well-bid 20-year auction put some much-needed lipstick on an otherwise pig-like day for bonds are UK inflation and Powell's hawkishness sent yields higher. By the close, Treasuries were practically unch across the curve with 30Y -5bps on the week (while 2Y is unch)…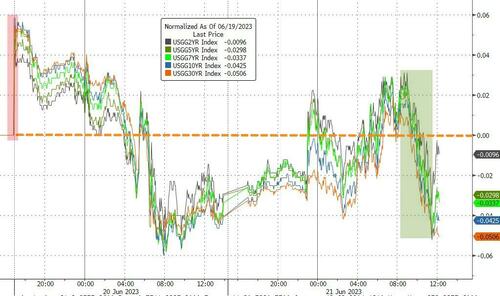 Source: Bloomberg
Gold extended yesterday's losses intraday, falling to its lowest in over 3 months below bouncing back barely into the green…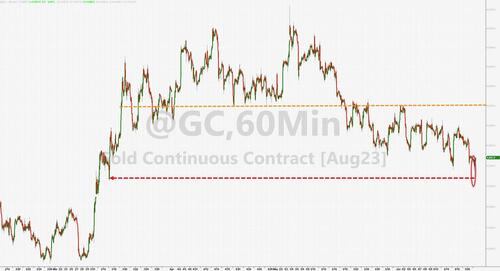 Finally, we note that Economic Surprise Indices are diverging notably with Europe deep in negative territory, China tumbling, and US rebounding modestly…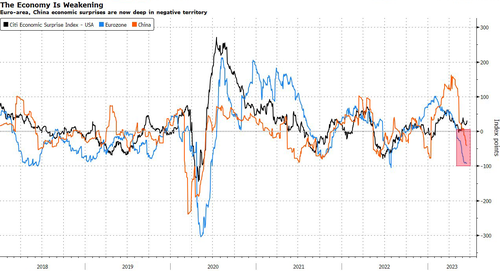 Source: Bloomberg
Which is ironic since Europe is hiking and US is pausing (with China easing the whole time to no avail).
Loading…
https://www.zerohedge.com/markets/hawkish-powell-hits-big-tech-bitcoin-soars-buck-breaks-down