Authored by Jonathan Turley,
We are awaiting the potential blockbuster ruling of the Supreme Court in the Harvard and North Carolina college admissions cases.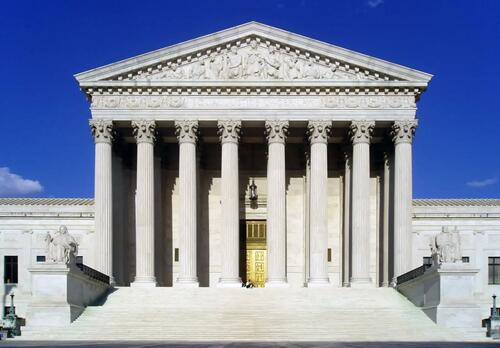 After decades of conflicting and confusing rulings on the use of race as a factor for admissions, the Court could be close to rejecting the practice. That is why the recent Pew survey is interesting. It shows that half of Americans disapprove of the use of affirmative action in admissions and only 33% approve of the practice. The Pew results are consistent with earlier polls. Indeed, even in the most liberal states like California, voters have repeatedly rejected affirmative action in admissions.
There is the expected difference between Democrats and Republicans. Some 54% of Democrats favor affirmative action while roughly 75% of Republicans oppose it. What is interesting is that a sizable number of African Americans disapprove of the practice. Less than half of African Americans support the practice. Pew reports:
Nearly half of Black Americans (47%) say they approve of colleges and universities considering prospective students' racial and ethnic backgrounds when making admissions decisions, compared with 29% who disapprove (24% are not sure).

Among Hispanic Americans, identical shares approve and disapprove of these practices (39% each). Both White and Asian Americans are more likely to disapprove of colleges doing this (57% of White adults and 52% of Asian adults) than to approve (29% and 37%, respectively).
That means that more white Democrats (59%) than African Americans (47%) support affirmative action in college and university admissions.
There remains a sharp divide between voters and both political and educational leaders on this practice.
Technically, affirmative action was barred decades ago by the Supreme Court. For decades, universities have avoided the type of outright quota the court held unconstitutional in Regents of the University of California v. Bakke (1978). Justice Lewis Powell wrote. "Preferring members of any one group for no reason other than race or ethnic origin is discrimination for its own sake. This the Constitution forbids."
However, colleges and universities have continued to use race as a factor and many insist that schools have merely become more sophisticated in hiding the weight given to race in admissions.
The last time the court dealt with the issue of race in admissions was 2016 in Fisher v. University of Texas. The court upheld the use of race in the admissions process of the University of Texas at Austin by a vote of 4-3. After the decision, the late Justice Ruth Bader Ginsburg noted that, if Justice Elena Kagan had not recused herself, it would have been 5-3 and "that's about as solid as you can get." At the time, she said that she doubted "that we're going to see another affirmative action case … at least in education."
Ginsburg's comment notably omitted two additional facts. First, if Justice Antonin Scalia had not died shortly before the release of the opinion, the vote would have been 4-4 (and 5-4 with Kagan). Second, courts change. While she was right about not seeing another such case during her time on the court, this is now a very different court with two of the Fisher majority no longer among its members.
There is now a 6-3 conservative majority on the court, and Chief Justice John Roberts, Clarence Thomas, and Samuel Alito previously voted against the University of Texas. To quote Ginsburg, with three justices previously voting against such race-based criteria and the three Trump appointees, "that's about as solid as you can get" for a major reframing of the controlling case law.
The court has spent decades issuing often conflicting and vague 5-4 rulings on the use of race in admissions. In 2003 in Grutter v. Bollinger, the Court divided 5-4 on upholding admissions criteria used to achieve "diversity" in a class at Michigan Law School. However, in her opinion with the majority, Justice Sandra Day O'Connor stated that she "expects that 25 years from now, the use of racial preferences will no longer be necessary to further the interest approved today." That was 20 years ago.
In their Fisher dissent, the conservative justices noted that the university was being "less than candid" in addressing its use of race in admissions. They objected to the mantra of achieving a "critical mass" in a class without a clear definition or standards. For critics, that is an understatement. For decades, universities have evaded the impact of court decisions limiting the use of race by avoiding mathematical or threshold criteria that could be challenged. Grutter's "diversity" rationale used race as one of a number of factors.
It appears that the majority of voters are more in agreement with Chief Justice Roberts, who has been widely attacked in the media and academia for his stance against affirmative action in admissions. In 2017, he declared: "The way to stop discrimination on the basis of race is to stop discriminating on the basis of race."  In 2006, Roberts also wrote: "It is a sordid business, this divvying us up by race."
The rulings in Students for Fair Admissions v. President & Fellows of Harvard College and Students for Fair Admissions v. University of North Carolina are expected soon from the Court.
Loading…
https://www.zerohedge.com/political/half-americans-disapprove-affirmative-action-college-admissions-new-survey-finds