Norway and Poland are the latest among an expanding list of NATO countries who say they are ready to begin training Ukrainian pilots on F-16 fighter jets, after US President Joe Biden announced approval to allow the Europeans to provide Western fighters at last week's Group of Seven summit in Japan. It marked a reversal of policy after months of internal administration debate.
EU foreign policy chief Josep Borrell said this week that training has already begun in several countries, and Polish Defense Minister Mariusz Blaszczak followed by saying Warsaw stands "ready".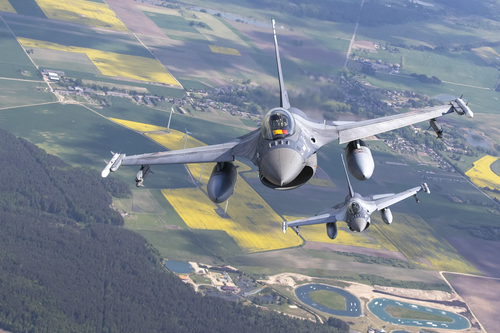 "We're ready. The Polish side is ready to train pilots on F-16 aircraft. Such training has not yet begun," Blaszczak said according to AFP.
Dutch Defense Minister Kajsa Ollongren has made similar comments, naming a growing list of countries poised to join the training efforts: 
"It is a co-effort with Denmark, Belgium, UK, and other allies, so a coordinated effort. But we will speed up now that we know that we have the green light," Ollongren said.
And while Norway has yet to decide whether it will provide any of its own F-16s to Ukraine, its Defense Minister Bjoern Arild Gram announced Wednesday it too will support the training program.
"The government backs this initiative and is considering how Norway can contribute together with allies and partners," Gram said.
The Norwegian government has not decided whether Norway will give any of its F-16 jets to Ukraine, the minister separately told public broadcaster NRK.
Russia has meanwhile warned of the "colossal risks" that this move could bring Moscow and the West into direct war. However, it could take over a year or two for the F-16 jets to actually become operational inside Ukraine. Western leaders, including Biden, have brushed off the Kremlins warnings.
U.S. President Biden while at the G7 Summit in Hiroshima, Japan was asked what his Response was to Russia who stated yesterday if F-16 Multirole Fighter Aircraft are provided to Ukraine it will be a "Colossal Risk to the West" with Biden stating, "It is for them". pic.twitter.com/sKjJnN2d9g

— OSINTdefender (@sentdefender) May 21, 2023
Ukrainian President Volodymyr Zelensky has said Wednesday that his country will 'win' the war with Western fighter jets. He said in his nightly video address: "The very first Ukrainian F-16 will be one of the strongest signals from the world that Russia will only lose because of its aggression. It will be weaker and further isolated."
"The main thing is the speed in training and in supply – meaning the time between decisions in real protection for our skies," he added. But again, it's likely to be a long time before Kiev actually gets its first F-16, and a lot could happen before then.
Loading…
https://www.zerohedge.com/geopolitical/growing-list-countries-ready-join-f-16s-ukraine-program