Even before the NVDA blowout earnings report, Goldman flow trader John Flood wrote yesterday that on the bank's trading desk he had seen consistent Mutual Fund buyers in supercap tech over the last 3 weeks, ever since AAPL made it 5 for 5 in regards to MAGMA earnings beats (all that was before Nvidia added $200 billion in market cap in a stunning, record move). This was a key component of our note from this weekend, in which we observed the first notable sentiment shift of 2023, which pointed out the FOMO frenzy and hedge fund buying following the S&P breakout to new 2023 highs last Thursday. That's in part because Long Only funds entered 2023 holding a record $235BN of cash, and bracing for an imminent hard landing,having dramatically slashed mega-cap tech exposure in Q1.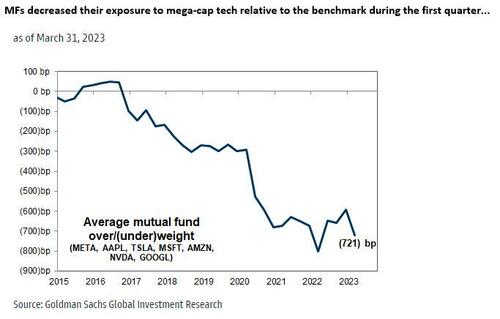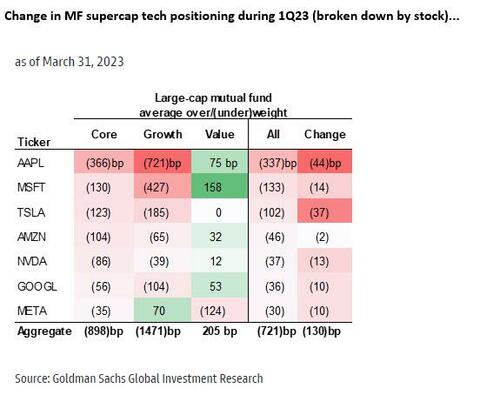 However, as the market has remained incredibly resilient (driven by a handful of stocks, the Nasdaq and S&P both closed at YTD highs last Thursday) Goldman is seeing mutual funds (as well as HFs) get "stopped in" as buyers.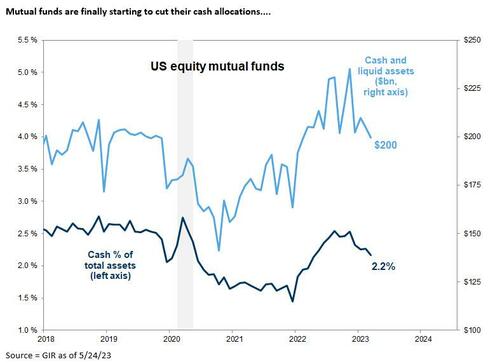 This factoid from Goldman PB data which we first discussed over the weekend, is key here: over a 2 week period the notional net buying from 5/5 – 5/18 in US equities was the largest since Oct '22 and ranks in the 94th percentile vs. the past 5 years.
And with many long-onlies bumping up against their cash ceilings, Goldman is now seeing these dollars on sidelines start to chase into mega-cap tech (also the most liquid stocks in the market) and act essentially as cash place holders.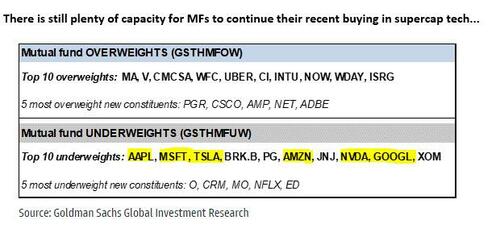 Flood's conclusion is that a full bearish capitulation is coming, and such permabears as Mike Wilson and Marko Kolanovic will soon throw in the towel: "From my seat I do not see the current rotation back into supercap tech ending anytime soon (which in the near term will provide the overall market a higher than previously anticipated floor…call it S&P 4k)."
As a reminder, it is only when the last bear throws in the towel that the next big drop can begin.
More in the full Goldman report available to pro subs in the usual place.
Loading…
https://www.zerohedge.com/markets/goldman-mutual-funds-flood-megatech-stocks-they-start-cutting-cash-allocations