Thanks to a flood of Northeasterners and conservatives fleeing blue states, home ownership in Florida has become prohibitively expensive for many prospective newcomers to the Sunshine State.
According to Bloomberg, a combination of supercharged demand pushing home prices sky high, and soaring interest rates and insurance premiums, have resulted in single-family home prices flattening for the first time since 2011 after jumping nearly 50% over the past three years. What's more, inbound moves are slowing.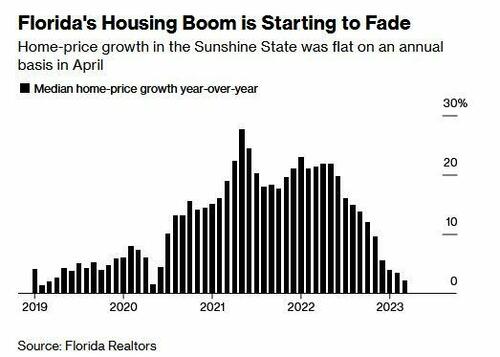 "The fact that Florida is getting more expensive is making it less attractive to homebuyers," said Redfin chief economist, Daryl Fairweather. "It becomes a concern for people trying to fix their monthly housing expenses."
The pullback in Florida, while still moderate compared with downturns in once-hot Sun Belt areas like Phoenix and Austin, shows the limits of a pandemic boom that has priced out locals and inflated the cost of entry for newcomers. One top destination for New Yorkers heading South — Miami — is now the most-unaffordable metro area in the US, according to May data from RealtyHop on homeownership expenses relative to incomes. -Bloomberg
Last month, billionaire VC Peter Thiel said he would be reluctant to shift operations from Silicon Valley to Florida due to the jump in prices.
Florida resident Jessica Cameron was caught off guard after she moved back to Florida following a five-year stint in Georgia while her husband completed his chiropractic degree. After returning at the end of 2022 to a four-bedroom house in Land O' Lakes for $589,000, all the other costs of life – from car insurance to utilities – came as a shock after paying a third less in Georgia for things like the water bill.
"Once I took a tally of the expense of everything, it blew my mind," said Cameron, adding "What's happening here breaks my heart, to be honest."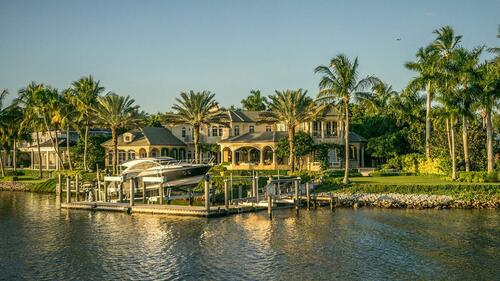 According to Tampa realtor Vanessa Charles, the flood of new (liberal) arrivals during the pandemic are also having second thoughts due to the state's conservative politics.
"People are looking at Florida differently now," said Charles. "A lot of families who moved here called and said. 'We have to leave.'"
Year-to-date, 56% more people moved into Florida than moved out according to data from United Van Lines – down from 58% in 2022 and 62% in 2021, the peak of the pandemic migration.
Making things more difficult for prospective buyers is that the state's housing market has remained robust vs. other parts of the country.
Florida has some cushions, such as a strong job market fed by Wall Street and tech company relocations, year-round sunshine that continues to attract telecommuters and rich Latin American buyers fleeing turmoil in their home countries.

The state also remains popular with affluent retirees, who aren't worried about high mortgage rates because they're paying cash, according to Brad O'Connor, chief economist for the Florida Realtors trade group. -Bloomberg
"It's still a very active housing market," said O'Connor. "We still have an influx of out-of-state buyers and it's still a good deal compared to high-cost states."
Yet in April, single-family home prices went sideways vs. 2022 prices, according to Florida Realtors, noting that it was a turning point for the market after steady increases.
The pullback is of course very regional, with Tampa prices falling 3.9% over the four week period ending June 11, while Jacksonville prices saw a 2% drop from a year earlier, according to Redfin, which for some reason used vastly different time scales to make that comparison. While Miami saw some slowdown, prices are still up 8.9% vs. last year.
Where to go?
Locked-out buyers have begun setting their sights elsewhere, including Alabama and other less expensive states.
Loading…
https://www.zerohedge.com/political/florida-affordability-drops-amid-flood-new-arrivals-high-interest-rates