After US and German GDP gravely disappointed and inflation measures on both sides of the pond remain far more elevated that hoped for, this morning's print of The Fed's favorite inflation indicator will likely drive today's early action among the algos.
Core PCE was expected to be flat at +4.6% YoY (and it was, but Feb was revised up to +4.7%) but the headline PCE printed hotter than expected at +4.2% YoY (although well down from the +5.1% prior)…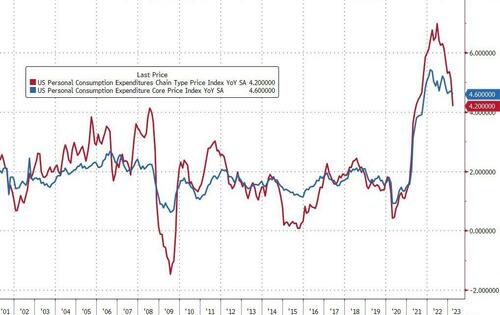 Source: Bloomberg
Even more focused, is the Fed's view on Services inflation ex-Shelter, and the PCE-equivalent shows that is very much stuck at high levels…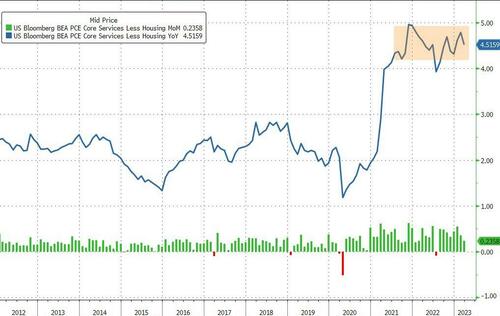 Source: Bloomberg
However, while acyclical core inflation slipped, cyclical core inflation continued to march higher, which is a greater problem for the Fed. Cyclical core PCE inflation, which tracks inflationary pressures that are linked to the current economic cycle, is at the highest on record going back to 1985.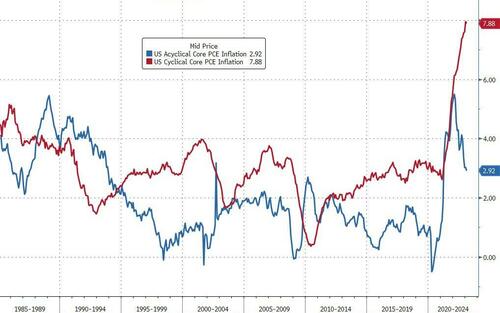 Source: Bloomberg
Americans' Personal Income rose 0.3% MoM (slightly hotter than the 0.2% exp) and spending was unchanged (better than the 0.1% decline expected)…
Source: Bloomberg
On a YoY basis, Spending growth slowed to +6.0% (in line with income growth), but at its slowest since Feb 2021…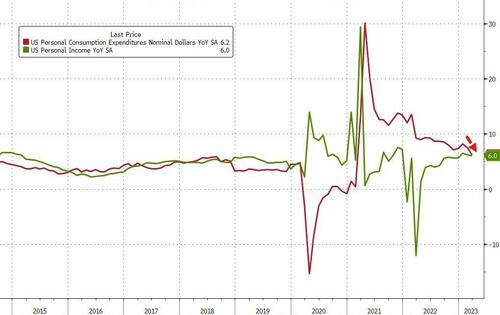 Source: Bloomberg
There is a possible silver lining in that Private workers wage growth slipped to 7.4% in March from 7.6% in Feb. However, Govt workers wage growth accelerated to 5.1% in March vs 5.0% in Feb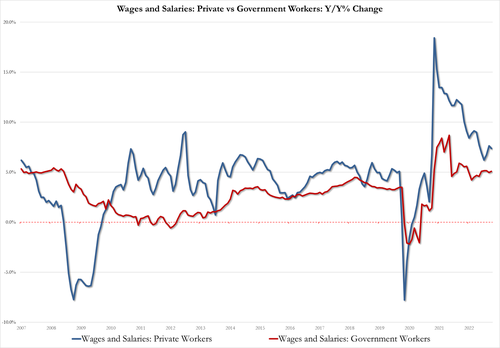 Spoiling that party, quite frankly, is that the Employment Cost Index rose 1.2% QoQ in Q1, hotter than the 1.1% expected…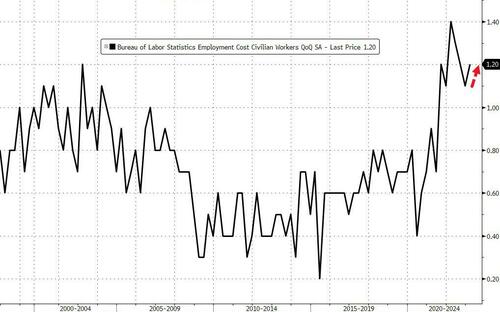 Stagflation fears are building…
The ECI component of greatest relevance to the Fed, wages and salaries for private sector workers excluding incentive paid occupations, showed no meaningful deceleration in Q1

+1.5% QoQ (the highest reading on record after the 1.6% gain in Q1 '22)

+5% YoY, (vs 5.2% in Q4) https://t.co/qGpFIJfZIQ pic.twitter.com/5OnB9fAzRQ

— Nick Timiraos (@NickTimiraos) April 28, 2023
On an inflation-adjusted basis, (real) spending was flat MoM…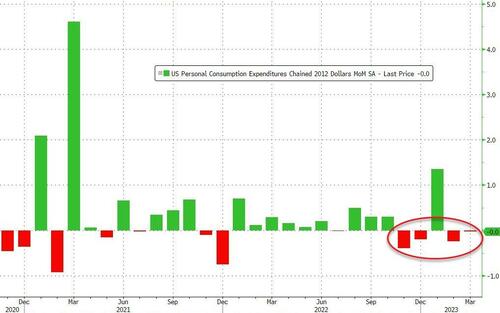 Source: Bloomberg
As a result of all that, the savings rate in March rose to 5.1% (from 4.8%) – its highest since Jan 2022…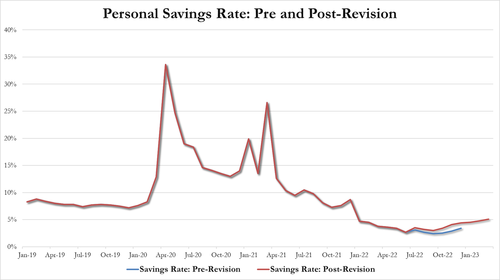 Simply put, this inflation data is NOT enough to provide any support for The Fed.
Loading…
https://www.zerohedge.com/markets/feds-favorite-inflation-indicator-slows-marginally-americans-savings-rate-rises-15-mo-highs