A scientist who originally told Dr. Anthony Fauci that Covid-19 looks "potentially" engineered, only to flip-flop days later and co-author a report prompted by Fauci "disproving" the lab-leak hypothesis, has been subpoenaed by the House Select Subcommittee on the Coronavirus Pandemic.
Dr. Kristian Anderson was slapped with the Congressional subpoena last week, according to Subcommittee Chairman Brad Wenstrup (R-OH), who announced on Friday that "Andersen played a pivotal role in potentially suppressing the lab leak hypothesis, and Americans deserve to know why this happened, who was involved, and how we can prevent the intentional suppression of scientific discourse during a future pandemic."
Anderson notably emailed Fauci on Jan. 31, 2020 – where he said that Covid-19 had "unusual features" that "(potentially) look engineered," and that other scientists "all find the genome inconsistent with expectations from evolutionary theory."
The next day, Fauci and his former boss, NIH Director Dr. Francis Collins, and at least eleven other scientists participated in a conference call during which several of them warned that COVID-19 may have leaked from a lab in Wuhan, China – may have been intentionally genetically manipulated.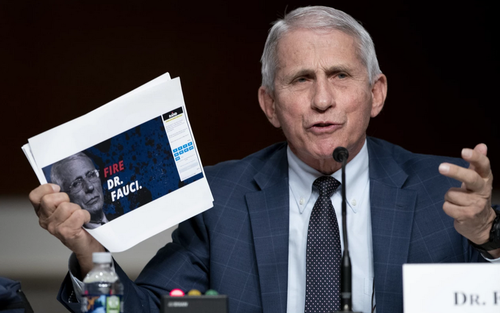 Three days after the call, four participants from the call (Andersen, University of Sydney virologist Edward Holmes, Tulane School of Medicine virologist Robert Garry, University of Edinburgh virologist Andrew Rambaut and Columbia University virologist Ian Lipkin) seemingly discarded their concerns over a lab-leak, and drafted "The Proximal Origin of SARS-CoV-2," which they sent to Fauci and Collins.
Also heavily involved (yet not credited) was Dr. Jeremy Farrar, the current Chief Scientist at the World Health Organization.
On June 16, Anderson testified before the House subcommittee, where he told them that he and the co-authors had communicated primarily via Slack while drafting the paper. He also admitted that he had not provided all messages relevant to the subcommittee's inquiry because not all participants of the Slack discussions approved of their release.
According to Wenstrup, the subpoena was issued to compel the production of said Slack messages
"We are following the breadcrumbs of a COVID-19 cover-up straight to the source," he said.
How it started how it is going pic.twitter.com/k0u1jI0j4U

— zerohedge (@zerohedge) June 23, 2023
More via the Epoch Times:
Wenstrup said the authors "may have possessed conflicts of interest for supporting a zoonotic origin of COVID-19."
A copy of the subpoena seen by The Epoch Times states that Andersen will be required to provide all Slack documents and communications dated from Jan. 1, 2020, to June 23, 2023, regarding the origins of COVID-19, which referenced former National Institute of Allergy and Infectious Disease Director Dr. Anthony Fauci and former National Institutes of Health (NIH) Director Dr. Francis Collins, among others.
Fauci's Alleged Role in Drafting Study
The subcommittee issued a memo (pdf) on March 5 saying that it uncovered new email evidence suggesting that Fauci "prompted" the drafting of the study.
The memo detailed a conference call between Collins, Fauci, and at least 11 other scientists in early February 2020, about a week after the first Chinese Communist Party (CCP) virus—commonly known as the novel coronavirus—case was confirmed in the United States.
Collins, Fauci, and others were warned in the Feb. 1, 2020, call about the possibility that the virus may have leaked from a laboratory in Wuhan, China, in late 2019, according to the memo.
Citing internal emails, the committee asserted that Fauci "prompted" Andersen to write the paper and that it was designed "to 'disprove' any lab leak theory."
The Proximal Origin paper's abstract suggested that the virus may have emerged via Malaysia pangolins because they "contain coronaviruses similar to SARS-CoV."
"The presence in pangolins of [a virus' receptor-binding domain] very similar to that of SARS-CoV-2 means that we can infer this was also probably in the virus that jumped to humans," the paper reads.
But the March 5 memo, citing internal emails, stipulated that Anderson "did not find the pangolin data compelling" and only wrote the paper after being "prompted" by Fauci, Collins, and the others.
"Privately, Dr. Andersen did not believe the pangolin data disproved a lab leak theory despite saying so publicly. It is still unclear what intervening event changed the minds of the authors of Proximal Origin in such a short period of time," the House committee stated.
Jack Phillips contributed to this report.
Further reading:
Loading…
https://www.zerohedge.com/political/faucis-flip-flopping-lab-leak-denier-subpoenaed-after-stonewalling-congress-proximal