Authored by Pepe Escobar via The Cradle,
If you're counting on Asia's many new power centers to compete and clash – don't. The Greater Eurasia Partnership is set to integrate them all – from the SCO, EAEU, and BRICS, to emerging new currencies – in order to replace the 'rules-based order.'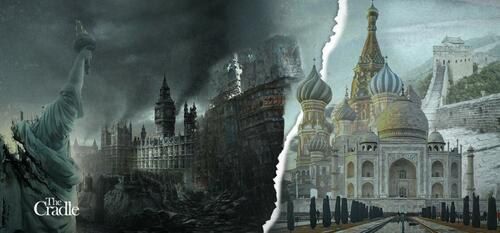 On July 4, at a New Delhi summit, Iran will finally become a full member of the Shanghai Cooperation Organization (SCO).
That will be one of the key decisions of the summit, held via video-conference, along with the signing of a memorandum on the path by Belarus to also become a member state.
In parallel, Russian Deputy Prime Minister Alexei Overchuk has confirmed that Iran and the Russian-led Eurasian Economic Union (EAEU) should sign a free trade agreement (FTA) by the end of 2023.
The FTA will expand an interim deal that already lowers customs duties on hundreds of categories of goods.
Russia and Iran – two key poles of Eurasia integration – have been getting closer and closer geoeconomically since the west's sanctions tsunami that followed Russia's February 2022 Special Military Operation (SMO) in Ukraine.
The EAEU – as much as the SCO and BRICS – is on a roll: FTAs are expected to be clinched, from middle to long term, with Egypt, India, Indonesia, and the UAE.
Overchuck admits negotiations may be "very difficult" and "take years," considering "the interests of all five EAEU member states, their businesses, and their consumers." Yet despite the obvious complexities, this high-speed rail geoeconomic train has already left the station.
This way for a SWIFT exit
In a parallel track, the members of the Asian Clearing Union (ACU), during a recent summit in Iran, decided to launch a new cross-border financial messaging system this month as a rival to the western-centric SWIFT.
The ACU comprises the Central Banks of India, Pakistan, Bangladesh, Bhutan, Maldives, Nepal, Sri Lanka, Myanmar, and Iran: a healthy mix of West Asia, Southeast Asia, and South Asia.
It was the Central Bank of Iran – still under harsh sanctions – that developed the new bank messaging system, so new it's not yet known by its own acronym.
Crucially, the Governor of Russia's Central Bank took part in the ACU summit as an observer, along with officials from Belarus, which applied for ACU membership two weeks ago.
Iranian Central Bank Governor Mohammad Reza Farzin confirmed not only the interest of potential members to join the ACU, but also the drive to set up a basket of currencies for payment of bilateral trade deals. Call it a de-dollarization fast track.
As Iran's first Vice President, Mohammad Mokhber summed it up: "De-dollarization is not a voluntary choice by countries anymore; it is an inevitable response to the weaponization of the dollar."
Iran is now at the heart of all things multipolar. The recent discovery of a massive lithium field holding roughly 10 percent of the world's reserves, coupled with the quite possible admission of Iran into the expanded BRICS – or BRICS+ – as early as this year, has bolstered scenarios of an upcoming BRICS currency backed by commodities: gold, oil, gas and – inevitably – lithium.
All this frantic Global South-led activity stands in sharp contrast to the sputtering deceleration of the Empire of Sanctions.
The Global South has had enough of the US sanctioning and banning whoever, whatever, and whenever they like, in defense of a hazy, arbitrary "rules-based international order."
Yet exceptions are always made when the US itself badly needs to buy, for instance, Chinese rare earth and EV batteries. And while China continues to be harassed and threatened non-stop, Washington quietly urges it to continue to buy American corn and low-end chips from Micron.
This is what's called "free and fair" trade in the US today.
The BRICS have other ideas to escape this vicious circle. Much will rely on an enhanced role for its New Development Bank (NDB), which comprises the five BRICS members as well as Bangladesh, the UAE, and Egypt. Uruguay will be joining soon, and the membership requests of Argentina, Egypt, Saudi Arabia, and Zimbabwe have also been approved.
According to Brazil's former head of state and current NDB President Dilma Rousseff, decisions on new members will officially be announced at the upcoming August BRICS summit in South Africa.
Meanwhile, in Astana, Kazakhstan, the 20th round of the interminable Syrian peace process took place, congregating the foreign vice-ministers of Russia, Syria, Turkey, and Iran.
That should be the defining step in a "normalization road map" proposed by Moscow last month to finally regulate the role of the Turkish Army operating inside Syrian territory. Russian Foreign Vice-Minister Mikhail Bogdanov once again confirmed that the US is going all out to prevent a normalization between Damascus and Ankara – by supporting oil-stealing Kurdish militias in northern Syria.
A "broad integrative configuration"
All interlinked developments concerning SCO, BRICS, EAEU, and other multilateral mechanisms – now happening at breakneck speed – are converging in practice into a concept formulated in Russia back in 2018: the Greater Eurasia Partnership.
And who better to define it than Russian Foreign Minister Sergey Lavrov: "Our flagship foreign political project is to [build] support for the concept of the Greater Eurasian Partnership. What we're talking about is facilitating the objective process of forming a broad integrative configuration that is open for all countries and associations across our vast continent."
As Lavrov routinely explains now in all of his important meetings, this includes "interlinking the complementary development plans" of the EAEU and China's BRI; expanding interaction "within the framework of the SCO with the involvement of SCO observer states and dialogue partners;" "strengthening the strategic partnership" between Russia and ASEAN; and "establishing working contacts" among the executive bodies of the EAEU, SCO, and ASEAN.
Add to it the crucial interaction between the upcoming BRICS+ and all of the above; literally, everybody and their neighbor all across the Global South is queuing up to enter Club BRICS.
Lavrov envisions a "mutually beneficial, interlinking infrastructure" and a "continent-wide architecture of peace, development, and cooperation throughout Greater Eurasia." And that ought to be expanded to the whole Global South.
It will help to have other brand new institutions jumping in. That's the case of a new Russian think tank, the Geopolitical Observatory for Russia's Key Issues (GORKI), to be led by Former Austrian Foreign Minister Karin Kneissl, and set as a division of St. Petersburg State University focusing on West Asia studies and energy issues.
All of these interpolations were discussed in detail during the St. Petersburg forum last week.
One of the key themes in that spectacularly successful Global South-oriented forum was, of course, the reindustrialization and reorientation of Russia's export-import channels away from Europe and toward Asia, Africa, and Latin America.
The UAE had a strong presence in St. Petersburg, pointing to a West Asia emphasis, where Russia's geoeconomic future is increasingly developing. The scope and breadth of Global South-led discussions only underlined how the self-marginalized collective west has alienated the Global Majority, perhaps irretrievably.
On Vladimir Solovyov's immensely popular political talk show, Russian film director Karen Shakhnazarov may have found the best way to succinctly formulate such a complex process as the Greater Eurasia Partnership.
He said that Russia is now reassuming the role of global champion of a new world order that the Soviet Union held at the start of the 1920s. In such context, the rage and uncontrolled Russophobia by the collective west is just plain impotence: howling the frustration of having "lost" Russia, when it would have been a no-brainer to keep it on its side.
Loading…
https://www.zerohedge.com/geopolitical/escobar-greater-eurasia-project-will-replace-rules-based-order