Authored by Jack Phillips via The Epoch Times,
The presidential campaign of Robert F. Kennedy Jr. alleged that the Democratic National Committee is trying to prevent it from challenging President Joe Biden and will allow the incumbent to handily win the 2024 nomination.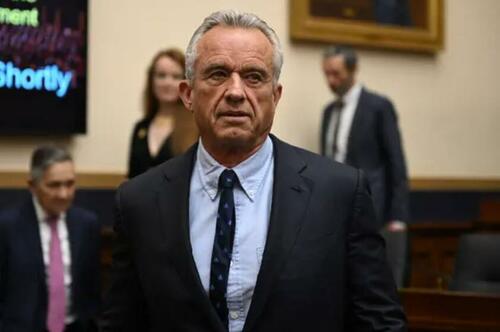 In a news release issued this week, former Ohio congressman and Democrat presidential candidate Dennis Kucinich stated that he believes the Democratic National Committee (DNC) "has created a class of pledged delegates, called Party Leaders and Elected Officials, who are essentially the same as superdelegates, due to the amount of control the party exercises over elected officials."
"This puts the DNC, once again, in the position of overturning the will of voters across the United States. It is unclear how overturning the nation's majority vote could be interpreted as trusting the people," Mr. Kucinich, who is serving as Mr. Kennedy's campaign manager, added in the release.

 "The DNC consults closely with Julie Chávez-Rodríguez, Manager of Joe Biden's campaign. Given that, and the DNC's commitment to neutrality in the primary process, we anticipate that Mr. Harrison will agree to the meeting," he also said.
Further, he accused the DNC's re-ordering of state primaries in 2024's contest "would discount the votes of millions of Americans and limit the ballot access of millions more to mail-in voting only."
The DNC moved South Carolina to the top of the Democrats' 2024 primary schedule, saying that if states don't abide by the schedule, they could face penalties. Notably, then-candidate Biden's first primary victory during the 2020 contest occurred in South Carolina after he received a key endorsement from Rep. James Clyburn (D-S.C.), a longtime power broker in the state.
It also means that primaries in Iowa, New Hampshire, and Nevada would come second for Democrats after South Carolina, while Georgia would come next after the other states—in early February. New Hampshire state laws stipulate that the Granite State be the first in the nation, and Georgia state law stipulates that it hold Republican and Democrat primaries on the same day. Under the DNC's rules, Georgia's GOP primary would be held on March 12, and its Democrat primary would come on Feb. 13.
For months, Mr. Kennedy has accused the DNC of trying to rig the primaries in favor of President Biden, accusing party officials of showing an unwillingness to hold a debate between him, the president, and other Democratic candidates.
Last week, Mr. Kucinich—who unsuccessfully ran for president as a Democrat in 2004 and 2008—also accused the DNC of essentially rigging the primary during a Fox News interview.
"Mr. Kennedy wants to make sure that every Democrat who votes in a primary, their votes will count, and that if you win a primary, that you win the delegates," Mr. Kucinich told Fox News late last week.

"I know that sounds like a novel idea, but as Mr. Kennedy has pointed out, the DNC has arranged it so they can put extra delegates and stuff the ballot box in a primary and effectively, even if Mr. Kennedy were to get 60-70 percent, hand the election to Mr. Biden."
He added: 
"You can call this a 'heads we win, tails you lose' approach, and I don't think the American people will buy that."
The campaign also said Mr. Kucinich sent two letters to the DNC's chairman, Jaime Harrison, requesting a meeting between his team and top DNC officials.
Officials with the DNC have not publicly responded to the Kennedy campaign's latest claims. The Epoch Times has contacted the DNC and Biden campaign for comment Tuesday.
The DNC has said that it is backing President Biden as he campaigns for another term in the White House. In February, the DNC unanimously passed a resolution pledging its "full and complete support" for the president and Vice President Kamala Harris, although that came before Mr. Kennedy launched his campaign months later.
Meanwhile, no incumbent president has participated in a primary debate since President Gerald Ford, who was the speaker of the House before he was named vice president and then president after then-Vice President Spiro Agnew's and then-President Richard Nixon's resignations in 1973 and 1974, respectively. Aside from President Ford, no incumbent president has taken part in a primary debate since the first modern debate was held in 1948.
Former President Donald Trump did not hold primary debates when he was seeking his second term in 2020. The same held true for former President Barack Obama when he sought a second White House term in 2012.
But in a summer op-ed, Democrat presidential candidate Marianne Williamson again accused the DNC of rigging the election by now allowing a debate to happen.
"The people have a right to hear from other candidates, with other ideas. This is not a time in our history for people to acquiesce to any form of control over things that will affect our lives and the lives of our children. Candidate suppression is a form of voter suppression, and the party that purports to be the champion of democracy should not be so wary of it in our own house," wrote Mrs. Williamson.
"The Democratic Party must allow President Biden to debate his opponents. The fate of our democracy is at stake, and only more democracy can save it."
Loading…
https://www.zerohedge.com/political/rfk-jr-campaign-blasts-undemocratic-dnc