Authored by Steve Watson via Summit News,
A new Disney Pixar movie that features a non-binary character using they/them pronouns has completely flopped at the box office.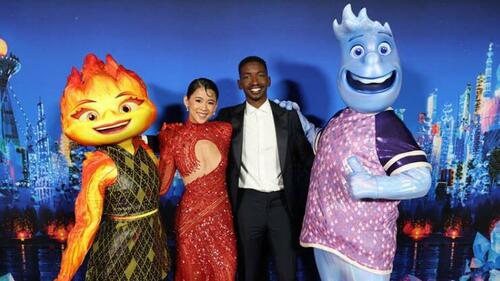 The production titled Elemental, which also features characters 'tackling' racism and xenophobia, ranks as one of the lowest box office debuts for a Pixar movie ever.
They spent around $200 million making it. It opened with a $29.5 million recoup.
You do the math(s).
Every. Single. Time. pic.twitter.com/xJN1sn6mPo

— Garbage Human (@GarbageHuman23) June 18, 2023
It again proves that parents just don't want to subject their kids to identity politics and woke bat shittery.
"Depending on where it falls, this could be the lowest-earning opening weekend Pixar has had since 'Toy Story's $29 million take in 1995. Even then, 'Toy Story's box office take has not been adjusted for inflation, making 'Elemental's box office figures even more disappointing," ScreenRant notes.
Another problem could also be the monumentally stupid concept of the characters being elements such as fire and water, a way of crowbarring in woke themes.
USA Today described the characters thusly:
"Wade comes from a well-to-do aquatic clan that lives in a fancy high rise, Ember is an immigrant from the world of fire who is bent on honoring her parents by taking over their shop, which peddles things fire people would eat (that would be wood)."

"At one point in the movie, after Ember's father, Bernie, seems to recognize Wade, Ember says, 'Not all water people look alike,' an allusion to the sentiments that many ethnic groups can relate to when being stereotyped. In another scene, Ember is yelled at by Element City citizens who tell her they don't want fire people around."
The Hollywood Reporter notes that the production carries a "serious overarching theme about ethnic strife and racial tolerance."
When will they learn that woke=broke?
Last year Disney faced a $100 million loss from a production called "Strange World," which features an open gay teen romance.
Disney has been prominently featuring transgender and LGBT characters in productions for some time:
Weird New Disney+ Show 'Baymax' Features Transgender Tampon Scene
EXCLUSIVE: I've obtained leaked video from Disney's upcoming show "Baymax," which promotes the transgender flag and the idea that men can have periods to children as young as two years old.

It's all part of Disney's plan to re-engineer the discourse around kids and sexuality. pic.twitter.com/y1ATnKCEce

— Christopher F. Rufo ⚔️ (@realchrisrufo) June 28, 2022
Recall also that back in March last year, leaked video footage revealed Disney executive producer Latoya Raveneau asserting that her team had implemented a "not-at-all-secret gay agenda" that would be "adding queerness" to programmes and films for children.
SCOOP: I've obtained video from inside Disney's all-hands meeting about the Florida parental rights bill, in which executive producer Latoya Raveneau says her team has implemented a "not-at-all-secret gay agenda" and is regularly "adding queerness" to children's programming. pic.twitter.com/eJnZMpKIXT

— Christopher F. Rufo ⚔️ (@realchrisrufo) March 29, 2022
Disney also angered many parents earlier this year by throwing its weight and funding behind gender reassignment procedures, even for kids:
Disney to help employees, their children obtain 'gender-affirming' procedures, per report https://t.co/oQifEZpdDC

— NBC 15 News (@mynbc15) April 8, 2022
During his feud with the company, Florida Governor Ron DeSantis charged that Disney has a "fixation on the sexuality of children" pointing to reports that four employees of the media giant were charged with human trafficking in Florida, with one having allegedly sent sexually explicit texts to an law enforcement agent posing as a teenage child.
Video: DeSantis Accuses Disney Of "Sexualizing Kindergarteners"
The CEO of Disney, Bob Iger, announced Last November that he would seek to "quiet things down" at the company following several high profile controversies, most notably the admission of the executive producer under his predecessor declaring that Disney is operating an open LGBT agenda.
Video: New Disney CEO Wants To "Quiet Things Down" After Company Exec Previously Revealed Open LGBTQ Agenda
That doesn't appear to have kicked in yet.
Related:
"We're Not After Your Kids"
*  *  *
Brand new merch now available! Get it at https://www.pjwshop.com/
In the age of mass Silicon Valley censorship It is crucial that we stay in touch. We need you to sign up for our free newsletter here. Support our sponsor – Turbo Force – a supercharged boost of clean energy without the comedown.
Also, we urgently need your financial support here.
Loading…
https://www.zerohedge.com/political/disney-pixar-movie-non-binary-character-and-woke-themes-bombs