Now that precisely the same individuals who organised the conspiracy to frame Alex Salmond are under heavy police investigation for financial fraud, many people are now prepared to listen who refused to do so before.
I am going forward with a case to the UN Human Rights Committee over my substantial imprisonment for journalism. This will set out what really happened in Scotland – to Alex Salmond, to me, to Clive Thomson, to Mark Hirst and others – on the international stage.
It will highlight that it remains illegal to publish almost any of the truth about the conspiracy led by Sturgeon, Murrell, Lloyd and Ruddick.
Going to the UN has several advantages.
I am no longer constrained as I was in appeals, to stick to matters presented at the original hearing, which you might recall was over in half an hour and at which my lawyers appeared to believe the case would be simply dismissed if not much fuss was made.
I am also no longer constrained to use Scottish lawyers. The extraordinary deference in the Scottish legal system, and the refusal of a series of Scots lawyers to say anything remotely critical of Lady Dorrian, or anything that might challenge the extreme restrictions on evidence she had placed in both my trial and the Salmond trial, has been crippling.
I am going to the United Nations with non-Scots international lawyers. You can judge the difference in their approach from the fact-finding report below.
Among the evidence barred by Lady Dorrian from the Salmond trial, and on which she refused a formal application for disclosure in my own hearing, were the WhatsApp messages between Murrell, Ruddick and others in which they were plainly trying to generate and influence complaints against Salmond.
I cannot put this better than David Davis did in the House of Commons using parliamentary privilege.
For example, these texts show that there is a concerted effort by senior members of the SNP to encourage complaints. The messages suggest that SNP chief executive Peter Murrell co-ordinated Ruddick and Ian McCann, the SNP's compliance officer, in the handling of specific complainants. On 28 September, a month after the police had started their investigation of the criminal case, McCann expressed great disappointment to Ruddick that someone who had promised to deliver five complainants to him by the end of that week had come up empty, or "overreached", as he put it. One of the complainants said to Ruddick that she was

"feeling pressurised by the whole thing rather than supported".

The day following the Scottish Government's collapse in a judicial review in January 2019, Ruddick expressed to McCann the hope that one of the complainants would be

"sickened enough to get back in the game."

Later that month, she confirmed to Murrell that the complainant was now "up for the fight" and

"keen to see him go to jail".

Ruddick herself, in one of her texts, expressed nervousness about

"what happens when my name comes out as [redacted] fishing for others to come forward".

Note, again, that this was after the criminal investigation into Salmond had commenced. This is improper, to say the least. Contact with, and influence of, potential witnesses is totally inappropriate once a criminal investigation is under way. That was known inside the SNP itself.

Text messages reveal that at an SNP national executive committee meeting early in January 2019, the hon. and learned Member for Edinburgh South West (Joanna Cherry) raised concerns among staff at Westminster that SNP headquarters were engaged in "suborning" of witnesses, while on 28 August 2018, a senior member of SNP staff in this building described in an email the SNP headquarters move against Salmond as a "witch-hunt".

Shortly after charges were brought against Salmond, Peter Murrell sent messages saying that it was a

"good time to be pressurising"

detectives working on the case, and that the more fronts Salmond was having to "firefight" on,

"the better for all complainers."

When the inquiry put those messages to Mr Murrell, he said that they were "quite out of character". That is no defence even were it true, but, having seen the evidence of other messages, it seems to me that they were all too much in character for Mr Murrell. In a Committee evidence session on 8 December last year, Mr Murrell replied under questioning that there were no more messages of the type already in the public domain from January 2019.

That statement, delivered under oath, is hard to reconcile with the dozens of messages stretching over a period of months from September 2018 that I have now seen. There is more, but it would take the whole debate to read them out.
You will recall that, after release from prison, I was interviewed by police at my home about who was responsible for leaks to MPs of Murrell's and Ruddick's self-incriminating messages.
It does seem that the lesson of these revealing messages was learnt by the Sturgeon clique:

In a properly run country, Sue Ruddick would have been correct to worry what would happen if it came out that she was "fishing for complainers to come forward". It has always been my contention, and it remains so, that in the attempted fit-up of Alex Salmond the Crown Office were in cahoots.
Sue Ruddick has been promoted now to Chief Executive Officer of the SNP.
I am afraid it will take funds to get my case before the UN. £30,000 will get us over the line, and more than that will enable us to do a more thorough job (there are over 1,000 pages of supporting documentation) and to pay the costs for further organisations and experts to become involved.
I will remind you that among the urgent issues on which we seek comment from the UN, is the ruling that bloggers and citizen journalists do not benefit from the protections for free speech enjoyed by mainstream media.
This is the initial draft report (small redactions purely for publication on this blog) prepared by the team that will be taking the case forward: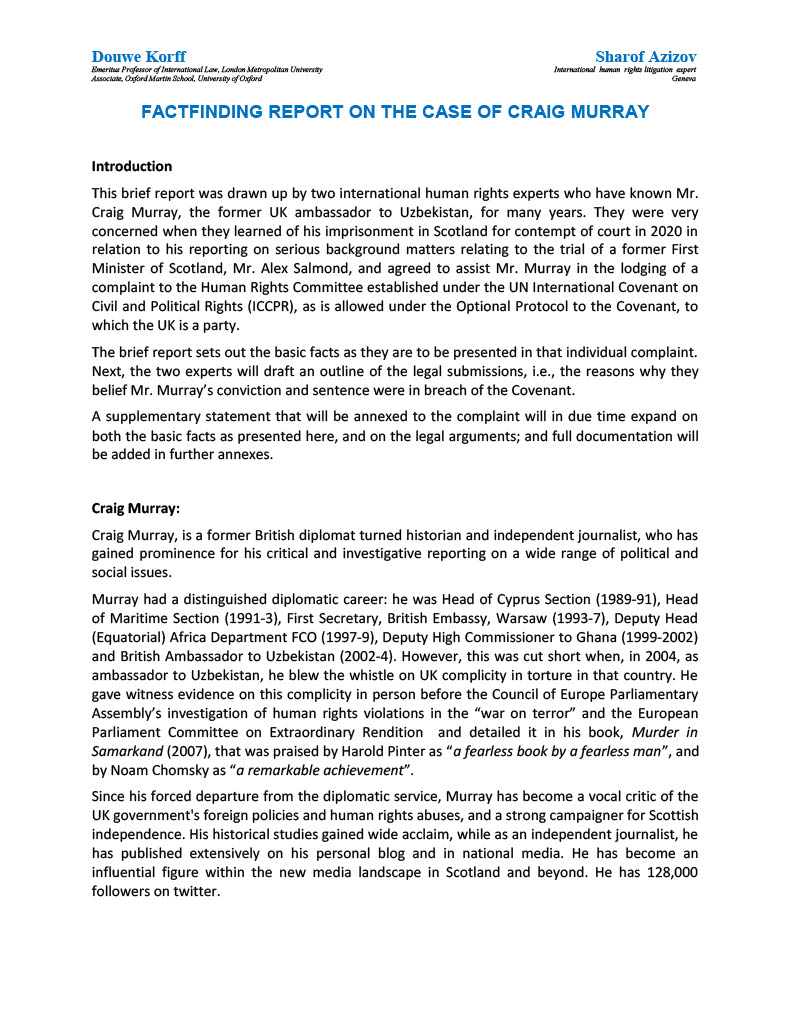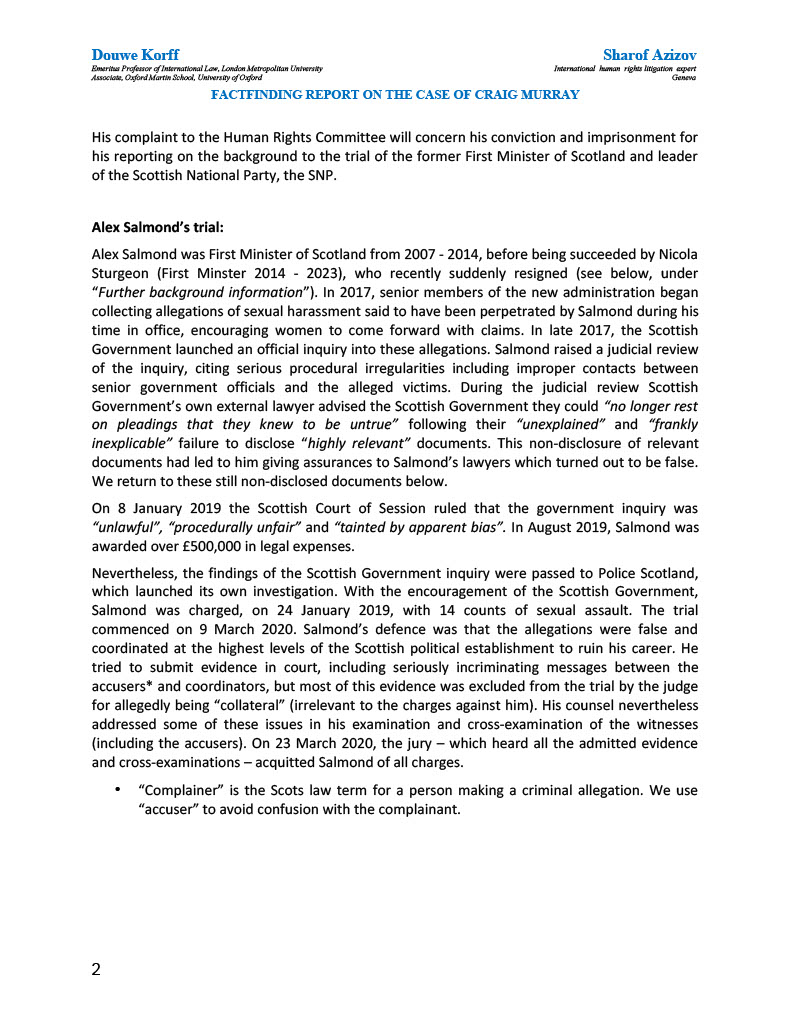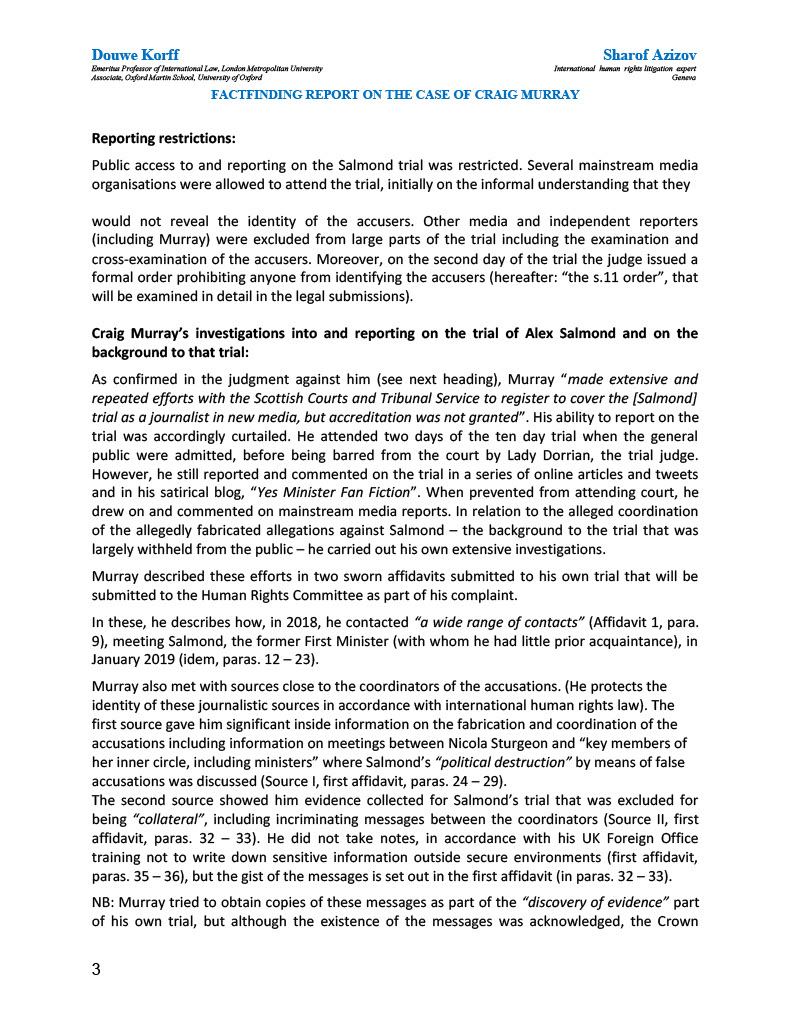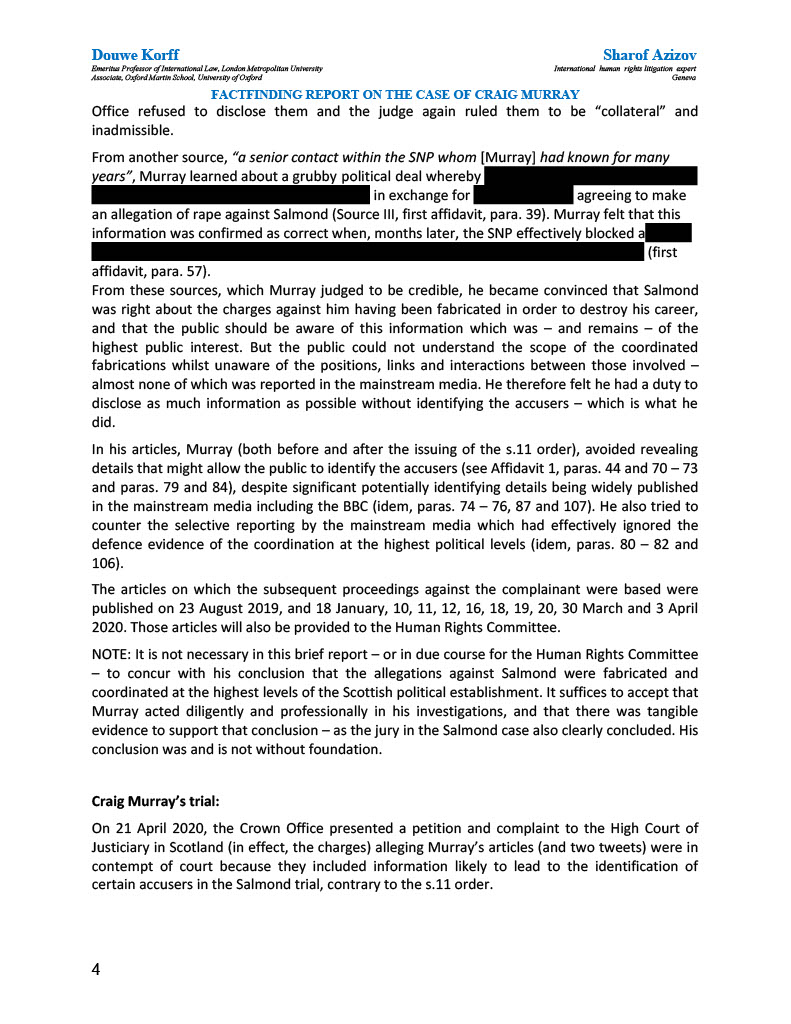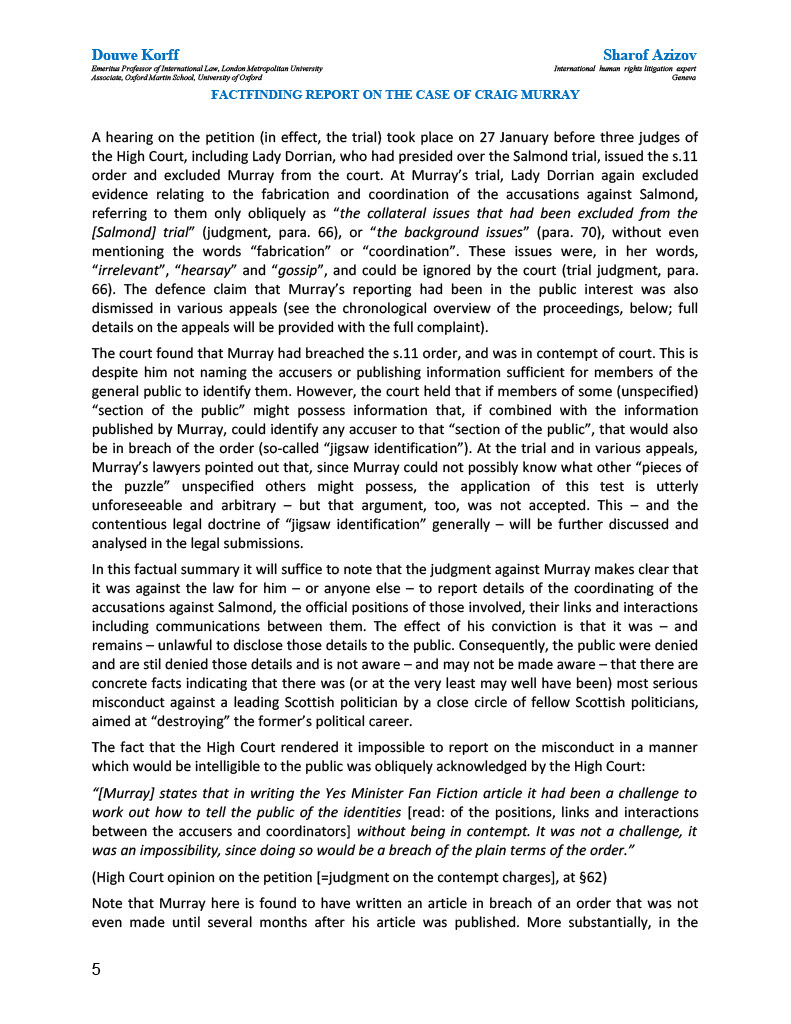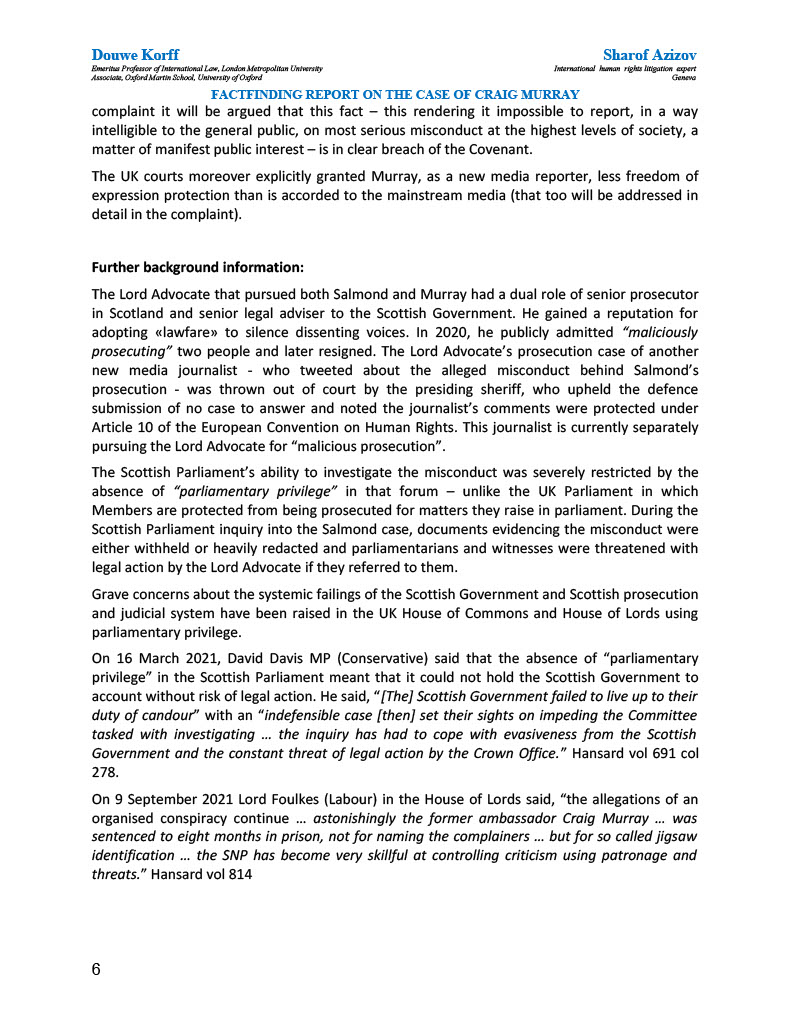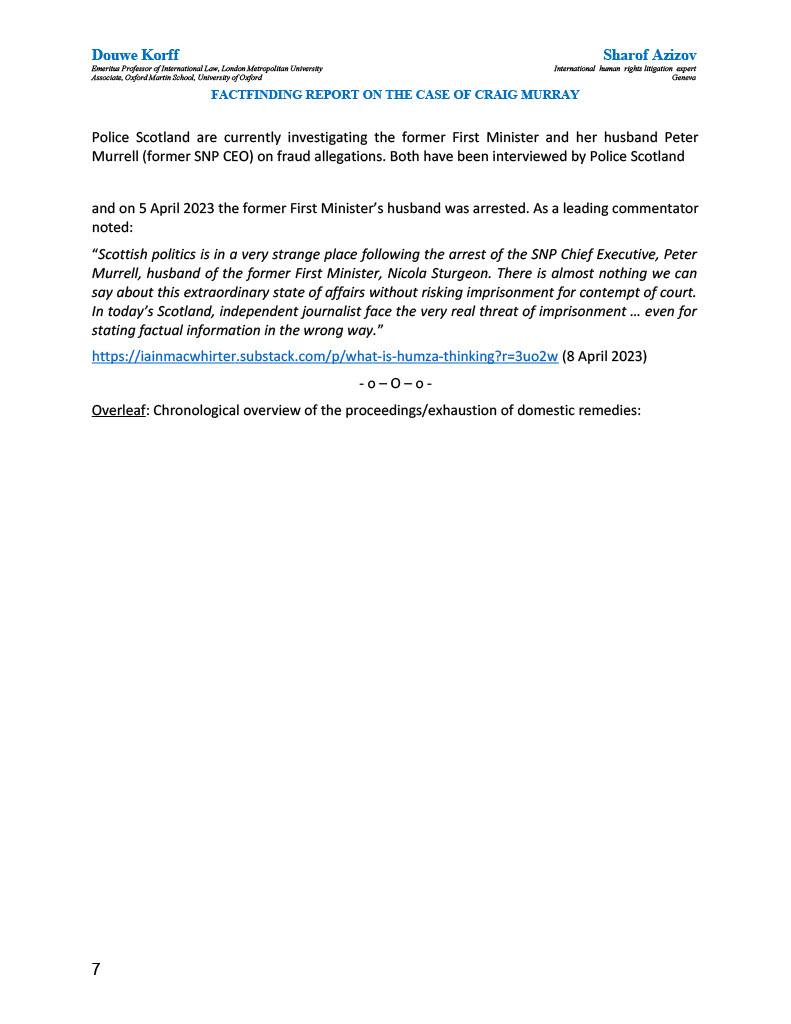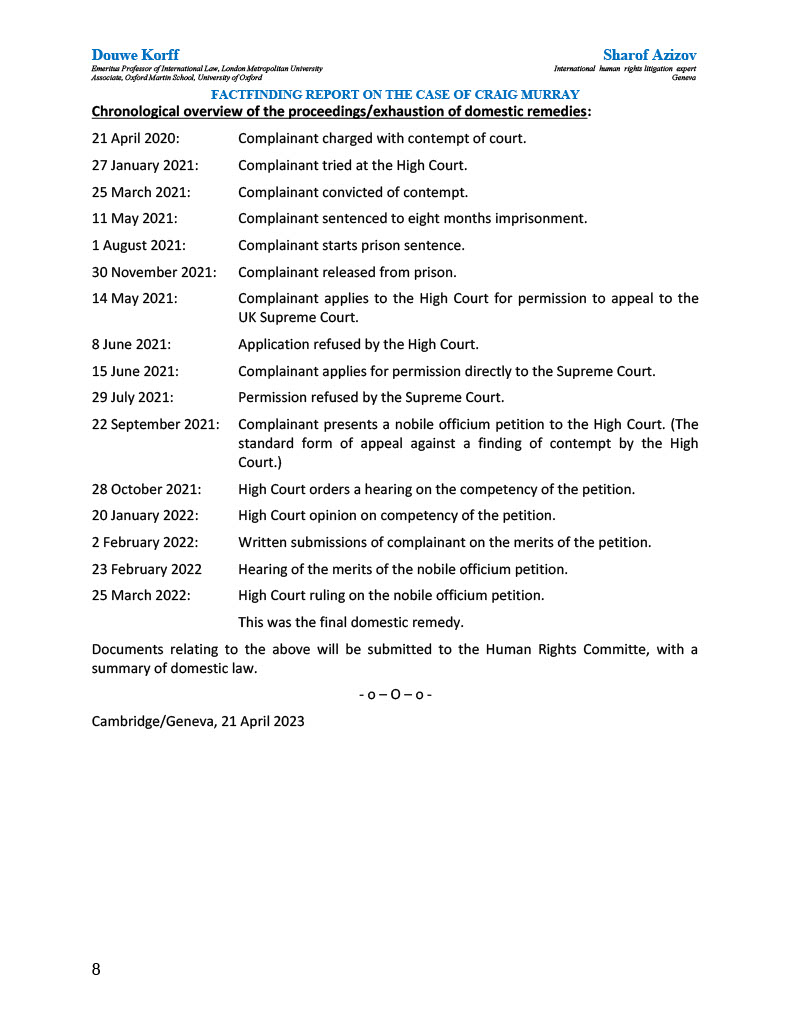 Depending on your device, this might be easier to read in the original pdf here:
KORFF-AZIZOV – Factfinding report on Craig Murray – EDITED 230423finalfinal2
I keep going with this because it is important to lift this cloud that looms over Scotland's political life, that leaves journalists in fear of persecution, that threatens bloggers, unfairly stigmatises me, and is frankly a disgrace.
DEFENCE FUND
Please do help me take this forward to the United Nations Human Rights Committee
Click HERE TO DONATE if you do not see the Donate button above
Alternatively:
Account name
MURRAY CJ
Account number 3 2 1 5 0 9 6 2
Sort code 6 0 – 4 0 – 0 5
IBAN GB98NWBK60400532150962
BIC NWBKGB2L
Bank address Natwest, PO Box 414, 38 Strand, London, WC2H 5JB
Bitcoin: bc1q3sdm60rshynxtvfnkhhqjn83vk3e3nyw78cjx9
Ethereum/ERC-20: 0x764a6054783e86C321Cb8208442477d24834861a
If you can't donate to the defence fund at the moment, subscriptions to keep the blog going, however small, are still very welcome, and indeed I could not keep going without them. This post is free for anybody to reproduce or republish, including in translation. You are still very welcome to read without subscribing.
Unlike our adversaries including the Integrity Initiative, the 77th Brigade, Bellingcat, the Atlantic Council and hundreds of other warmongering propaganda operations, this blog has no source of state, corporate or institutional finance whatsoever. It runs entirely on voluntary subscriptions from its readers – many of whom do not necessarily agree with the every article, but welcome the alternative voice, insider information and debate.
Subscriptions to keep this blog going are gratefully received.
Choose subscription amount from dropdown box:
Paypal address for one-off donations: [email protected]
Alternatively by bank transfer or standing order:
Account name
MURRAY CJ
Account number 3 2 1 5 0 9 6 2
Sort code 6 0 – 4 0 – 0 5
IBAN GB98NWBK60400532150962
BIC NWBKGB2L
Bank address Natwest, PO Box 414, 38 Strand, London, WC2H 5JB
Bitcoin: bc1q3sdm60rshynxtvfnkhhqjn83vk3e3nyw78cjx9
Ethereum/ERC-20: 0x764a6054783e86C321Cb8208442477d24834861a