Just two days after the Financial Times published a lengthy #MeToo style hit-piece on billionaire hedge fund manager Crispin Odey, the eponymously named Odey Asset Management has removed its founder Odey from the firm's partnership, according to the FT and Bloomberg. 
"Mr Crispin Odey is leaving the partnership. As from today, he will no longer have any economic or personal involvement in the partnership," Peter Martin, chief executive, and Michael Ede, chief financial and operating officer, wrote in a statement seen by the FT on Saturday.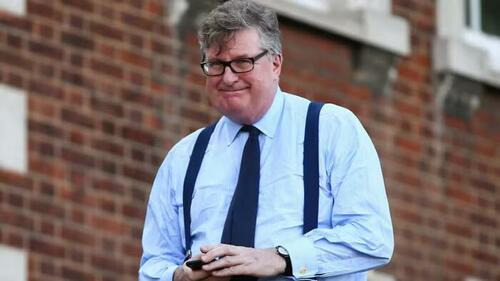 They added that Odey Asset Management Group Limited, a holding company that is part of the group and majority owned by Odey, would also be removed as a member and that the partnership would now be owned and controlled by remaining partners.
Odey Asset Management – which we assume will now be renamed unless it is liquidated – also confirmed it "has been investigating allegations concerning Mr Odey" but said it could not comment in detail for confidentiality reasons. It said that "further communications" with clients would follow over the weekend. Reached by phone at lunchtime on Saturday, Odey confirmed he had been notified of the firm's decision but suggested he would fight it. "You have to have [a] willing buyer, willing seller," he said. He did not provide additional comment.
A former partner said of Odey told the FT that "The emperor now has no clothes and is losing his powers. It's very nice not to be there anymore. They had to get rid of him. He's clearly got to go. In the end the boss got shoved because he went too far."
Odey, 64, has denied FT's report that cites thirteen women "who have worked for Odey Asset Management or had social or professional dealings with Odey" and who claim that the billionaire hedge fund manager "abused or harassed them; eight alleged he sexually assaulted them."
A law firm representing Odey had previously said allegations made against him were "strenuously disputed". Odey said this week that "none of the allegations have been stood up in a courtroom or an investigation".
The allegations were the latest in a series the asset manager has faced in recent years. In 2021, he was acquitted of assault charges in British courts, but new accusations against him surfaced soon after, with two women coming forward to Bloomberg News and another to the Times of London newspaper. Later, more appeared in a Tortoise Media podcast.
After FT published the hit-piece, Odey Asset Management instantly saw its prime-brokerage relationship with Morgan Stanley severed while JPMorgan and Goldman reviewed their relationship with the hedge fund. Some investors also pulled their money out, even though the firm has sought to reassure them. In a letter to investors seen by Bloomberg News, Chief Executive Officer Peter Martin said Odey Asset Management is in "active discussions with all service providers and we are confident that our service providers will continue to work with us to ensure that the interests of investors are protected."
"Their rush to judgment looked like wanton virtue signaling, yet was also an acknowledgment they knew Crispin was already on two strikes," Adrian Flook, a former member of Parliament in the UK and a private investor into Odey and its affiliate Brook Asset Management funds.
"Wealth and fame can distort a person's perception of right and wrong," said Don Steinbrugge, head of Agecroft Partners, which helps hedge funds raise money. "I hope the allegations are wrong, but the evidence is looking very bad for Crispin."
Born into a well-known family — Odey's grandfather was a Tory MP and his mother came from an old-line mercantile family — the University of Oxford alumnus started his firm in 1991. In recent years, he's been tabloid fodder for everything from his support of Brexit to his conspicuous lifestyle. He's sparked outrage shorting the pound. He's been mocked for his predictions of doom in the midst of the longest bull market in history.
Most of his investors had already deserted him following his hedge fund's wild swings between outsized gains and stark losses. Last year marked his best on record, a remarkable turnaround from years of losses.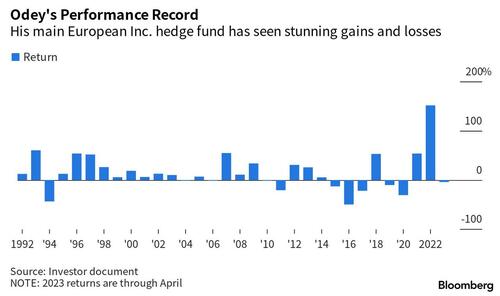 His roller coaster ride has led to assets in his flagship hedge fund slumping to about $310 million at the end of April from $1.8 billion in assets at its peak in 2015. Assets at the whole firm have also slumped to about $3 billion from more than $13 billion at its height. The majority of the firm's assets are managed by portfolio managers including James Hanbury and Oliver Kelton.
The company's move "makes a lot of sense given how heavy the allegations are that Crispin Odey is facing," said Berlin-based Harald Berlinicke, the owner and chief investment officer of Max-Berlinicke-Erben family office. "It hopefully gives the other portfolio managers such as James Hanbury a good chance to move to business as usual."
Loading…
https://www.zerohedge.com/markets/crispin-odey-dismissed-partner