One month after we saw the second biggest surge in credit card debt (which took place just as it appears US consumers had hit the brakes on credit-fueled spending), coupled with a sharp slowdown in student and auto loans, the latest consumer credit data just released by the Fed reveals… more of the same.
In the month of April, total consumer credit rose by $23.1 billion to a new record high $4.860 trillion, up 6.8% Y/Y.
Of this, revolving credit jumped by $13.5 billion, a modest drop from last month's $14.8 billion (the original revolving print for March of $17.6 billion which was the 2nd highest on record, was revised lower by just under $3 billion), and bringing total credit card debt to a new record high of $1.244 trillion, up 13.1% from the previous year.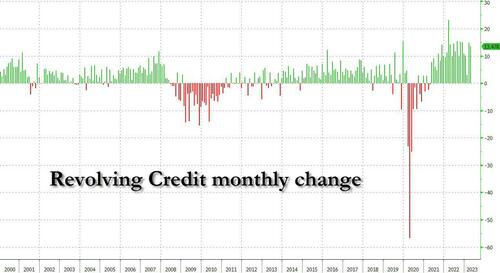 At the same time, non-revolving credit rose at a decidedly slower pace of just $9.5 billion, up from $8.0 billion last month, but well below recent monthly average of $15 billion.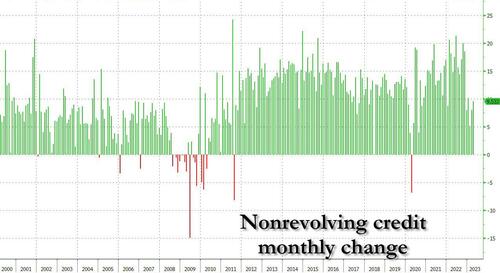 While such a move could at least be explained, if not justified, when rates were zero – after all the cost of money back then was negligible – this time it's a little more difficult to explain what is going on, especially when one sees the next chart from the Fed, showing that average credit card interest had just hit a record high 20.9%.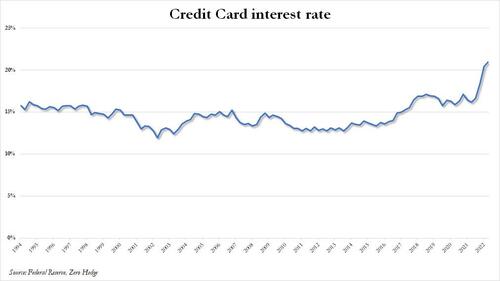 What to make of this? It's as if, either consumers – realizing this is their last hurrah to spend – went out and maxed out their cards at a pace (almost) never seen before, or perhaps the banks, desperate to load up peasants with some more debt, were handing out credit cards like hot cakes and the result is shown below.
Meanwhile, unwilling to lock in double digits interest rates on their auto loans, demand for auto loans has collapsed. Indeed, as shown in the chart below, auto loans rose by just $13.9 billion, the weakest quarterly increase since 2020. And yes, with auto loans at record high interest rates, this is not a shock.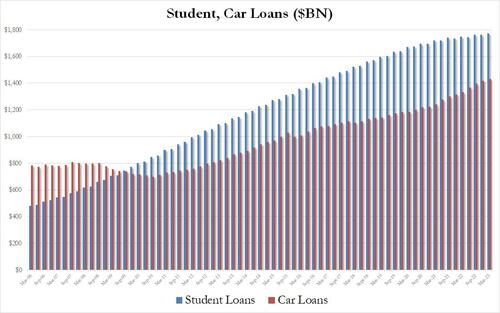 And so the scene for both the next crisis and credit crunch are set, because just like Americans couldn't afford their mortgages in 2008, hoping instead that some greater fool would take it off their hands at the right moment, so too now they are maxing out credit cards (just as rates hit all time high) knowing they will never repay the debt, but instead hope that the coming second round of the bank crisis will allow them to quietly sneak away without repaying their debt… or at least incentivize the socialists in power to make another push to forgive all debts.
Loading…
https://www.zerohedge.com/markets/credit-card-debt-keep-surging-even-interest-rates-hit-record-high