Authored by Zachary Stieber via The Epoch Times (emphasis ours),
A woman who suffered severe nerve damage after receiving a COVID-19 vaccination and four others with confirmed or suspected COVID-19 vaccine injuries launched a lawsuit against President Joe Biden and his administration on May 22.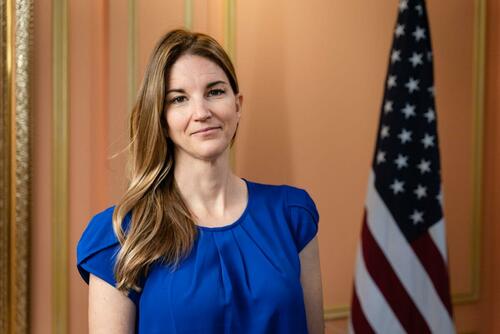 Top government officials violated the plaintiffs' rights to free speech and peaceful assembly when they pressured Big Tech companies to crack down on people sharing their experience after receiving the COVID-19 vaccines, Brianne Dressen, the woman, and the other plaintiffs say.
"Through threats, pressure, inducement, and coercion, Defendants now work in concert with social media companies to censor content the government deems 'disinformation,' 'misinformation,' and 'malinformation'—a feat that the government could never lawfully accomplish alone," the 124-page suit, filed in U.S. court in southern Texas, states.
In addition to Biden, defendants include Rob Flaherty, a top adviser to Biden; White House press secretary Karine Jean-Pierre; the Department of Homeland Security; the Centers for Disease Control and Prevention; and Surgeon General Vivek Murthy.
Defendants did not immediately respond to requests for comment, or could not be reached.
Dressen hailed the lawsuit as a major development for those reporting to be suffering from vaccine injuries.
"People injured by the COVID vaccines in the United States have not been able to file suit anywhere, under any circumstance," she told The Epoch Times. "So this is a landmark case for Americans injured by the COVID vaccine."
COVID-19 vaccine manufacturers are largely immune from litigation in the United States due to the Public Readiness and Emergency Preparedness Act declaration entered by the Trump administration in early 2020. Most other vaccine manufacturers are also shielded from liability under the National Childhood Vaccine Injury Act.
Censorship
The five people who experienced serious problems following vaccination are joined by Ernest Ramirez, whose son died after receiving a COVID-19 vaccine. They've repeatedly been censored by platforms like Twitter and Instagram as they tried to  share their stories.
Ramirez, for instance, saw a GoFundMe that sought to raise funds for him to travel to Washington to share his son's story taken down. GoFundMe claimed the account was removed for violating conduct the company prohibits. GoFundMe did not immediately respond to a request for comment.
Another plaintiff, Nikki Holland, meanwhile, posted videos on TikTok regarding her experiences after being vaccinated, including the injuries she suffered. TikTok said the videos violated guidelines such as one against posting "violent and graphic content."
"When I really started to share and open up about things, I started to notice that a lot of stuff was being taken down and censored," Holland told The Epoch Times. "That adds a whole new world of questioning to motive and what's really going on because … why would you censor something you might need to look into to protect millions of others?"
TikTok did not immediately return a query.
The other plaintiffs are Shaun Barcavage, a former nurse who has been on disability leave since suffering medical problems after receiving Pfizer's COVID-19 vaccine; Kristi Dobbs, a dental hygienist who suffered "debilitating medical injuries" after a shot of Pfizer's vaccine; and Suzanna Newell, who is also on disability leave due to problems following vaccination.
The right to peacefully assemble was also violated when Facebook and other big tech platforms disbanded groups where those with suspected or confirmed adverse reactions following vaccination gathered, according to the suit.
One Facebook group called "A Wee Sprinkle of Hope" was shut down after a group member posted an infographic of symptoms people have experienced following COVID-19 vaccination and Dressen shared a link to a press conference at which she had shared about her symptoms.
Facebook's message to Dressen was that the group violated the company's "Community Standards on misinformation that could cause physical harm." Facebook did not immediately respond to a request for an explanation from the group.
The removal of the groups robbed those suffering injuries after a COVID-19 vaccine of key gathering places for the exchange of information as they sought to figure out how to treat their often-debilitating conditions. Dressen said she is aware of multiple suicides as a result, because the censorship sparked feelings of helplessness amid the suffering.
The deplatforming was "devastating, especially when you're being censored and no one's listening to you," Holland said.
Evidence
Evidence unearthed in an ongoing case against the government, as well as internal Twitter documents, underpin the new case.
Discovery in Missouri v. Biden litigation, lodged by the attorneys general of Missouri and Louisiana against the Biden administration, has revealed that officials pressured WhatsApp, Facebook, and other technology companies to censor users talking about problems following COVID-19 vaccination, including posts that accurately outlined the lack of evidence for COVID-19 vaccines among certain populations.
Read more here…
Loading…
https://www.zerohedge.com/political/covid-vaccine-injured-sue-biden-administration-over-censorship