A slump in the use of private jets in the US could suggest that wealthy individuals are reducing their spending in response to the rising threat of recession in the next 12 months. 
Bloomberg data shows private jet flights across the US peaked in early 2022 and have been sliding ever since. Takeoffs and landings fell 4.5% in the first quarter compared with the same quarter last year. The drop accelerated to 9.3% in April compared with an 8.6% decline in March, possibly a sign demand is crumbling.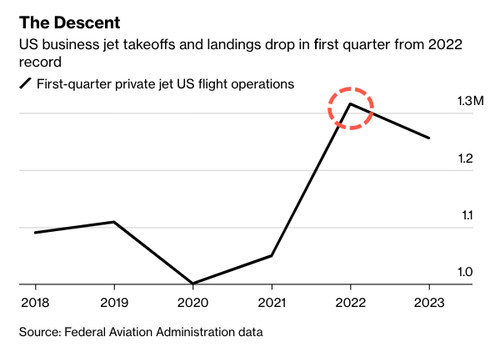 With the industry under pressure and capital markets in a volatile state, Flexjet, the second-largest US operator of private jets behind NetJets Inc., was forced to shelve its SPAC last month. 
Even though private jet demand is still above 2019 levels — many wealthy individuals have yet to return to commercial airlines in a post-pandemic era. Still, with all the new demand, the rich are cutting back in the first half of 2023 as recession risks rise. 
Some industry insiders welcome the end of the private jet boom that took off during Covid. 
Kenn Ricci, chairman of Flexjet, told Bloomberg: 
"Thank God it's not what it was last year." He said his company saw annual flight hours jump to 145,000 from 90,000 before the pandemic. 
Sliding private jet demand comes as recent debit and credit card data published by the Bank of America Institute shows wealthy folks are pulling back on spending.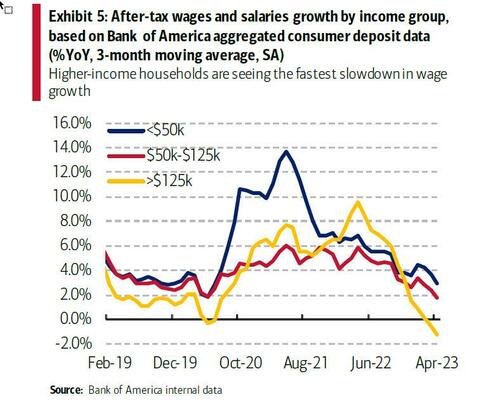 Besides waning demand, a recent JPMorgan Chase report showed average asking price for private jets fell 1.2% in March from February to $12.8 million. There's some easing of prices after the boom over the last few years. Still, the average asking price was 7% above prices from last year due to tight inventory. 
A combination of wealthy folks reducing private jet flights and pulling back on spending comes as Bloomberg data shows recession probabilities for the next 12 months have reached 100%. 
Loading…
https://www.zerohedge.com/markets/could-falling-private-jet-demand-be-another-sign-rich-pull-back-spending-ahead-economic