The Australian dementia patient was "armed with a knife," a senior official explained
Australian police are facing public outrage after an officer tasered a 95-year-old woman in a treatment room at a nursing home, as she was "slowly" walking towards him using a walking frame with a serrated steak knife in her hand. She hit her head on the ground after the jolt and is now reportedly fighting for her life.
The interaction with Clare Nowland, a grandmother from New South Wales, took place on Wednesday morning inside the Yallambee Lodge facility in the town of Cooma. Assistant Commissioner Peter Cotter, who spoke to journalists on Friday, said the woman obtained the tool from the kitchen, which prompted a call to police.
"Negotiations commenced with Clare to essentially drop the knife. For whatever reason, Clare did not do that," the official explained.
Australian media aired family footage showing Nowland skydiving back when she was 80. She had been enjoying her sunset years surrounded by eight children and their children, according to reports, but recently has been suffering from dementia.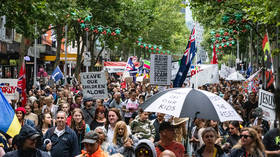 Critics have questioned whether zapping Nowland, who weighs just 43 kilograms, is 157cm (5'2") tall, and quite frail at her advanced age, was justified. The officer who used the taser has been described as a male senior constable with 12 years' experience in the force.
"She did have a knife in her hand and it is fair to say that she was armed with that knife," Cotter explained during the press conference. "It is fair to say [she walked] at a slow pace. She had a walking frame. But she had a knife."
A family friend, Andrew Thaler, told the media that Nowland's injuries were life-threatening and included a skull fracture and a brain bleed.
The officer involved in the incident is "non-operational" and his duty status has been placed under review, the police leader said. The investigation into the incident has been given the highest-level priority and will be thorough and independently-reviewed, he pledged.
Both officers present at the scene had body cameras, but the footage has not been released to the public, as it was deemed not in the public interest. Cotter described the videos as "confronting" and gave assurances that the responders attempted to deescalate the situation.
READ MORE:
'Die Hard' star diagnosed with untreatable dementia
He expressed sympathy with the Nowland family and urged journalists to give them time to process what had happened. He explained the delay between the incident and the press briefing by the need to coordinate with the Nowlands, to assess what information can be made public.
You can share this story on social media:
https://www.rt.com/news/576580-australia-dementia-patient-tasering/