Authored by John Haughey via The Epoch Times (emphasis ours),
It was a rough summer for drag queens, with uproars over public library story hours and bruising boycotts against Jack Daniel's for promoting drag shows in its advertisements routinely making news.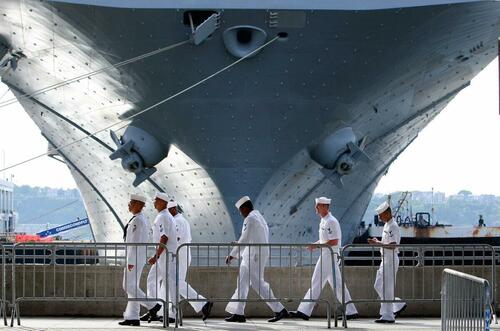 Meanwhile, conservative across the country, as they prepared to vote in 2022 midterms, were expressing discomfort—and for some alarm—over what many saw as a seemingly-pugilistic promotion of transgender and LGBTQ+ rights, vowing to restore "normalcy," if possible, with their ballots.
It was also a rough year for military recruiting. Of three of the U.S. military's largest branches, only the Air Force met its 2022 recruiting goal. The Army missed by 15,000 and the Navy fell shy even after lowering its quota, increasing its enlistment age to 41, and relaxing other standards.
So when the Navy in October chose to promote a sailor who weekends as a drag queen as one of its social media "digital ambassadors" as part of its recruitment strategy, many questioned how the sea service—so reliant on signal intelligence—didn't see all the blinking red lights, or hear all the bells, all the whistles, all warning this just might not be a good marketing idea.
As things turned out, the Navy did, in fact succeed in making Yeoman 2nd Class Joshua Kelley the face of a well-publicized campaign.
But instead of promoting Diversity, Equity, and Inclusion (DEI) as a recruiting tool, as the Navy apparently intended, YN2 Kelley became Congressional Republicans' favorite poster prop in arguing that his celebration is why many young Americans—especially those among conservative constituencies—are turning away.
Called Onto Congressional Carpet
During a March hearing before the House Armed Services Committee Military Personnel Subcommittee, Chair Rep. Jim Banks (R-Ind.), a Navy veteran, said when asked why a sailor who sidelines as a drag queen was used in a recruitment marketing program, the Navy's response was that the "digital ambassador" program didn't exist.
"We are facing a historic recruitment crisis and instead of focusing efforts on strengthening our force, the Biden administration is forcing 'wokeness' on our service members," the congressman said. "Navy leadership knew this was a ridiculous and embarrassing stunt, and that is why they initially denied involvement with the program."
In a letter to Secretary of Defense Lloyd Austin, Banks and Rep. Mark Alford (R-Mo.) demanded to know why the Navy "incomprehensibly believed that this 'woke' campaign should become the defining face of the service" and warned that "perception is driving reality, and both current and former service members are alarmed at a culture putting 'wokeness' before training and combat effectiveness."
Banks and Alford requested that DOD provide "instructions that govern performing in or authorizing drag shows" and "any rules and regulations for service members engaging in such activity while actively serving in the armed forces."
In a May 3 letter to Navy Secretary Carlos Del Toro, Sens. Marco Rubio (R-Fla.) and Ted Budd (R-N.C.) requested "more information regarding the Navy's use of … a TikTok drag queen to help reach potential recruits on social media."
Rubio and Budd also chastised the Navy for "the promotion of a banned app" in its digital ambassador TikTok videos than ran until April. The "No TikTok on Government Devices Act" was signed into law Dec. 29, 2022.
The senators expressed concern regarding "behavior that many deem inappropriate in a professional workplace" and could also potentially "push misinformation or narratives favoring the Chinese Communist Party (CCP)."
"Where does the Navy draw the line on promotion of the personal activities of its influencers?" Rubio and Budd ask. "Would the Navy enlist burlesque dancers or exotic dancers to reach possible recruits?"
The Navy's only response has been a blanket statement: "Much like the country we serve, our Navy is stronger when we draw upon our diverse resources, skills, capabilities and talents. We remain committed to an inclusive environment."
But the pressure could be forcing changes in the Department of Defense (DOD) and within the individual branches, the conservative Heritage Foundation Center for National Defense Director Thomas Spoehr told The Epoch Times.
"Just the other day, Lloyd Austin decreed there would be no more drag queen shows on military installations. That came as a surprise to me, I thought they were heading down the path that we're going to have drag queen story hour at the installation library."
'In-Service Transitions'
During an October Heritage Foundation forum, a National Independent Panel on military service and readiness, chaired by Rep. Mike Waltz (R-Fla.) and featuring former Trump administration National Security Adviser, retired Army Lt. Gen. H. R. McMaster, took aim "at the politicization and the progressive policies that civilian officials in the [Biden] administration are imposing on the military."
Those policies were initiated by a series of Biden executive orders, most notably two that revoked former President Donald Trump's September 2022 order restricting DEI-related training in the military and banning transgender people from enlisting.
The revised policies restored the DOD's 2016 policies that prohibit discrimination on the basis of gender identity or an individual's identification as transgender.
In April 2021, the DOD followed with the 22-page Instruction 1300.28 that outlined rules for "in-service transition for transgender service members."
The instruction states the DOD and the branches "will institute policies to provide service members a process by which they may transition gender while serving. These policies are based on the conclusion that open service by transgender persons who are subject to the same high standards and procedures as other Service members with regard to medical fitness for duty, physical fitness, uniform and grooming standards, deployability, and retention is consistent with military service and readiness."
To qualify for "transition," an active-duty service member must be diagnosed with "gender dysphoria," which is a mental health condition in which people believe their biological sex and gender identity do not match.
"Gender transition begins when a service member receives a diagnosis from a military medical provider indicating that gender transition is medically necessary, and then completes the medical care identified or approved by a military mental health or medical provider in a documented treatment plan as necessary to achieve stability in the self-identified gender," the DOD instruction states.
Read more here…
Loading…
https://www.zerohedge.com/political/conservatives-wonder-who-navy-trying-recruit-petty-officer-drag-queen-stunt