A Blinken trip to China has finally been confirmed, following the latest, albeit tense, phone call between the US Secretary of State and his Chinese counterpart Qin Gang. Both sides have said Blinken will be in Beijing on Sunday and Monday. Qin told Blinken in the Wednesday call the US must stop meddling in China's affairs.
State Dept spokesperson Matthew Miller in a new statement describing the itinerary said, "Blinken will travel to Beijing, the People's Republic of China (PRC), and London, the United Kingdom, June 16-21." He detailed: "While in Beijing, Secretary Blinken will meet with senior PRC officials where he will discuss the importance of maintaining open lines of communication to responsibly manage the US-PRC relationship. He will also raise bilateral issues of concern, global and regional matters, and potential cooperation on shared transnational challenges."
In prior recent exchanges with Blinken, the Chinese FM urged US to "show respect" and stressed it must stop undermining China's interests. Blinken, for his part, has said the US wants "to avoid miscalculation and conflict" in restoring direct dialogue with Beijing.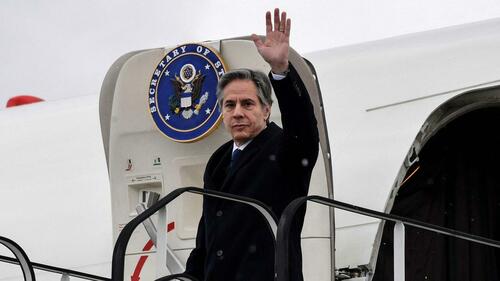 The more forceful new remarks from Qin (compared with the somewhat muted US readout), included a call for Washington to "stop undermining China's sovereignty, security and development interests in the name of competition."
Of chief importance on the minds of Beijing officials is the newly inked trade agreement between the United States and Taiwan this month which seeks to "strengthen and deepen the economic and trade relationship between."
Chinese Foreign Ministry spokeswoman Mao Ning at the time said the deal "gravely violates" Beijing's "one-China" policy under which it views Taiwan as a wayward province and has vowed to retake it by force, if necessary. — UPI
This newly announced weekend trip by Blinken was supposed to happen in February, but that was abruptly canceled (or perhaps just "postponed"), following the Chinese "spy balloon" shootdown incident early that month and ensuing war of words and Chinese denials of wrongdoing.
Earlier this month, Chinese Defense Minister Li Shangfu told the Shangri-La Dialogue security summit that any potential future conflict between the United States and China would bring "unbearable disaster for the world".
But he said both rival powerful countries should be able to grow together and to avoid confrontation. His words came as the US condemned what it called unsafe and aggressive maneuvers by a Chinese PLA Navy warship in the Taiwan Strait as the American destroyer USS Chung-Hoon conducted a 'freedom of navigation' transit on June 3rd. 
Lately, China has been ramping up its flights and naval maneuvers near Taiwan, and now somewhat routinely violates the Taiwan Strait median line. The US is at the same time sending more and more Navy warships through the strait, provoking Beijing.
Loading…
https://www.zerohedge.com/geopolitical/china-rebukes-us-phone-call-ahead-blinkens-arrival-beijing-sunday