By John Cheng, Bloomberg Markets Live reporter and strategist
Chinese shares' outperformance in June has some Wall Street strategists turning sanguine. But if recent history is any guide, this may prove to be another short-lived rally unless fundamentals improve.
The MSCI China Index is up about 8% since plunging into a bear market last month, beating a broader gauge of Asian equities. Goldman Sachs says the tactical trading window for Chinese stocks is "open once again," while Nomura sees market expectations of further property-sector stimulus as likely helping to stabilize shares.
Still, short-selling turnover for equities in Hong Kong has remained elevated in recent weeks, suggesting that gains may be driven by covering of bearish bets by fast-money investors as most long-only funds remain significantly underweight in China. Stocks slumped again on Tuesday as Chinese banks disappointed the market with a relatively modest reduction in lending rates, with potential catalysts including the Blinken-Xi meeting and China's State Council meeting largely turning out to be non-events for investors.
"From our understanding, it's mostly short covering for now," said Tham Mun Hon, head of Greater China research at UOB Kay Hian (Hong Kong). "The recovery will be gradual, and consumer confidence should stay fragile in the near term" as the government is likely to refrain from massive stimulus, he said.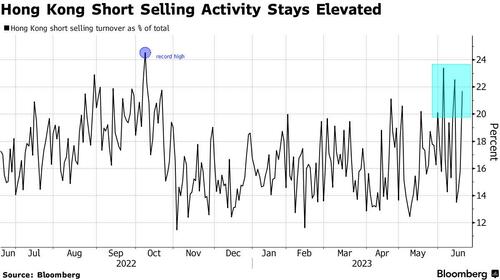 Every rally in Chinese stocks over the past two years has proven to be short-lived. The latest two major rebounds, driven by hopes of an economic revival and the Covid reopening, respectively, lasted for only about three months each.
A lot of pessimism over China's recovery and US-China geopolitical fears, though, has been priced in. Valuations have fallen to compelling levels, with the MSCI China Index trading at just 10.6 times forward price-to-earnings ratio, suggesting there may be a chance for bottom-fishing.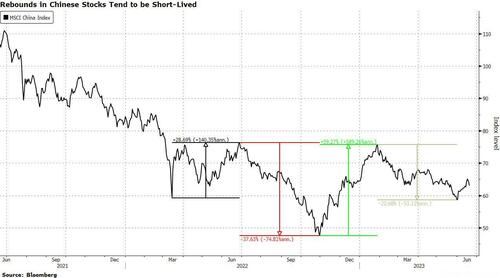 Some regional and global funds may start to narrow their large underweights in China, JPMorgan chief Asia and China equity strategist Wendy Liu wrote in a note. But she expects stocks to be range-bound in the third quarter as "continued inventory de-stocking, weak demand, debt restructuring and estimate cuts may add downward pressure."
Eventually, the sustainability of this rebound will depend on upcoming macro releases, and "whether policymakers can deliver on their promises in the coming months to boost growth and earnings expectations," said Ben Luk, senior multi-asset strategist at State Street Global Markets.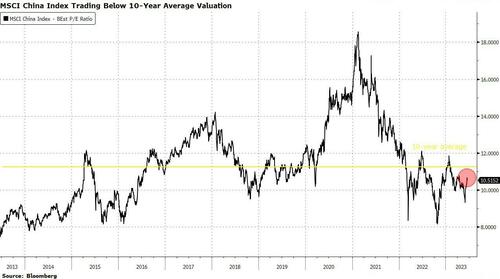 Loading…
https://www.zerohedge.com/markets/china-bulls-risk-getting-it-wrong-again