On a positive note, the availability of cars and trucks at dealership lots has been steadily improving throughout the spring selling season. However, consumers have contended with the worst affordability in years as high auto loan interest rates and elevated vehicle prices have sent the average monthly payment for new cars to around $754 per month.
Data from auto industry research firm Wards Intelligence shows dealerships had 1.8 million vehicles in transit or on lots at the end of April, a 50% improvement compared with the same month last year, but still, only half when compared with stock levels two years ago, according to The Wall Street Journal. 
Some brands, such as Buick, Jaguar, and Jeep, are getting heavy on vehicle stock with over 100 days worth of unsold inventory or more at the end of April, Cox Automotive shows. This is about double the industry average.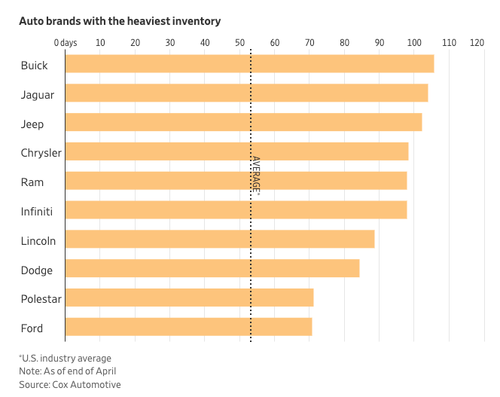 Due to increasing inventory woes, Automaker Stellantis NV, which owns Ram, Jeep, and Chrysler, was downgraded by CFRA Research. 
"We're seeing red flags in the inventory data," wrote Garrett Nelson, the CFRA analyst.
However, according to the Cox data, some brands, such as Toyota and Honda, have tight inventory. 
Some analysts expect auto prices to peak in the first quarter as affordability weighs on sales — and this might indicate automakers would need to revive discounting programs to stimulate sales. 
"We do expect the [the second half] to see more pricing pressures," said John Lawler, Ford Motor's CFO, on an earnings call in May.
For many Americans, the highest new auto 60-month loan rate of nearly 7.5%, the highest in more than a decade, has led to the average monthly payment for new cars reaching $754 in March as the average price of a new vehicle in the same month hit $48,000.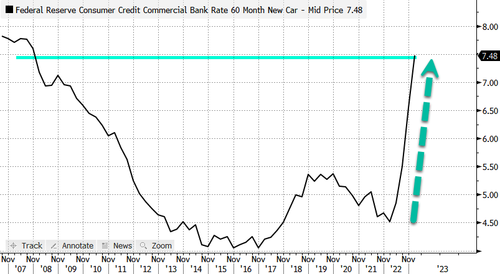 We outlined to readers in February that affording a new car is a luxury for only the wealthy (read: "A Shiny New Car Is Out Of Reach For Many Americans"). 
"The idea of a new car in every American's driveway is not the world we live in," Charlie Chesbrough, a senior economist at Cox, recently told Bloomberg.
And why are consumers in trouble? Well, two years of negative real wage growth has obliterated household finances. And as we discussed last week with new Bank of America data, upper-income households are beginning to dial back spending. 
This is all great news for those who can still afford new cars. 
Loading…
https://www.zerohedge.com/markets/car-dealerships-finally-have-inventory-and-might-lead-more-pricing-pressures