The former president issued a warning after London condoned a drone attack on Moscow
Former Russian President Dmitry Medvedev has described the UK as waging an "undeclared war" against Russia. The comment came after Britain's foreign secretary condoned a large-scale drone attack on Moscow earlier this week.
In a Twitter post on Wednesday, Medvedev accused London of being Moscow's "eternal enemy." The former leader, who currently serves as deputy chair of Russia's Security Council, claimed that based on international law, "including the Hague and Geneva Conventions with their additional protocols," Britain "can also be qualified as being at war."
The former president argued that by providing Ukraine with weapons and training, the UK "de facto is leading an undeclared war against Russia."
Medvedev hinted that this could have direct ramifications for "public officials" in Britain.
The UK's Foreign Secretary Cleverly has stated that Ukraine "has the legitimate right to … project force beyond its borders to undermine Russia's ability to project force into Ukraine itself." According to him, legitimate military targets beyond Ukraine's border are part of its…

— Dmitry Medvedev (@MedvedevRussiaE) May 31, 2023
His tweet cited remarks made on Tuesday by UK Foreign Secretary James Cleverly, who said Ukraine has the right to "project force beyond its borders to undermine Russia's ability to project force into Ukraine itself."
Cleverly further claimed that striking "legitimate military targets" in Russia is an acceptable part of Ukraine's self-defense.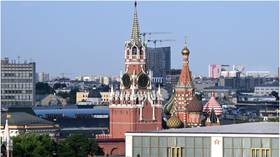 According to the Russian Defense Ministry, eight UAVs were detected in Moscow's airspace on Tuesday morning, in what officials described as a "terrorist attack" by Kiev.
The ministry reported that three drones were suppressed by electronic warfare measures and deviated from their intended course before crashing, while the other five were shot down by Pantsir-S air defense systems outside the city.
Several residential buildings sustained superficial damage and two people suffered minor injuries as a result of the raid.
Kremlin spokesman Dmitry Peskov accused Kiev of launching the attack in an attempt to avenge a recent series of Russian missile and drone strikes on Ukrainian airfields, ammunition dumps, and "decision-making centers."
Russian President Vladimir Putin revealed on Tuesday that the headquarters of the Ukrainian military's Main Intelligence Directorate (GUR) had been among the targets hit in the strikes.
You can share this story on social media:
https://www.rt.com/news/577193-medvedev-russia-uk-at-war-ukraine/