Authored by Gary Bai via The Epoch Times (emphasis ours),
Manhattan District Attorney Alvin Bragg has dropped his effort to quash a congressional subpoena to a former prosecutor who worked in his office, a congressional aide told The Epoch Times in a statement on Friday.
"This evening, the Manhattan District Attorney's Office withdrew its appeal in Bragg v. Jordan. Mr. Pomerantz's deposition will go forward on May 12, and we look forward to his appearance," Russel Dye, spokesperson for Rep. Jim Jordan (R-Ohio), chair of the House Judiciary Committee, wrote to The Epoch Times in a statement.
"Bragg caved. Jim Jordan won," the House Judiciary Committee wrote in a statement on Twitter Friday.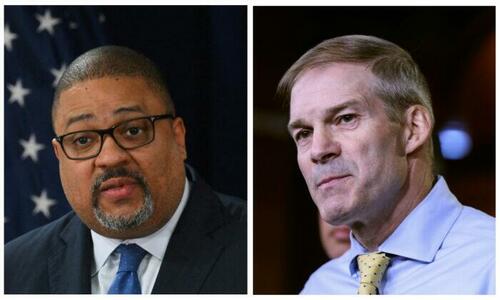 The development wrapped up a legal clash between Bragg and House Judiciary Republicans, whereby Bragg had attempted to stop the lawmakers from requesting testimony from Mark Pomerantz, a former prosecutor who investigated former President Donald Trump's finances. Pomerantz left Bragg's office in February 2022 in protest of Bragg's initial unwillingness to bring an indictment against Trump.
A grand jury, encouraged by Bragg, brought an indictment against Trump in late March, prompting Jordan to initiate a probe into what he calls a "politically motivated" prosecution against a former president. Jordan subpoenaed Pomerantz to seek his testimony as a part of that probe. In response, Bragg sued the House Judiciary Committee and Pomerantz to prevent Pomerantz from testifying.
That lawsuit led to a hearing on Wednesday in the Southern District Court of New York, and a subsequent decision by District Judge Mary Kay Vyskocil, a Trump appointee, ordered that the congressional panel has the authority to become involved in the investigation of Trump and declined Bragg's request for a court injunction on the congressional subpoena.
Bragg wrote in a court filing that he intended to appeal the lower court's decision to the 2nd Circuit Court of Appeals on April 19. On the same day, the court issued a temporary administrative hold on the return date of the House Judiciary Committee's congressional subpoena of Pomerantz. This administrative hold did not reflect the court's opinion on the merit of Bragg's case, the court indicated in an April 19 filing, but serves as a short pause as the court considers whether to extend the freeze on the subpoena as Bragg appeals the case.
A three-judge panel was originally scheduled to decide early next week on this matter.
Bragg on Friday dropped the appeal, wrapping up the legal contention between him and the House lawmakers.
"Our successful stay of this subpoena blocked the immediate deposition and afforded us the time necessary to coordinate with the House Judiciary Committee on an agreement that protects the District Attorney's privileges and interests. We are pleased with this resolution, which ensures any questioning of our former employee will take place in the presence of our General Counsel on a reasonable, agreed upon timeframe. We are gratified that the Second Circuit's ruling provided us with the opportunity to successfully revolve this dispute," Bragg's office wrote in a statement on Friday on Twitter.
Judge's Comments
During the district court hearing on Wednesday, the court affirmed the congressional lawmakers' position that requesting Pomerantz's testimony serves a valid legislative interest and that Pomerantz, due to his own conduct, is not protected by confidentiality privileges.
In her order, Vyskocil agreed with the congressional lawmakers' reasoning that testimony by Pomerantz can help inform current and pending legislation. This includes a bill that, if enacted into law, would bar the use of federal funds to investigate a sitting or former president (the Accountability for Lawless Violence In our Neighborhoods, or ALVIN, Act) and another that would allow Congress to remove an action or prosecution against a former president (H.R. 2553).
"It is not the role of the federal judiciary to dictate what legislation Congress may consider or how it should conduct its deliberations in that connection," the judge wrote, adding that the U.S. Constitution protects lawmakers from litigation when their actions serve a valid legislative interest.
Read more here…
Loading…